Last week I saw that the Pimco Total Return ETF (TRXT) launched, so I went to Pimco's website for the total return ETF, and looked at the holdings of the fund. I found that the fund held 4 broad types of bonds: Corporate Bonds, Government Bonds/Agency Bonds, Mortgage backed securities, and a few municipal bonds. So I thought to myself, "A good challenge would be to come up with my own Total Return portfolio using ETF's."
In creating my portfolio I had a couple goals/criteria in mind:
In the portfolio I wanted exposure to 3 assets classes, unlike the Pimco total return ETF which currently only has exposure to bonds.
I wanted to minimize the impact of volatility from the selected funds on the portfolio so I weighted the portfolio according to the volatility of each fund.
I wanted a decent amount of data for a bigger sample size, so I only used funds that had at least 5 years of return data.
I wanted to have the portfolio outperform the mutual fund version [PTTAX of the Primco total return ETF, as well as outperform its benchmark, represented by the iShares Barclays Aggregate Bond (NYSEARCA:AGG)].
My fund Selection Process:
Equity Fund:
When looking at equity funds to choose from I looked at the sector SPDR ETF's. It's pretty common knowledge that out of the SPDR's the 3 least volatile funds are the Consumer Staples Select Sector SPDR (NYSEARCA:XLP), Utilities Select Sector SPDR (NYSEARCA:XLU), and Health Care Select Sector SPDR (NYSEARCA:XLV). I then went to ETFreplay.com and used there volatility tool to find out which of those three had the lowest volatility and I used the 3 month volatility average. I found that XLP had the lowest volatility out of the three so I choose to include that fund in the portfolio.
Precious Metals Fund:
For this fund I had two choices either the SPDR Gold Shares (NYSEARCA:GLD), or the iShares Silver Trust (NYSEARCA:SLV). I used the same process as above and found that GLD had a lower volatility that the SLV, so I included GLD in the portfolio.
Bond Fund 1-Long Term Treasuries:
Using ETFdatabase.com I found that there were only 14 bond funds that had at least 5 years of returns, and I excluded AGG because it was the fund that is benchmarked to the total return ETF TRXT. On the list there were two long term Treasury bond funds, the iShares Barclays 10-20 Year Treasury Bond (NYSEARCA:TLH), and the iShares Barclays 20+ Year Treasury Bond (NYSEARCA:TLT). Using the same process as the first two fund selections, I found that TLH had the lower volatility so I included it in the portfolio.
Bond Fund 2-Intermediate Term Treasuries:
For this selection I didn't have a comparison to make because of the funds available and chose the iShares Barclays 7-10 Year Treasury (NYSEARCA:IEF).
Bond Fund 3-Corporate Bonds:
This fund selection was a little trickier because there were 4 corporate bond funds with at least 5 years of data. iShares Barclays 1-3 Year Credit Bond (NYSEARCA:CSJ) , iShares Barclays Intermediate Credit Bond (NYSEARCA:CIU), iShares Barclays Credit Bond (CFT), iShares iBoxx $ Invest Grade Corp Bond (NYSEARCA:LQD). I found after looking at the holding for each fund that LQD was the only one of the 4 which was exclusively corporate bonds, all the other three funds has anywhere from 13.50% -18.90% in government bonds. While LQD has 99% in corporate bonds and the remaining 1% in cash and cash equivalents, so I chose to include LQD in the portfolio.
Below is a table with each fund and description as well as weights. I weighted each fund based on volatility at the end of 2007 when the back test began. The fund with the lowest volatility I weighted at 30%, the next two funds I weighted each at 20%, and the two most volatile funds I weighted each at 15%. Also, below is a correlation table for the portfolio.
| | | | |
| --- | --- | --- | --- |
| Symbol | Description | Volatility | Weight |
| IEF | iShares Barclays 7-10 Year Treasury | 8.40% | 30% |
| LQD | iShares iBoxx $ Invest Grade Corp Bond | 9.00% | 20% |
| TLH | iShares Barclays 10-20 Year Treasury Bd | 10.40% | 20% |
| XLP | Consumer Staples Select Sector SPDR | 12.70% | 15% |
| GLD | SPDR Gold Shares | 23.00% | 15% |
Correlations
(Data from ETFScreen.com)
| | | | | | |
| --- | --- | --- | --- | --- | --- |
| | GLD | IEF | LQD | TLH | XLP |
| GLD | 1 | | | | |
| IEF | -0.06 | 1 | | | |
| LQD | 0.21 | 0.41 | 1 | | |
| TLH | -0.11 | 0.98 | 0.38 | 1 | |
| XLP | 0.22 | -0.72 | -0.15 | -0.73 | 1 |
Next I used ETFreplay.com back test tool and ran the back test from December 31, 2007 until the March 1st 2012, compared to the AGG as the charts shows below.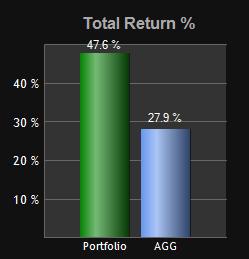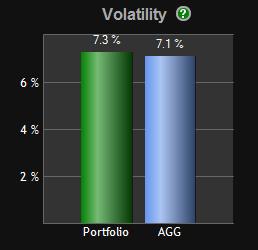 Summary Statistics

CAGR

Sharpe Ratio

AGG Correlation

Max Draw vs Start

Max Draw

Portfolio

9.80%

1.08

0.56

-5.56%

-9.97%

AGG

6.10%

0.55

-9.54%

-12.83%
Below is a table comparing the Annual total returns for my portfolio, AGG, and PTTAX. The returns for my portfolio and AGG are from ETF replay and the returns from PTTAX are from Morningstar.com.
Annual Performance

2008

2009

2010

2011

2012(ytd)

My portfolio

8.40%

2.60%

13.50%

14.20%

2.30%

PTTAX

4.32%

13.33%

8.36%

3.74%

2.77%

AGG

7.90%

3.00%

6.40%

7.70%

0.50%

Outperform Mutual Fund?

Yes

No

Yes

Yes

No

Outperform AGG?

Yes

No

Yes

Yes

Yes
The table above shows my portfolio outperformed AGG 3 out of the last 4 years and by an average of 3.43% per year. Also, my portfolio has outperformed PTTAX 3 out of the last 4 years by an average of 2.24% per year. The table also shows that so far for 2012 year to date my portfolio is outperforming AGG and slightly underperforming PTTAX.
Closing thoughts
The above charts and tables show that the portfolio has outperformed the AGG and PTTAX by a good margin over the last 4 years. Also, the portfolio having included stocks and gold, and only have .20% more volatility than a bond fund was way better than I had hoped for, and big surprise to me. The funds in the portfolio had a wide range of correlations to each other, with the exception of TLH and IEF which had a 98% correlation to each other there was no other funds that had a correlation greater than 41% to one another, which made for strong diversification of the portfolio.
Disclosure: I have no positions in any stocks mentioned, and no plans to initiate any positions within the next 72 hours.