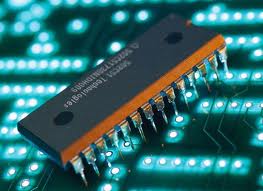 We know there are at least two guarantees in life, death and taxes. I don't know of anyone who has said they are looking forward to these events. In the stock market, there are also at least two guarantees, profits and losses. And the unifying trait of all investors is that either outcome of the trade stems from one source - risk. Managing risk is one of those things that very few investors know how to do well. Interestingly "risk" of various forms may also lead to death and/or taxes, but it can also lead to significant gains as well.
One sector that has recently become the source of great risk while delivering excellent gains is semiconductors. While some of the names have gotten a tad expensive, indicators suggest that there is still room to grow. Betting on the sustained growth of smartphones and mobile devices is a pretty safe gamble. So why not also invest in the companies that help manufacture such popular items. With that in mind, here are some names that I have begun to consider.
ARM Holdings (ARMH)
When it comes to smartphones and tablet devices, one of the very first names that I thought of in terms of an investment was ARM Holdings. Not only has this once unknown company come out of nowhere to take a chunk out of Intel's (NASDAQ:INTC) market share, but it has also forged huge deals with Microsoft (NASDAQ:MSFT) for use of its chip technology in the upcoming release of Windows 8. Furthermore, it is widely known that PCs are losing share while smartphones and tablets are becoming more ubiquitous in both the consumer and corporate environments.
ARM has capitalized on the explosive growth of smartphones and tablets. The company has come out of nowhere to give Intel a run for its money. Though the company has been around for quite some time, it has been relatively unknown until Apple (NASDAQ:AAPL) regained its prominence and the smartphone game was in full mode. But it wasn't until Microsoft announced that it will build its next generation of Windows with chips using ARM's technology that its name really took off. The company then went on to forge relationships with several prominent tech giants. Given that it already owns 75% of the mobile processing market, further tablet and smartphone proliferation will generate instant growth for the semiconductor maker. With no slowness of that market in sight, ARM should be considered in any portfolio with reasonable time horizons.
Atmel (ATML)
As with ARM, there is a case for a company such as Atmel for a lot of the same reasons. The company competes in a wide variety of different markets in the chip industry. The company's products include microcontrollers, programmable logic devices, and a wide range of proprietary system-on-chips and nonvolatile memory chips. The company manufactured about 93% of its own chips in 2007. It sells its products into many different end markets, including communications, consumer electronics, computing, as well as automotive.
Granted, as has been the case for most tech companies, it has had its own fundamental challenges at the onset of the recession. But not all companies succeed in self-improvement to the extent that Atmel has. This modest semiconductor company is a good example of the rewards that can accrue when patient shareholders and committed management intersect. From a fundamental standpoint, Atmel has outpaced its peers over the past several quarters. Its microcontroller business is healthy, and though I have pointed out the benefit of it being a part of Apple's ecosystem, it is worth noting that Atmel is also gaining share in the non-Apple gadget market, as well with its line of maXTouch controllers, which basically run the touch-screen interfaces on several devices. Atmel is a buy.
Nvidia (NVDA)
To its credit, Nvidia delivered a decent third quarter. In fact, I can say that it was a good quarter considering the fears that I had upon seeing the declines from the likes of Oracle (NASDAQ:ORCL) that signaled weakness in technology spending - and to some extent, from Cisco (NASDAQ:CSCO) as well. Both companies typically are used as a gauge for monitoring corporate spending habits. As with both ARM and Atmel, Nvidia stands to benefit immensely from Apple's success. The question is, can it make more ground in the tablet and smartphone market? This is the challenge that its management must address.
Nvidia still remains intriguing at this point. While the stock has indeed taken a significant beating for most of 2011, and has hovered near its 52-week low for quite some time, it may be prudent to wait one more quarter until all the dust settles before taking a position. But investors who have a high risk tolerance, and are willing to bet on its ability to secure the type of share required to generate growth from higher margins, may consider it at any point.
Qualcomm (QCOM)
When looking at Qualcomm's operations, two things come to mind - first, the company is focused on tackling new markets and secondly, it has a very attractive business model - one that has caused some angst for the competition. The company has the added benefit of being one of the top suppliers of MSM chips for Apple's iPhone and a benefactor of the growing popularity of smartphones, which is projected to grow by 43% this year. That is not even including the increased business that Qualcomm is likely to see from Texas Instruments' decision to forgo the mobile baseband business - an event that will allow Qualcomm to now service the needs of a company such as Nokia (NYSE:NOK).
With the stock having reached a couple of new 52-week highs of late, I'm beginning to suspect that my attraction to the company is in line with many other investors and I have reason to believe that the success of tech giant Apple has had a considerable positive effect on its sudden appeal. But nevertheless, in the space dominated by other chip names such as Intel and Texas Instruments (NYSE:TXN), it is hard to suggest that Qualcomm gets the sort of recognition that I think it deserves. Recently, the company released its Q1 2012 earnings results and proved once again why it belongs in the group of the elite. The company reported earnings per share of 97 cents, which is up 18% from the year-ago period - well above analyst expectations of 90 cents.
Texas Instruments (TXN)
I have grown fonder of Texas Instruments of late for no other reason than the fact that I think it presents the better value. Plus it also helps that the company has appeared to be on a bit of a roll recently - gaining share in markets such as amplifiers, power management and (oh by the way) did I mention it get slots in Apple products? Recently, upon the release of its Q4 and full-year earnings results, it was once again time to assess the company's outlook after seemingly making a correct bet. I say this knowing pretty well that the company beat expectations that it had lowered a month prior. The fourth quarter included additional revenue from the acquisition last year of National Semiconductor, which was completed for $6.5 billion.
Analog chip sales, where it leads in the market, continued to account for the majority of the top line and climbed a respectable 7% to $6.4 billion. But it was not the fact that it exceeded those numbers that should excite investors, but the fact that it put forth an outlook that implies that the company should be able to rebound from a disappointing 2011. And several analysts agree and cited the fact that inventory correction within the overall chip industry is now over. For the coming year, analysts are projecting modest sales growth and total sales of nearly $13.9 billion. The consensus earnings projection for 2012 is currently $1.89. This trend may likely pick up by the end of the year.