Over this past weekend, I was looking very hard for a company to write about that I feel has great potential to offer investors a double in stock price by the end of this year. Normally I focus on bio-pharmas, because I feel it is the sector that will lead the market this year.
After searching for hours, I found an interesting company that was on my radar screen a few months ago after it made a run from around $1.20 to over $6.00 a share. I really did not pay much attention to it afterwards, as I figured I missed the run already. I am glad I decided to give the company a closer look, as I really like what I see with it.
MELA Sciences (MELA) 3/5/12 pps: $4.69
MELA is a medical device company that focuses on the design and development of a non-invasive, point-of-care instrument to assist in the detection of early melanoma. The company's principal product, MelaFind, features a hand-held imaging device that emits multiple wavelengths of light to capture images of suspicious pigmented skin lesions and extract data.
Melafind is designed to help detect possible Melanoma, a malignant tumor of melanocytes. Melanocytes are cells that produce the dark pigment, melanin, which is responsible for the color of skin. They predominantly occur in skin, but are also found in other parts of the body, including the bowel and the eye. Melanoma can originate in any part of the body that contains melanocytes.
Melanoma is the most dangerous type of skin cancer, with doctors diagnosing about 160,000 new cases of melanoma yearly. The diagnosis is more frequent in women than in men and is particularly common among Caucasians. Melafind is designed to help discover Melanoma before ordering a biopsy to determine if in a fact a skin lesion is cancerous.
Specialists at The Mayo Clinic diagnose patients with a device that magnifies and illuminates the skin, called a dermatoscope, which is sometimes used to look more closely at unusual skin areas. The Mayo Clinic could benefit by having a few Melafind systems on hand, which would be more cost effective in the long term in my opinion.
On November 1, 2011, the company received written approval from the FDA of its MelaFind Pre-Market Approval ("PMA") application.
In February 2011, the company submitted a PMA amendment containing a revised 'indications for use' statement limiting MelaFind to use by dermatologists, based on discussions that ensued during the Panel meeting. In May 2011, the company filed a second PMA amendment containing a training program for clinicians, an outline of which was presented at the Panel meeting. Also in May 2011, the company submitted a Citizen's Petition to the FDA requesting that the Commissioner of the FDA enforce the binding Protocol Agreement, as well as FDA laws and regulations, in completing the review of the MelaFind PMA.
Melafind Costs and projected revenues:
Each Melafind system costs $7,500, which includes placement and training fees, with a card use fee of $50, which is sold with the system, bringing the cost per system at 100,000 dollars, with 35,000 roughly in manufacturing costs, equates to a profit of 65,000 dollars per system, according to Dr. Joseph Gulfo, MELA'S CEO.
Gulfo also remarked in an interview with MassDevice.com:
I don't think we'll be 'selling,' (Melafind) in the classic sense of selling, for at least a year and a half, Dermatologists want this system, so we don't need to 'sell' it.
In other words, Gulfo implies the system will sell itself because the company research shows the market demand is high.
MELA plans to initially roll out 20 systems in Q1 2012, and 275 systems by year end, which equates to $27 million in revenue for the company. I foresee 1000 systems a year roll out by 2018. Taking into consideration the current small market cap of around $120 million, Mela should see a double in this cap by year's end, and a triple in 2 years.
More and more drug companies are working to create drugs to treat Melanoma once it is properly diagnosed with the help of a system like Melafind. Cases of Melanoma are becoming more numerous each year, with potentially many more cases of Melanoma being missed, because in part, a highly effective system like Melafind is not readily avaliable to the market to help indentify patients that require biopsies.
Bristol-Myers Squibb's (NYSE:BMY) experimental drug ipilimumab was FDA approved last year for the treatment of melanoma. The drug uses the body's immune system to fight cancer.
Other companies developing skin cancer vaccines include with their drugs include:
GlaxoSmithKline (GSK) is currently developing an investigational MAGE-A3 Antigen-Specific Cancer Immunotherapeutic. Glaxo's MAGE-A3 candidate immunotherapy is currently being evaluated in clinical trials. One of the trials, a phase III clinical study MAGRIT, is currently the largest lung cancer treatment study ever conducted. Melanoma-associated antigen 3 protein in humans is encoded by the MAGEA3 gene.
Vical (VICL) has an immunotherapeutic treatment drug named Allovectin in phase 2, showing promising clinical data results.
Curis (CRIS) recently received FDA approval for its drug Erivedge, for the treatment of advanced forms of basal cell carcinoma. which is the most common type of skin cancer Curis is a company I have been keeping an eye on after a fellow investor brought the company to my attention.
Melanoma treatment certainly appears to be am emerging crowded marketplace, and I believe MELA is in a prime position to take full advantage of this with it's MelaFind system.
*Price Target Summary:
| | |
| --- | --- |
| Mean Target: | 12.20 |
| Median Target: | 10.00 |
| High Target: | 20.00 |
| Low Target: | 7.00 |
| No. of Brokers: | 5 |
Consensus analyst opinion one year target price for MELA is over $12 a share as seen above. The stock currently sells for around $4.70, with a market cap of about $120 million.
*Share Statistics
Avg Vol (3 month):
464,730
Avg Vol (10 day):
668,875
Shares Outstanding:
25.26M
Float:
24.88M
% Held by Insiders:
4.16%
% Held by Institutions:
24.90%
Shares Short (as of Feb 15, 2012):
5.94M
Short Ratio (as of Feb 15, 2012):
14.10
Mela has a rather low float, so I can understand and agree with the analyst consensus 1 year target price. Once MELA gets proper market exposure, the stock should really take off.
*Insider Transactions
| Date | Insider | Shares | Type | Transaction | Value* |
| --- | --- | --- | --- | --- | --- |
| Feb 16, 2012 | KABELEV NIKOLAI Officer | 1,875 | Direct | Option Exercise at $1 per share. | 1,875 |
| Dec 21, 2011 | CORADINI ROBERT Director | 21,457 | Direct | Purchase at $3.97 per share. | 85,184 |
| Dec 21, 2011 | GULFO JOSEPH V Officer | 21,458 | Direct | Purchase at $3.97 per share. | 85,188 |
| Dec 8, 2011 | WAGNER GERALD D Director | 10,000 | Direct | Acquisition (Non Open Market) at $0 per share. | N/A |
| Dec 8, 2011 | CHRYSSIS GEORGE C Director | 10,000 | Direct | Acquisition (Non Open Market) at $0 per share. | N/A |
| Dec 8, 2011 | CASTLEMAN BREAUX Director | 10,000 | Direct | Acquisition (Non Open Market) at $0 per share. | N/A |
| Dec 8, 2011 | BRAGINSKY SIDNEY Director | 10,000 | Direct | Acquisition (Non Open Market) at $0 per share. | N/A |
Decent insider activity, especially the 2 substantial direct buys on December 21st, 2011.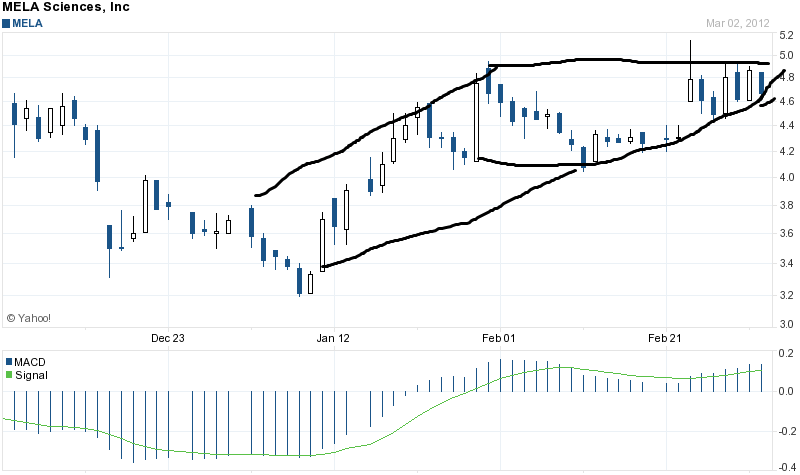 The chart above looks rather bullish to me as I see pennant accumulation occurring after a large gap up a few days ago, which is now getting filled in a nice wedge pattern which I mark in black lines. The MACD and signal indicates this as well, as both are trending upwards.
I see a move to over $5 coming this week with MELA.
MELA is a strong buy in my opinion, with my 1 year target being $9-$12 a share.
*Data sourced from Yahoo Finance
Disclosure: I have no positions in any stocks mentioned, but may initiate a long position in MELA over the next 72 hours.
Additional disclosure: This article is intended for informational and entertainment use only and should not be construed as professional investment advice. Always do you own complete due diligence before buying and selling any stock.