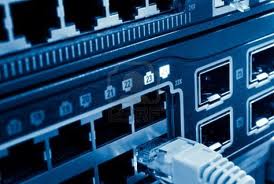 With corporate earnings once again on the rise coupled with the tremendous effort that the economy is making to get back on track, all of this tends to also influence one very important thing - the return of corporate IT spending. While 2011 ended with much disappointment as demand for technology services hurt several large technology companies, in 2012 increased IT budgets will undoubtedly produce a resurgence in some of the technology sector's biggest names.
There is no doubt that every company strives to grow. And in pursuit of that growth, network enterprises tend to scale larger as well as require increased bandwidth to support the demand for higher traffic. The one sector that is prepared to handle the increased stress on corporate backbones is the networking group. Some of the names will begin to see increased orders for their equipment as well as services throughout the rest of the year. Investors should consider looking closely at some of the following names as they still present some tremendous value.
F5 Networks (FFIV)
F5 is one company that always seems as if it has its act together. The stock is by far the most expensive among the group from a valuation standpoint as well as by virtue of its P/E ratio. There are high growth expectations placed on this company, but remarkably it has yet to give investors a reason to doubt that they can be reached.
The company recently reported fiscal first-quarter earnings and both its results as well as guidance were in the range that made analysts happy. The company reported a 2% increase in revenue from the prior quarter while netting an increase of 20% from the previous year. Product revenue was somewhat of a minor disappointment while software revenue climbed 7%.
Clearly management knows what it is doing, investors are happy and analysts are ecstatic. So what is the problem? Well for starters and as mentioned above, the stock continues to be a tough one to figure out. What is its true value and what makes the company worthy of such an enormous P/E? As well as the company is performing and has been performing, it is hard to recommend the stock at these levels.
Brocade (BRCD)
Brocade is a name that I have recently become enamored with. In its recent Q4 earnings announcement, not only did it beat its projected numbers but it also raised guidance. The question is though, what did it prove? But that is not to take away from the many accomplishments that it has logged this year, especially considering the market's early reaction to its once perceived inability to compete.
Looking at it from a bearish lens, Brocade's Q4 numbers were far from stellar. The company reported flat revenue on a year-over-year basis and less than 10% sequential. Revenue for its network storage service was down 4% from the previous year, but this was offset with an 11% growth from smaller areas of its business - notably IP. But regardless of how one looks at it, it can't be discounted that it did beat consensus estimates on both year-over-year declines and its end of range. To top it off, profitability was a huge plus.
In 2008, the company acquired one of its competitors, Foundry Networks. That was an acquisition that seems to now be paying off. In the deal, management sought to broaden the company a little bit more and place less dependency on its storage business. The other advantage was it wanted to be able to sell networking gear to its existing customer base to provide the services of a one-stop shop, a strategy that is now proven to have worked or at the very least, is currently working. Brocade continues to prove that it can do just fine with a small piece of the market pie for now, but there is no denying that it is hungry for a bigger slice.
Hewlett-Packard (HPQ)
There's something to be said about Wall Street's less than favorable reaction to the numbers that tech giant Hewlett-Packard recently delivered. I say this because it appears that many analysts had soon forgotten that expectations for the company were already low, considering the fact that it has only been months since its new CEO, Meg Whitman, had taken over.
I asked previously if Meg Whitman was up for the task of turning around HP. That question was clearly answered during the conference call on Wednesday, as she more than demonstrated, based upon HP's guidance, that she has a more realistic sense of the company's challenges and what it will take to get them fixed. Recently, an analyst from Sterne Agee raised its rating on the stock from Neutral to Buy and said it sees an upside price target at $34 per share as it sees uncertainty lifted and the stock as widely oversold. The firm issued the upgrade while lowering estimates, citing the company's own revised guidance.
It seems to me that Whitman appreciates what the company is and what it is not, whereas Apotheker wanted to kill off the company's PC business to compete head on with Apple in tablets and sought to outperform Oracle (NASDAQ:ORCL) in services - both of which failed miserably. In other words, dominating the PC market from DELL and securing printing away from competitors such as Lexmark was not enough and I suspect was perceived boring. All of this, while ignoring the fact that it was also losing market share to Cisco (NASDAQ:CSCO) in its networking business. And this is where Whitman has restored some stability, direction and focus as evidenced by what the company has been able to do in a relatively short period of time under her tenure.
Cisco
Networking giant Cisco continues to have its share of critics on Wall Street. There are many who remain unimpressed by what the company has been able to do of late - a feat that includes three consecutive earnings beats. But nevertheless, as the stock currently sits right at its 52-week high, the major question for analysts continues to be, where is the value? This of course goes against my prediction that the stock is now heading to $30 - clearly from my vantage point there is $10 worth of equity to be had. But the challenge for Cisco is convincing the market that it can get there.
In its latest quarter, which ended January 28, Cisco reported net income that climbed 44% and arrived at $2.2 billion, or 40 cents per share. This compares with earnings of $1.5 billion, or 27 cents per share year-over-year. If you factor out that the costs associated with stock-based compensation as well as some acquisition-related amortization, the company actually earned 47 cents per share - 4 cents per share above analysts' expectations based on polls by FactSet. Revenue was $11.5 billion, up 11% from $10.4 billion a year ago and compares favorably with the $11.2 that was projected. Its results clearly demonstrate that the company is keen in improving its margins as the metric improved a full point from the previous year while also exceeding analyst estimates.
It is a good time to be a Cisco investor. As disappointing as the past couple of years have been, there are certainly plenty of reasons to suspect that the worst is behind the company and it deserves a tremendous amount of credit for what it has been able to accomplish in a relatively short period of time. There are still challenges that lie ahead, but I now have several reasons to expect a continued rise not only in the company's execution but also in its share price.
Juniper (JNPR)
For Juniper, the important question continues to surround the overall health of its business. It is interesting when you consider that previously, the debate has always been which of the two is better when compared with Cisco . Now analysts are asking if it can run its business effectively. In January, the company announced that fourth-quarter results were going to fall short of Wall Street expectations.
The company guided revenue down to $1.11 billion and 26 cents per share instead of the $1.19 billion and 34 cents that analysts had been expecting. The unfortunate thing for Juniper was that this was to log the third consecutive quarter of shareholder disappointment. The company added that weak U.S. demand and unexpected slow growth contributed to the decline in sales while at the same time suggesting that it had a "record year" in 2011.
The good thing is that by pre-announcing the softer numbers, the company did accomplish its goals of making a soft landing when the actual numbers were released. As it warned, net revenue for the fourth quarter of 2011 decreased 6% on a year-over-year basis, and increased 1% sequentially, to $1,120.8 million. For the year ended December 31, 2011, its revenue increased 9% on a year-over-year basis to $4,448.7 million while posting a GAAP net income of $96.2 million, or $0.18 per diluted share. All in all, the numbers were decent, not the disaster that they were projected to be. But it begs the question, does management truly have a grasp on the company if it has missed for three straight quarters?
There is cause for optimism however. The company has an array of new products coming out as it continues to position itself to steal share from the rest of the group. One of these products is called the EX6200 and according to the current reviews, it has the potential to be a game-changer for the company by bringing together various intelligent features into one. As great as that product can potentially be, Juniper's challenge will continue to be finding ways to grow and creating the sort of momentum needed by tech companies to inspire investors to believe. I suppose it really has three challenges.