With the recent merger Exelon (EXC) has orchestrated and the drop in price, investors are wondering whether it is a good time to invest long-term in the company. Though we like the company and its dividend, we think the timing to invest is premature.
Exelon Corporation is one of the nation's largest electrical utility companies. It has millions of retail customers in Pennsylvania and Illinois, and sell wholesale to other suppliers throughout the nation. PECO and ComEd are the two subsidiaries of EXC that deliver retail electricity to homes. It is also important to note that 66% of its energy is generated through nuclear means. It is this segment that generates 76.9% of its total net income.
The last three months EXC has been down 11.3% and year to date 10.5%. It has not been a good start for the utility company in 2012. It had a huge drop in early January and part of that was due to its P/E ratio of 13.58 that is well below the industry average of 20.17. This hasn't set well with investors. It still has some dividend appeal, but value investors are not impressed.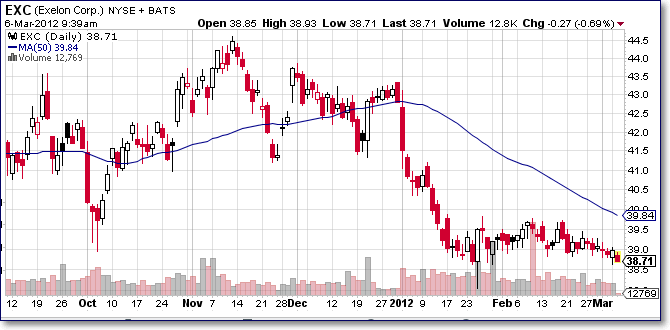 Week Energy Markets
Weak near-term power markets have pushed out the time horizon for the earnings trough at EXC from '12 to '13. Current power market fundamentals point to negative earnings revisions and a negative near-term balance of risks for EXC shares. Part of the problem is the continuation of the very low natural gas prices. Because of the continued unseasonably warm weather, the demand just is not there right now, and it will continue into the typically warm weather months. This is what has been forecast short-term in 2012. A modest increase from present price levels is not expected until 2014.
We saw EXC drop 10% in early January because of the revised forecasts that have taken place. With the low prices in natural gas lingering through this year, the mechanics of the merger with Constellation Energy (CEG), we do not think that EXC is a good place to put right now. That does not mean they are not worthy of one's watch list. But- -- specially if you're a value investor -- there are other stocks worth putting money into right now.
Keep Exelon on a watch list for future investing, but hold on to your money the first half of 2012.