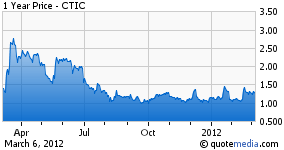 As we all know, 2012 is so far a great year for biotech stocks investors. So many biotech stocks were approved in last two months and more to come in next few months. Based on the current state and pipeline, I believe Cell Therapeutics (NASDAQ:CTIC) has huge upside potential.
Cell Therapeutics, Inc., a biopharmaceutical company, engages in the development, acquisition, and commercialization of drugs for the treatment of cancer. Cell Therapeutics has a market cap of $252M and currently trading around $1.31 with a 52-week range of $0.95 to $3.33 per share. The company is developing Pixuvri, a novel anthracycline derivative for the treatment of non-Hodgkin's lymphoma, as well as for various other hematologic malignancies and solid tumors; OPAXIO, a Phase III clinical trial product for the treatment of ovarian, brain, esophageal, and non-small cell lung cancer; and Brostallicin, a phase II trial for the treatment of metastatic triple-negative breast cancer. It is also developing Bisplatinates, a platinum-based chemotherapy drug to treat various kinds of cancers. The company has collaboration and licensing agreements with PG-TXL Company, L.P.; Gynecologic Oncology Group; Nerviano Medical Sciences; Cephalon (NASDAQ:CEPH); and Novartis (NYSE:NVS).
There are currently no proven effective therapies for these advanced NHL patients
Approval by European Commision
On February 17, 2012, Cell Therapeutics announced that Pixuvri™ (pixantrone dimaleate) has been granted a positive opinion for conditional approval from the European Medicines Agency's ("EMA") Committee for Medicinal Products for Human Use ("CHMP"). Based on the CHMP's recommendation, CTI expects that a conditional marketing authorization for Pixuvri should be granted by the European Commission within the next few months. CHMP recommended Pixuvri for conditional approval as monotherapy for the treatment of adult patients with multiple relapsed or refractory aggressive non-Hodgkin B-cell lymphomas ("NHL").
If the CHMP's recommendation is formally adopted by the European Commission, Pixuvri would be approved for marketing in the 27 countries that are members of the E.U., as well as the European Economic Area. The decision by the European Commission is typically issued approximately two to three months after the CHMP opinion and generally follows the recommendation from the CHMP. If the opinion is confirmed by the European Commission, Pixuvri would be the first drug approved for patients in this setting.
Assuming European commission approves Pixuvri in next two to three months, the stock will go up by more than 50% since there are currently no proven effective therapies for these advanced NHL patients.
Approval by U.S. Food and Drug Administration
On January 30, 2012, Cell Therapeutics announced that it has voluntarily withdrawn its New Drug Application (NDA) for Pixuvri. The NDA was withdrawn because, after communications with the U.S. Food and Drug Administration, CTI needed additional time to prepare for the review of the Pixuvri NDA by the FDA's Oncologic Drugs Advisory Committee at its February 9, 2012 meeting. Prior to withdrawing the NDA, CTI requested that the FDA consider rescheduling the review of the Pixuvri NDA to the ODAC meeting to be held in late March. The FDA was unable to accommodate CTI's request to reschedule, and given the April 24, 2012 Prescription Drug User Fee Act (PDUFA) date, the only way to have Pixuvri possibly considered at a later ODAC meeting was for CTI to withdraw and later resubmit the NDA. CTI plans to resubmit the NDA in 2012.
We should expect a rally as soon as CTI files a NDA with U.S. Food and Drug Administration and the chance of getting approved by FDA is likely if this is already approved by European commission. Once this is approved by FDA, the stock price will once again sets new 52-week high. Apart from Pixuvri, CTI also has many other drugs in the clinical development pipeline such as Tosedostat (Phase II trial), OPAXIO (Phase III trial), Brostallicin (Phase II trial) and Novel Bisplatinum Analogues (Pre clinical research). Positive results from these clinical trials are also additional bonus for the CTIC investors.
Some of the data is sourced from Yahoo Finance and Cell Therapeutics site. I am not a registered investment advisor and does not provide specific investment advice. The information contained herein is for informational purposes only. It is up to the investors to make the correct decision after necessary research.
Disclosure: I am long CTIC.