There comes a point where the price of every commodity, good, or service can eventually destroy demand. Stocks are no different and Lululemon Athletica (NASDAQ:LULU) seems to be experiencing a decline in interest.
As the chart bellow illustrates, volumes and interest in the stock began to climb rapidly in late 2010, surpassing the 4.5 million shares point - the stock was half of what it is today. Since that peak, volumes have been declining as the stock continued to rise. This phenomena seems like demand destruction, where the price (and hence the earnings multiple) pushes would be buyers out of the market.
When demand/volume is not supporting a price increase, it is reasonable to expect a decline until volume levels begin to indicate renewed interest in the stock.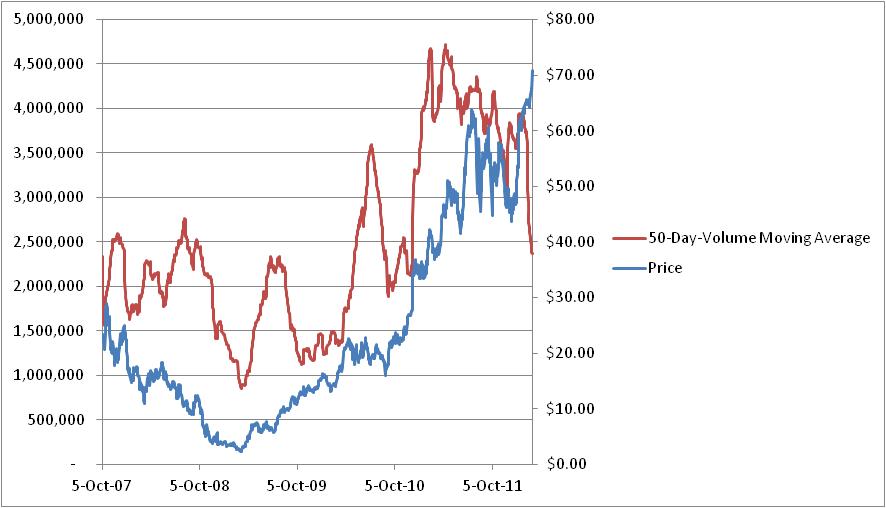 Too Expensive to Touch
The notion that the stock is not expensive on a price-to-earnings basis is simply ridiculous. Growth rates normalize as competition intensifies and costs rise. Therefore, it is hard to comprehend why anyone would pay for earnings that are embedded so far into the future.
To put into perspective, the table below illustrates just how expensive the stock really is. Using the estimated 2012 earnings and today's price (prices might change by the time this article is published), we come to an earnings multiple of 44.6; that is, a buyer today paid $44.60 for every $1 the company generated in profits!
But wait, the insanity doesn't end there. Say Lulu can continue to grow at an annual rate of 30 percent compounded earnings growth; the stock will be trading at 26.4 times earnings by the end of 2014, which is roughly 2 years and 10 months from today.
How many things can go wrong from now until then? Can this company continue to grow at an annual pace of 30 percent a year, or was I too generous?
| | | | |
| --- | --- | --- | --- |
| Year | 2012 | 2013 | 2014 |
| Current Price | $70.86 | $70.86 | $70.86 |
| | $1.59 | $2.07 | $2.69 |
| Growth Rate | | 30% | 30% |
| P/E | 44.6 | 34.3 | 26.4 |
The company is reporting next Thursday March fifteenth for the fourth quarter of 2011 and for more on this topic see here.
Disclosure: I am short LULU.
Additional disclosure: I am short Lululemon Athletica on the TSX.