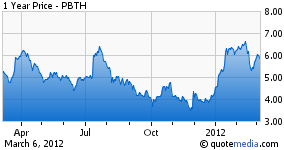 In a recent interview, PROLOR Biotech's (NYSEMKT:PBTH) President Shai Novik rightfully described hGH-CTP - which will be the first FDA-approved long-acting version of human growth hormone - as a "market transformer". The absence of competition and the strong IP protection surrounding hGH-CTP makes PROLOR a top takeover target. Pipeline momentum for the company's hemophilia and diabetes type II drug only further boost the appeal.
The company has gained by 43% over the last three months, and Morgan Joseph still anticipates that the company will almost triple. As I described in this article, the value of hGH-CTP is north of $1B assuming that the product is reasonably priced at $2.5K, penetrates only 3% of the market, and offers a 25% royalty field.
Note that all commercially available human growth hormone products require daily injections. PROLOR's Phase II data demonstrated that hGH-CTP could be injected just weekly to return patients' average IGF-1 levels to normal range. A pilot study has now demonstrated that the candidate could be injected just twice monthly.
Billionaire Phillip Frost owns more than one-fifth of the company and is the Chairman of both PROLOR and Teva Pharmaceuticals (NYSE:TEVA). The latter has struggled to gain momentum off of generics and recently hired Jeremy Levin as CEO from Bristol Myers (NYSE:BMY). Levin oversaw 17 takeovers at Bristol and this deep-industry knowledge grants investor confidence for M&A activity at Teva.
2012 is a significant for PROLOR given the advancing Phase III trial for hGH-CTP and clinical trials for Factor VIIa-CTP (hemophilia), Factor IX-CTP (hemophilia), and MOD-6030 (anti-obesity, diabetes type II). Unlike many emerging biotech companies, PROLOR has solid liquidity with a net cash position of more than $17.6M - giving plenty of leeway to fund operations. And since PROLOR develops biobetters and biosimilars, pipeline development is both safer and quicker.
Less than a month ago, the company announced stellar results for its Factor VIIa-CTP comparative study. Factor VIIa-CTP demonstrated (1) a superior and longer pro-clotting thrombin generation, (2) a superior survival rate in a bleeding test, and (3) significantly greater in vivo recovery. The genetically modified mice were genetically altered to mirror hemophilia in humans. These results are very reliable since Factor VIIa-CTP was produced by taking a proven product, Factor VIIa, and attaching CTP to it. This is one of the key reasons why biobetters / biosimilars offer attractive risk asymmetry.
MOD-6030 is a long-acting version of oxyntomodulin and, in my view, significantly adds to the takeover premium beyond what the market appreciates. The candidate has already demonstrated superiority to oxyntomodulin in weight loss and food intake reduction. Roche purchased Marcadia Biotech for an implied value of $537M in order to gain the rights to the firm's lead product: a GLP-1/Glucagon dual receptor agonist that was just in the preclinical stage. A year later, in 2011, Zealand Pharma reached a deal valued at upwards of $594M over its preclinical version of oxyntomodulin with Boehringer Ingelheim.
In sum, PROLOR has key value drivers across its entire pipeline. I therefore echoe Morgan Joseph's call for investors to aggressively accumulate shares as this pipeline progresses.
Disclosure: I have no positions in any stocks mentioned, but may initiate a long position in PBTH, TEVA over the next 72 hours.
Disclaimer: The distributor of this research report is not a licensed investment adviser or broker-dealer. Investors are cautioned to perform their own due diligence. We seek business relationships with all of the firms in our coverage, but research covered in this note is independent and prospectively commissioned. Always discuss investments with a licensed professional before making any financial decision. Statements made within this report may include "forward-looking statements" as stipulated under Section 27A of the Securities Act of 1933, Section 21E of the Securities Act of 1934, and the Private Securities Litigation Reform Act of 1995. Since these statements are uncertain, actual results may be materially different from those expected.