There is nothing constant in this world but inconsistency. - Jonathan Swift
With increasing rhetoric over a possible military action over Iran and its nuclear program, I thought it might be worth looking at the performance of defense companies to see if investors are anticipating a pickup in government defense contracts. As followers of my approach to intermarket analysis are aware, I like to see if price confirms words, since investors send messages either consciously or subconsciously through relative price. Presumably, within the context of the idea of a coming military conflict, money would position ahead of time for it if indeed it were seen as a high probability situation.
Does price confirm rhetoric? Take a look below at the PowerShares Aerospace and Defense Portfolio (NYSEARCA:PPA) relative to the S&P 500 (NYSEARCA:IVV). As a reminder, a rising price ratio means the numerator/PPA is outperforming (up more/down less) the denominator/IVV.

(Click chart to enlarge)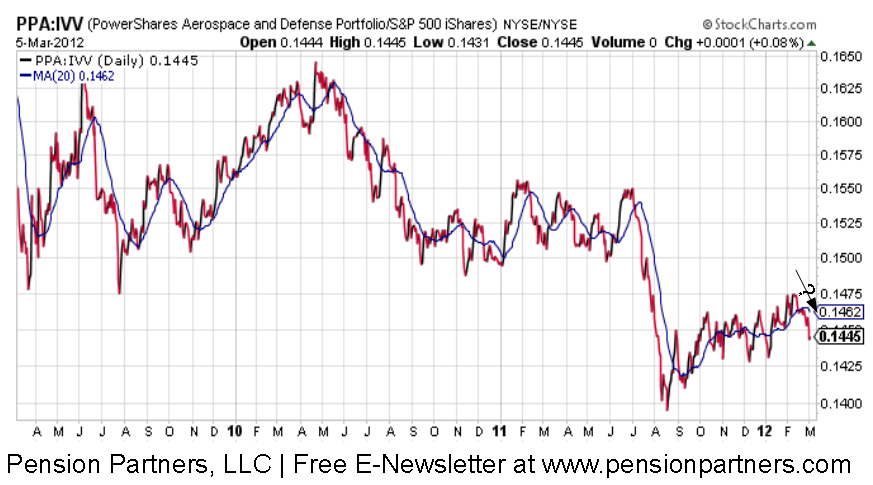 The main thing I want to point out here is that a renewed period of weakness in Aerospace and Defense companies seems to be at hand, with strength never fully sending the ratio back to pre-Summer Crash levels. This is not to say that a military conflict can't/won't happen, but rather now market participants do not anticipate leadership in those companies, which presumably would most directly benefit from military conflict.
What does this mean? Its possible that if investors in the industry are right, then the fear premium in Oil fades as things cool down. It will be interesting to see market internals reacting to news on the political front in coming weeks to gauge if the decline quickly reverses, or is just getting started.
Disclosure: I have no positions in any stocks mentioned, and no plans to initiate any positions within the next 72 hours.
Disclaimer: This writing is for informational purposes only and does not constitute an offer to sell, a solicitation to buy, or a recommendation regarding any securities transaction, or as an offer to provide advisory or other services by Pension Partners, LLC in any jurisdiction in which such offer, solicitation, purchase or sale would be unlawful under the securities laws of such jurisdiction. The information contained in this writing should not be construed as financial or investment advice on any subject matter. Pension Partners, LLC expressly disclaims all liability in respect to actions taken based on any or all of the information on this writing.