There are several variations and sub-indexes of the S&P 500 index available in ETF form. Sometimes they win and sometimes not. The charts in this article show the six-month comparisons.
These same charts are in a post at our blog, with links back to StockCharts.com where the most current daily updated version of each chart is available. That is an easy way to keep tabs on these variations on the S&P 500 index as time goes by.
At StockCharts, you can extend or shorten the time period to view.
One might generally expect the value, dividend and low volatility ETFs to outperform in declining markets, with growth and individual stock equal weighting to outperform in rising markets. However, the market can humiliate the best constructed arguments. Best to check the charts and let what is actually happening be your guide.
We don't have a view on how fundamentally revenue and earnings weighted ETFs should perform relative to the S&P 500 index in rising or falling markets.
Market-Cap Weighted
S&P 500 Index (SPY), Growth Sub-Index (IVW) and Value Sub-Index (IVE):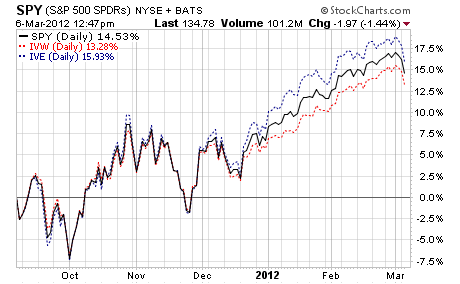 Equal Weighting
S&P 500 Index, Equal Weighted S&P 500 Stocks (RSP), and Equal Weighted S&P 500 Sectors (EQL):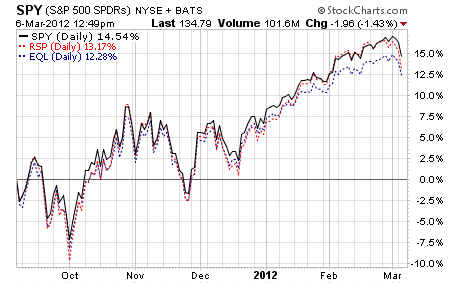 Performance Factor Weighting
S&P 500, S&P 500 Dividend Aristocrats (SDY) and S&P 500 Low Volatility Stocks (SPLV):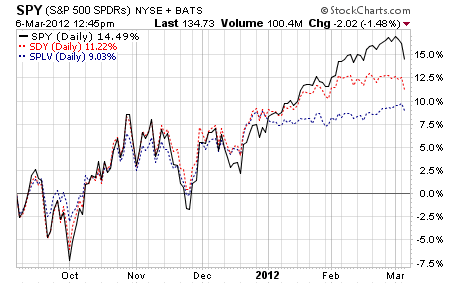 Fundamental Weighting
S&P 500 Index, S&P 500 Revenue Weighted (RWL), "S&P 500″ Earnings Weighted (EPS):
Note: EPS tracks the WidsomTree Earnings 500 Index - not the same as but substantially overlapping the S&P 500.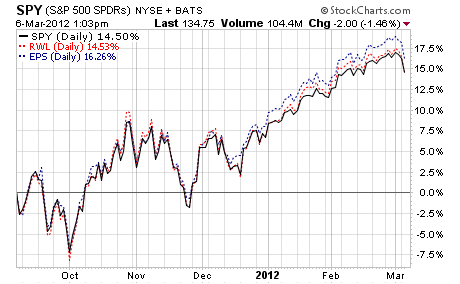 Disclosure: QVM has no positions in any mentioned security identified in this article as of the creation date of this article (March 6, 2012).
Disclaimer: This article provides opinions and information, but does not contain recommendations or personal investment advice to any specific person for any particular purpose. Do your own research or obtain suitable personal advice. You are responsible for your own investment decisions. This article is presented subject to our full disclaimer found on the QVM site available here.