Pandora (NYSE:P) reports earnings after the close Tuesday. I wrote a bit about bullish expectations ahead of the release yesterday. My fresh take headed into the call - I know what to expect from Pandora; I'm just not sure when to expect it. It appears that at least some cats on Wall Street expect Pandora to blow the doors off of earnings Tuesday afternoon. I just do not know. And I'm not sure I care.
Michael Pachter at Wedbush basically echoes my sentiment (or I echo his?):
Although investors tend to have a short-term outlook when evaluating stocks, we believe management is correct in focusing on more meaningful earnings growth long-term, as the stock should eventually receive increased EPS estimates at higher P/E multiples due to a steeper growth curve.
And that's just what Pandora CFO Steve Cakebread said when I interviewed him earlier this year: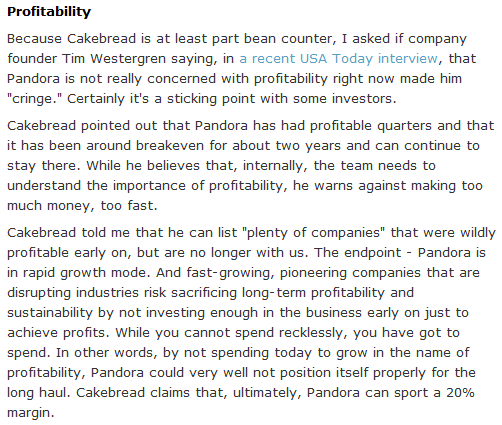 If Pandora knocks the hacky sack out of the skate park Tuesday, all the better. If not, it will come. These things take time. All I know is that I picked up more shares today, on auto-pilot, at $14.36. I've been buying several times a month for months.
In our interview, Cakebread also addressed something that Pandora bears - namely Sirius XM (NASDAQ:SIRI) bulls - like to use to discredit the notion of streaming web radio via smart phone: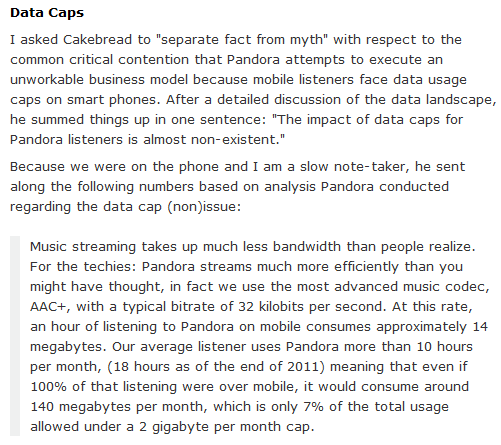 I've decided to run my own experiment. As I write this, I am cranking Pandora on my BlackBerry (RIMM), powered by AT&T (NYSE:T). My new wireless bill cycle started on Monday. I listened to Pandora for an hour yesterday morning and it took up 20.53 of my available 2048 MB. That data usage also included about 20 minutes worth of surfing the Twitter and Bloomberg apps.
A buddy of mine, who runs the hockey site I just started writing for, Tweet to tell me of his experience with Pandora and data: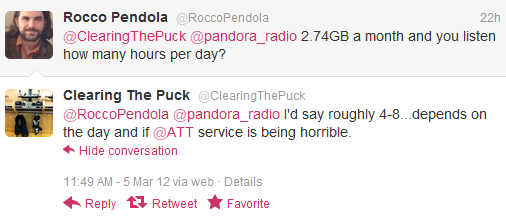 Of course, we're dealing with two isolated cases here, but we're also dealing with a slice of reality. The dude listens 4 to 8 hours a day and only uses 2.74GB a month. And I am sure he uses data for other operations. I am going to listen between 1 to 3 hours a day on my phone this month (that's how much I usually listen via online streaming) and see what happens. At this point, we're looking at 20.53 MB an hour (and that includes more than Pandora). If I listen 3 hours a day for 30 days, that's 1847.7 MB, keeping me well below my cap.
It's amazing when you consider the variables you have to think about before making an investment. It helps to have some knowledge in the area. People who listen to Pandora 4 to 8 hours a day on their phone or listen to Sirius XM on their 4-hour daily commute are outliers. I can tell you that, based on my experience actually looking at radio listening behavior, the numbers Pandora provides - 18 hours a month - are on target.
We'll see how my experiment plays out, but I feel pretty confident in saying the following: Pandora might not be a good investment - only time will tell - but, if somebody tries to tell you it isn't, on the basis of the data cap argument, they have no idea what they're talking about.
Disclosure: I am long P.