Arch Coal (ACI) engages in the production and sale of thermal or steam and met (metallurgical or coking) coal from surface and underground mines located in the United States. ACI mines have a total 5.5 billion ton reserve base at the locations shown below: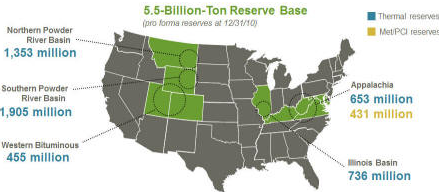 ACI is definitely a player in the industry but is it attractively valued? The fact is the stock price is a captive of coal market prices, which in turn is indirectly, in part, tied to the fortunes of natural gas. Charting the prices for Arch Coal, Peabody Energy (BTU), Alpha Natural Resources (ANR) to thermal coal (below) illustrates the dependency not just for ACI but competitors as well.
(Click charts to enlarge)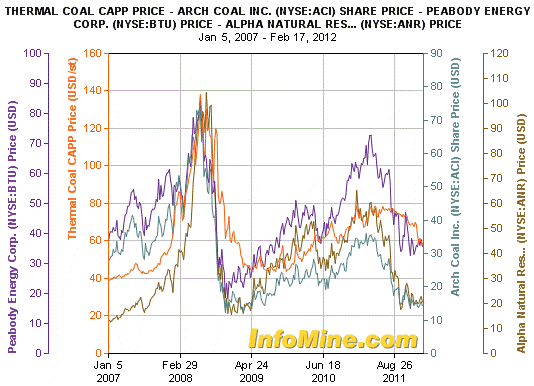 Click to enlarge
The next graph shows the relationship between thermal coal and natural gas.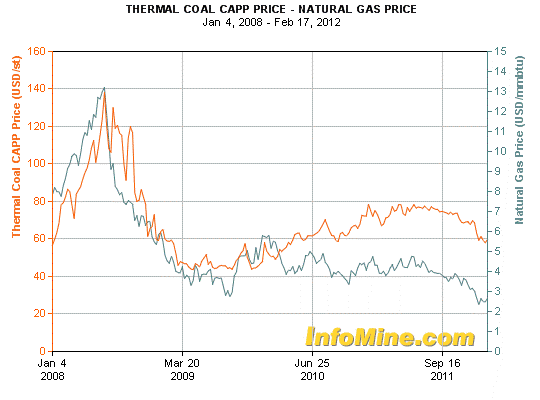 Click to enlarge
Both are codependent with each other. There appears to be a current disconnect between the price of coal and gas, i.e., the gap is widening. The explanation below accounts for the widening gap and downward trend, but either gas is going to rise or coal's downward trend has not bottomed.
The CEO-Steven Leer said the following concerning the markets on the February 10 conference call:
As you know, the coal industry will face some headwinds in domestic thermal markets in 2012. … Heating degree days are also off 20% from normal which has contributed to the glut of natural gas and depressed prices for that fuel as well. As a result, we are taking a conservative view of 2012 and expect U.S. coal consumption to decline by approximately 50 million tons or so from 2011 levels.

This drop off is due to unseasonably warm weather in this winter season and to decade low prices for natural gas, which are causing some displacement of coal burn. Given these headwinds, we are seeing a significant coal supply rationalization. Of course a swift and deep correction can set the stage for a stronger and longer rebound, in fact we believe that Arch is one of the few producers in the Appalachia region that has cash costs below the current market price levels. Thus, it wouldn't be surprising to see Central Appalachian thermal production fall well below 100 million tons by year-end.
Company Outlook: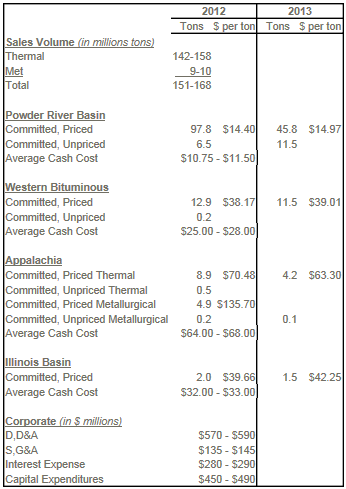 The company sees met coal global utilization rates gaining traction, which should bode well for the met coal demand in the coming quarters. This is a plus but as shown in the outlook met coal volume is projected to be about 6% of the overall 2012 volume, i.e., its fate is tied to thermal pricing. Capital expenditures are being slashed from 2011 levels, which should help protect the current dividend assuming operating cash can remain close to current levels.
Conclusion
Eventually prices will adjust to the excess supply but until then there could be more downside pain ahead. ACI seems well positioned to weather the storm. The price is starting to look attractive for those with a long-term horizon.
Disclosure: I have no positions in any stocks mentioned, but may initiate a long position in ACI over the next 72 hours. The position may consist of writing puts.