The battle lines have been drawn. With the election season heating up, both sides are turning their focus on the problem of skyrocketing oil prices. Since last October alone, we've seen oil prices as measured by West Texas Intermediate Crude soar by over 40%. As would be expected, this is hitting consumers directly in the wallet, with gasoline prices also jumping roughly 40%. Republicans are using this fact to attack President Obama and the Democrats for blocking the Keystone Pipeline and promoting green energy initiatives. Democrats are countering that it is instead Republicans who are to blame for protecting the interests of Wall Street speculators and oil companies.
So who is really to blame for higher oil prices? Neither party. Sure, an argument could be made that the policies of both parties and how it has impacted oil prices on the margins. But neither party certainly hasn't done anything that dramatic to have caused prices to rise by 40% in less than five months.
So who then is to blame? The answer? The Federal Reserve and other global central banks. One has to look no further than the following chart for evidence.
Click to enlarge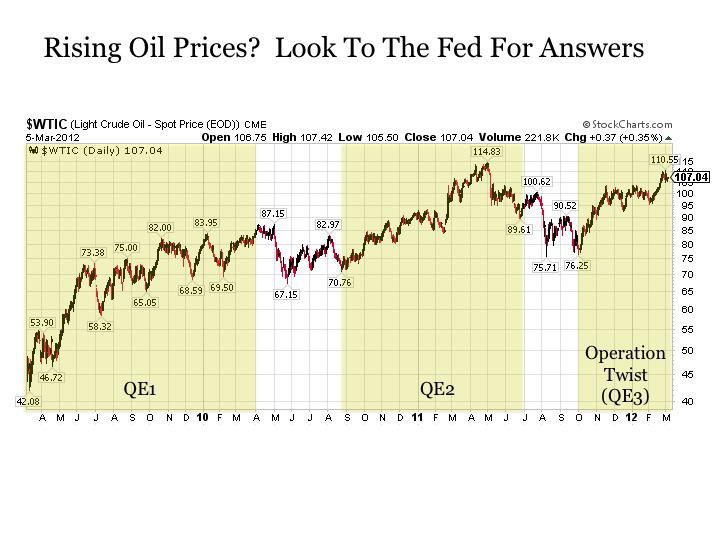 Over the last three years the Fed has engaged in three rounds of quantitative easing (QE1, QE2 and today's Operation Twist/Stealth QE3). And on two occasions along the way, we were left for a time without the support of QE. During QE1, oil prices soared 71%. Once QE1 ended, oil prices immediately dropped by -23% in a matter of just two months. Then when QE2 was launched, oil prices quickly soared once again, jumping 62% by April 2011 before settling back at 40% by the end of June 2011. But once QE2 ended, oil prices immediately declined again by -24% in a little over a month. And when Operation Twist/Stealth QE3 was initiated, oil prices quickly went on the rise yet again, jumping 40% in only a few months. Coincidence? I think not.
And if there was any doubt about the follow through effects on gasoline prices, the following chart directly supports this point.
Click to enlarge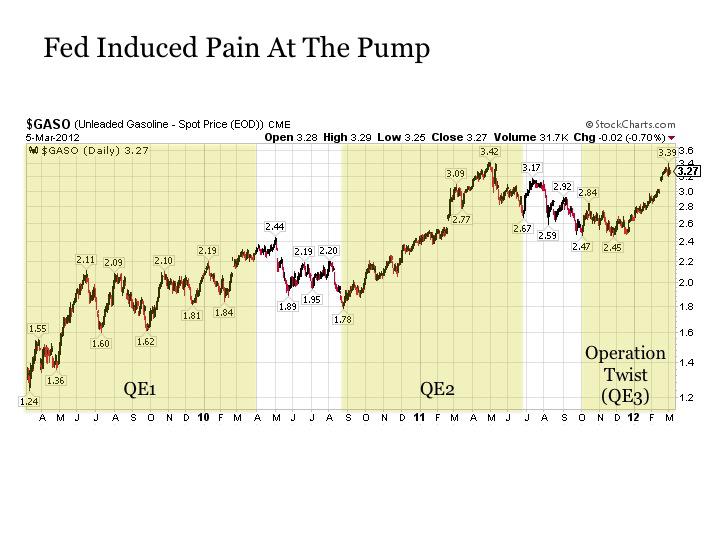 So maybe Mr. Gingrich and Ms. Bachmann were on to something when they pledged $2.50 gas and $2.00 gas, respectively, during the GOP campaign. Get the Fed to stop flooding stimulus into the economy, and perhaps we could get back to these levels or better at the pump sooner rather than later. After all, gas prices were at these levels or better the last two times we took a break from QE.
Despite this effective tax on consumers, I fully expect that the Fed is likely to return with additional rounds of stimulus even after its latest Operation Twist/Stealth QE3 program comes to a close in June 2012. As a result, it is reasonable to consider how one can position to benefit from an investment perspective and at least try to offset some of the pain at the pump.
One possibility would be exchange traded notes (ETNs) that are designed to track oil prices such as the iPath S&P GSCI Crude Oil Total Return (NYSEARCA:OIL). It should be noted that such products do not track oil prices completely and have some leakage. The credit risk of the underlying ETN issuer must also be considered.
Another less volatile way would be to own shares of major integrated oil companies such as Exxon Mobil (NYSE:XOM) and Chevron (NYSE:CVX), although they also track oil prices even less closely than some of the ETNs, however.
Another approach would be to focus on complements to oil. Among these is natural gas, which has been sold off severely in recent months. Natural gas focused positions such as Ultra Petroleum (UPL) and Chesapeake Energy (NYSE:CHK) have not only endured a sustained decline in recent months, but they have also vastly underperformed peers such as Range Resources (NYSE:RRC) and Southwestern Energy (NYSE:SWN) in their own right. Thus, some of these oversold names within oversold sectors may be overdue for at minimum a reversion to the mean if not more.
So while we cannot control Fed policy, at least we can try to do something to offset the spillover effects of monetary stimulus in our investment portfolios.
This post is for information purposes only. There are risks involved with investing including loss of principal. Gerring Wealth Management (GWM) makes no explicit or implicit guarantee with respect to performance or the outcome of any investment or projections made by GWM. There is no guarantee that the goals of the strategies discussed by GWM will be met.
Disclosure: I am long UPL.