The last 10 years has seen a tsunami of technological development occur within products supporting the military, born out necessity in the operational theatres of Iraq and Afghanistan, the results of which also have immediate flow on advantages for other government security agencies, and to a lesser extent some high-end corporate commercial applications. The capability development work that has been rapidly conducted and implemented to support the survivability of troops in complex operational environments has proven a lucrative market for defense industrials such as General Dynamics (NYSE:GD), Lockheed Martin (NYSE:LMT), Raytheon (NYSE:RTN), Boeing (NYSE:BA), BAE (OTCPK:BAESF), Northrop Grumman (NYSE:NOC) and Honeywell (NYSE:HON). I have written on the strengths and weaknesses of these companies previously, and the article provides a link to the Defense Industry Daily Report on the top 20 companies in this field. More importantly, this capability and development work has fast tracked many technical skill sets and capabilities for these companies, which has prepared them for a rapidly changing security environment and the requirement to deliver rapidly and efficiently as defense spending budgets retract.
Unmanned Military Platforms
Some examples of the types of unmanned platforms people are aware of are the Predator and Reaper Unmanned Aerial Vehicles (UAVs), like the armed Reaper shown below:
General Atomics Aeronautical Systems - Reaper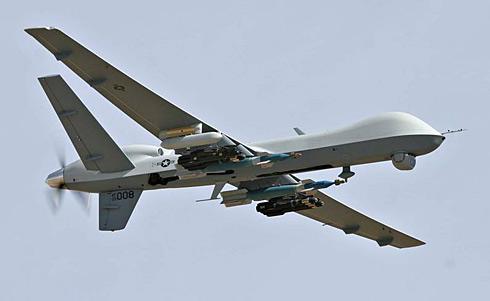 Defense industrial companies continue to modify and evolve their platforms, and there are numerous rotary wing platforms being developed in addition to the current fixed wings platforms that have been prevalent over the last 10 years. Some examples of these are shown below:
For those interested in the advances in technology for these types of platforms, have a look at the comparative size of the Netra and what it is capable of at this youtube link.
Predominately utilized as surveillance platforms, the development of unmanned military platforms is expanding to include land and maritime platforms, in addition to having utility for government security agencies, and some commercial applications. Some land-based unmanned concepts are as follows:
NOC - Carry- All Mechanized Equipment Landrover (CAMEL)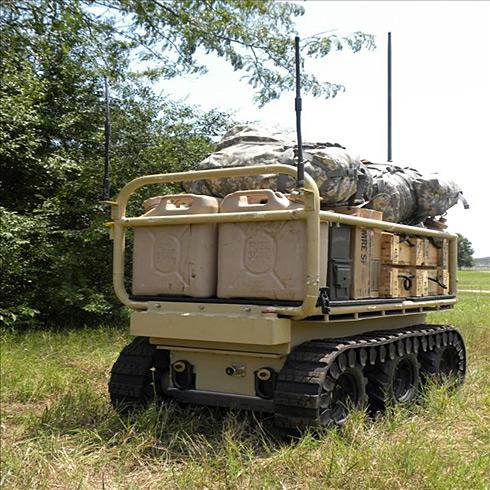 An Unmanned Small Arms Combat System: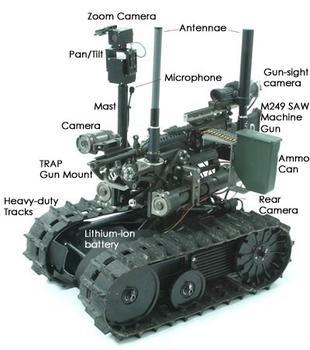 BAE - Black Night Unmanned Armored Fighting Vehicle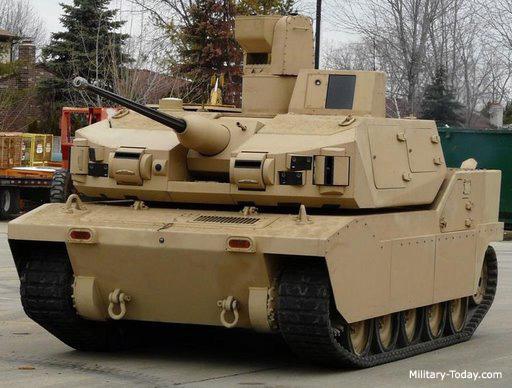 The Navy is also developing the unmanned military platform concept with unmanned surface vessels as shown in the following two examples:
Why Is This Important Now
The development of unmanned platforms is important for all military organizations and is directly reflective of two key pressures.
The first is the fiscal pressures on governments flowing on from the global financial crisis, which brings pressure to reduce both capability costs and personnel costs. The removal of personnel is an easy way to quickly reduce costs, but at a loss to capability. The development and introduction into service of unmanned platforms is a potential way to mitigate this downside. Defense industrial companies have been aware of these budget pressures and moving over recent times to work these constraints into their revenue models. Longer term their strategic research and capability teams are working and planning to design the concept platforms for the future.
The second important issue is that given the high cost of complex adaptive warfar on human life, unmanned platforms help the military to manage the survivability of one of its biggest key replacement costs - personnel. There will always be missions that require a human interface strapped into/onto the military platform, but there are many that don't. For example - in a threat environment with high exposure to mines and improvised explosive devices, why not conduct a resupply mission with unmanned platforms? One that scans and analyzes threats, marking the way for safe passage by unmanned ground cargo platforms, while unmanned armed aerial platforms provide protection to adversarial threats. Or what about commercial search and rescue missions that need to be conducted at sea during treacherous weather conditions? Why not use unmanned aerial vehicles and unmanned surface vessels with surveillance equipment to locate persons in need of assistance, prior to launching a rescue effort with human personnel. In both instances the exposure to operators is significantly reduced; in the event that a adversarial action or an act of nature takes out a platform, all that is lost is the platform - and not the crew.
Who Will Benefit And Why
If we look at some of the examples outlined above, how does their development benefit some of the leading defense industrial companies?
Take the Black Night as an example of a vehicle suitable for the U.S. military's Future Land Warfare Vehicle, or the Australian military's Land 400 Future Combat Vehicle program. An armored fighting vehicle usually contains a crew of three or four personnel (four in a tank, three in a cavalry vehicle). You may not have used some of the advanced ground warfare games available for retail purchase, but you would be aware that you don't need four players to man one vehicle. But you can network players and group them under a lead player. So a vehicle like the black night can take a crew of three people and remove them from the battle space, and potentially replace with a crew of one, operating the vehicle remotely from a base in a safe location. Savings in design and construction come from a vehicle that is significantly smaller (doesn't need to accommodate three personnel), making it more agile (less weight), and potentially more survivable (redundant operating systems can be added to the vehicle. If the cost of producing a typical cavalry vehicle ($3.5 - $2.0 Million per unit) could be reduced by even a third, then not only does it offer defense an up-front savings, but it can potentially mean the military can afford more platforms, which in this case would be a boost to BAE's bottom line.
From an aerial delivery version of combat resupply, look at the potential of the LMT K-max UAV. A typical utility helicopter such as the Sikorsky UH-60 Blackhawk Helicopter costs approx $10 Million, and has operating costs of between $5,000 and $10,000 per hour with a payload of 9,000 lbs and operates with a crew of four. A K-max UAV requires an operator of one, has a payload of 6,000 lbs, and has operating costs of approximately $1,100 per hour (note: given how new the platform is I cannot source a production cost per unit). You can view the platform in action here on operations in Afghanistan. The likely costs savings available make UAVs like the K-max very attractive options to replacing manned cargo helicopters, and to smaller military organizations whose defense budgets are significantly smaller. The defense industrial companies that get the product and capability right first stand to gain significantly, as defense contracts for capability acquisitions are historically for decades of support rather than years of support. Sikorsky (NYSE:UTX) is aware of this and is already moving to develop a combat ready unmanned version of its UH-60 blackhawk at an up-front cost of no less than $1 Billion. BA is already improving its Apache Helicopter, the most lethal attack helicopter in the world, and has already developed systems that will allow the Apache Longbow to control other UAV platforms while airborne.
Summary
We currently live in uncertain times, from both security and economic perspectives. In trying to meet the immediate budget pressures that are driving governments to reduce defense and national security budgets, governments must at the same time carry a longer-term strategic outlook and work these considerations into their longer-term capability development plans. Greater interaction with industry is required, as is maintaining a solid high technology manufacturing base (leave textiles to developing countries with cheaper labor costs), and defense manufacturing companies will need to look at where they can extend the benefits from high-tech military solutions into other commercial solutions.
Innovation will be a key requirement, and smaller companies would do well to leverage with large defense industrials like GD, LMT, BAE, RTN, UTX and BA to ensure they are part of these programs and to help manage the high overheads associated with defense capability projects. As I stated earlier, there will always be a requirement for a direct human interface on some platforms and missions, but in looking to the future (and based on recent history and combat exposure), unmanned military platforms will be the key growth areas in the defense sector, and investors should consider where their target companies they wish to invest in are positioned in this revenue stream.
The list of key benefits is too exhaustive to cover here; rather the intent is not to focus on the current wars being fought now or the current contracts already in production and delivery. The key for investors seeking long-term upside in defense industrials, is to look to future acquisition programs, and it is here where the unmanned platforms indicate that they clearly represent the future growth options. GD is a clear industry leader for ground based platforms (Ambrams, Stryker, ASLAV) and will invest significantly in these platforms if the military indicates this is its requirement. In addition to being a blue-chip stock, GD also has a record of paying a consistent dividend to investors. LMT is already demonstrating that its K-max offers significant reductions to operating costs when compared with other in service systems, and like GD, the company has a consistent history of dividend returns to investors (though the company is not as diversified as GD). Those who get it right early should also reap the benefit of potential capital growth gains.
The bigger defense industrials (GD, LMT, BAE, RTN, UTX, BA) should be watched closely and discounted entry opportunities (when presented) used to take long positions in the stock (two - five years). Defense industrials are a niche area, and investors should understand the additional complexity and risk that investments in this sector may bring to their portfolios.
Disclosure: I have no positions in any stocks mentioned, and no plans to initiate any positions within the next 72 hours.
Disclaimer: The information contained in this article is all open source from the world wide web. This article provides general advice only. You should seek independent financial advice prior to making any investments of your own.