For those of you who did not notice, Starbucks (NASDAQ:SBUX) engineered a tremendous turnaround to the company's fortunes from 2008 through present times. Now Starbucks is looking at further international expansion plus a new line of business to maintain the growth path of recent years.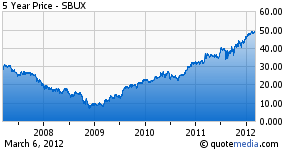 First, a quick trip back in history. Eight years ago, Starbucks was on a roll. The total number of company owned or franchised stores nearly doubled in 5 years, to 16,680 in 2008, up from 8,569 in 2004. Revenue increased from $5.3 billion for fiscal year 2004 to $10.4 billion for 2008. Net income increased to 87 cents per share in 2007 from 47 cents in 2004. But the wheels started to fall off in 2008, when same store sales results declined by 3 percent compared to a 5 percent increase in 2007 and net income fell by half to 43 cents per share in 2008. Same store sales growth declined again in 2009 by 6 percent and revenue also declined for the first time to $9.8 billion. In early 2008, Chairman and former CEO Howard Schultz retook the CEO title and plotted a path of store closures and a greater focus on bringing the local coffee shop feel back to the thousands of Starbucks locations.
The turnaround has been dramatic. Revenue increased by $1 billion each year in fiscal years 2010 and 2011, hitting $11.7 billion for 2011. Net income went from 52 cents per share in 2009 to $1.24 in 2010 and $1.62 in 2011. Along the way, the Starbucks share price has climbed steadily from around $8 in late 2008 to the current $49 and change. Kudos to investors who were brave enough to pick up shares in those dark days of late 2008.
To continue growing, the next push for Starbucks will be internationally, especially in Europe. The company recently announced plans to increase the number of company owned stores in Germany to over 1,000 from the current 150. The regional revenue and profit breakdown gives an idea of the potential for growth in Europe. In 2011, Starbucks European revenue was $1 billion compared to $9 billion generated in the Americas. Net operating income was just $40 million, compared to $1.84 billion here in the home country. The only positive point was the $40 million of income was up from a $5.5 million loss a year earlier. In Asia, the company produces much higher profits on lower revenues. If Starbucks can start generating serious levels revenue and profit growth in Europe, the results could provide 20 plus percent annual earnings growth for the next decade.
The other item revealed in recent news report was Starbucks plans to go after a portion of the mult-billion dollar instant coffee market dominated by Nestle and its Nespresso machines and coffee capsules. Currently Nespresso has the high end instant coffee market pretty much to itself and it seems like there should be room for Starbucks to carve out a nice chunk. The Buckspresso project will initially launch in Europe. This new line of products probably will not affect the bottom line soon, but it shows the type of thinking Howard Schultz is using to maintain Starbucks as a growth company. Expect Starbucks to ride the current strong U.S. results in 2012 and start to see significant contributions from Europe in 2013.
Disclosure: I have no positions in any stocks mentioned, and no plans to initiate any positions within the next 72 hours.