Market Recap: That major correction day finally happened. Although we find it interesting that it comes on a day like today. We all know the issues in Europe. We all know that they were going to report a recession for Q4 in the eurozone. Frankly, we were happy to see it was only a -0.3% GDP and not worse. Yet, the market took that recession, China's slowdown yesterday, and Thursday's looming Greek debt swap to decline on the day. So is this the start of a more major correction or is this an amazing chance for us to buy some things on weakness for the next leg up?
We believe a lot of that depends on Thursday and Friday's big events. How does the Greek debt situation play out on Thursday? Is the job numbers going to be solid? We have two trading ideas on the rest of the week.

Baidu (NASDAQ:BIDU) and United States Oil Fund (NYSEARCA:USO). Baidu, right now, looks quite attractive to us. The stock dropped hard over the past two days on the China news coupled with today's pullback, but it closed right around the 200-day MA and has the 50-day MA sitting just below it at 130. Those two lines are great support lines. We also have a narrowing wedge forming for BIDU that shows a tightening range that signals a big move for the company is coming. We believe that if this market does fail more, BIDU may break these lines and head down to around $120. At the same time, a good Greek debt swap and positive jobs number will put the China drop in GDP estimates out of mind. We would look for a move to over $140 on a nice market rebound. Therefore, we are a fan of a reverse iron condor for BIDU. You can buy the Apr20 $140/$145 bull call spread and the Apr20 $120/$115 bear put spread. That is a net of 2.50 for both. If BIDU is at 115 or 145 on April 20, this position is worth 100%. The technicals signal breakout.
Click to enlarge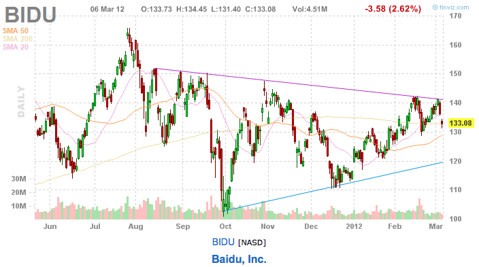 Click to enlarge
We shorted USO today, and we think that shorting it and selling bear call spreads is smart. Iran is allowing the IAEA into its facilities for nuclear production, and they are also the only thing holding oil up. The posturing and oil failing to $105 seems to signal a breakdown in oil. Inventories should help fuel a test of $102.50 soon, and a break of that will put oil back to $100.
Tomorrow's Outlook
The market's pullback was strong, but it was fear driven rather than driven by actualities. That sort of pullback is one that can be reversed quickly. A good bond swap on Thursday could see the market driving up 200 points easily. We probably will drift a bit lower tomorrow. The S&P 500 did fail 1250, so we should see a bit more downside in the market. Yet, we would guess we will see some short covering before Thursday's swap for shorts. Look for some downside but limited for tomorrow.
Analyst Action
We did some interesting analyst action from today that may create some opportunities. Goldman Sachs increased its PT on Monster Beverage (NASDAQ:MNST), which may create a buying opportunity tomorrow if the market flattens as people react to that news tomorrow. Lululemon (NASDAQ:LULU) was downgraded by Argus today as the company heads into the next earnings report. The stock is looking solid into earnings, but a "sell the news" event may be brewing for them as expectations rise with every tick upwards.
Commodity Talk
We continue to like shorting oil and United States Oil Fund as we discussed above. We remain short on gold right now, but we would look for it to move higher if the debt swap actually does go poorly. Long SPDR Gold Shares (NYSEARCA:GLD) is a nice hedge to own into Thursday's bond swap.
Our Moves
We had a fairly quiet day as we were able to exit some positions for a profit and had one loser. We got out of a Gardner Denver (NYSE:GDI) short sale for a 3.5% gain. We also were able to get a solid gain on Priceline.com (NASDAQ:PCLN) bull put spread we had held since before earnings for 22% gain on 505/500 bull put spread. We also finally closed a bull call sprad 46/47 for Mar17 for Paccar (NASDAQ:PCAR) for a 50% loss overall as PCAR fell apart. We went short Wal-Mart (NYSE:WMT) in our Equity Portfolio today, and we went short oil with USO bear call spread for Mar17 42/43.
We have the following positions. In our Short-Term Equity Portfolio we are long Panera (NASDAQ:PNRA) and SBUX and short WMT. In our Options Portfolio, we are long McDonald's (NYSE:MCD), Apple (NASDAQ:AAPL), Panera Bread, Bed, Bath, and Beyond (NASDAQ:BBBY), and Discover Financial (NYSE:DFS). We are short Amazon.com (NASDAQ:AMZN) and USO. In our Earnings Portfolio, we are long Ulta (NASDAQ:ULTA), FedEx (NYSE:FDX), Activision Blizzard (NASDAQ:ATVI), Monster Beverage and Joy Global (NYSE:JOY).
Chart courtesy of finviz.com.
Disclosure: I am long SBUX.