On Tuesday, Pandora (NYSE:P) reported its fourth quarter earnings along with its first full year of results upon becoming a publicly traded company. The stock has rallied nearly 45% in this calendar year, but the stock traded drastically lower on the earnings report. P traded down as much as 23% after earnings on Tuesday and this stems from the company's apparent inability to turn a profit and offset the cost of content. The company's forth quarter results are as follows:
Q4 revenue: $81 million vs. $83 million Wall Street expectations
Q4 EPS: -$0.03 vs. -$0.02 Wall Street expectations
Q1 revenue guidance: $72 million to $75 million vs. $86.58 million Wall Street expectations
Fiscal year guidance: $410 million to $420 million vs. $418 million Wall Street expectations
The problem is that these metrics do not show profit. In fact not only does the company report EPS in the red, but the company only has operating income in the neighborhood of $4.5 million. This coupled with the fact that P is priced in the $2.3 billion territory leaves a company that has not yet proven to be profitable trading at an astronomical times earnings. This landscape does not bode well for investors as every quarter that goes by where profitability is not reached is another quarter closer to investors abandoning the stock and moving into competitors like Sirius XM (NASDAQ:SIRI), which has proved profitability. There are two main reasons P may never reach profitability: Competition, the price of content and ultimately the inability to extend itself into a revenue range that outweighs its operating costs. Don't bet on hype. Look at the facts and they are not good for P.
Three Reasons P May Never Be Profitable:
Content Cost
When Pandora became a public company a year ago, investors knew that the price of content would be a killer for the company if revenue would not outweigh content costs. The company is not in a drastically different place than it was a year ago. Revenue is exploding, but loses are still commencing. The root of this crisis for P is within the fact that as the amount of content the company needs to service its listeners increases, so does the price of content. That relationship does not yield profit, but rather loses in its current form. When the company issued its IPO in 2011, it said:
As our number of listener hours increases, the royalties we pay for content acquisition also increase. We have not in the past generated, and may not in the future generate, sufficient revenue from the sale of advertising and subscriptions to offset such royalty expenses. If we cannot successfully earn revenue at a rate that exceeds the operational costs associated with increased listener hours, we may not be able to achieve or sustain profitability. In addition, we expect to invest heavily in our operations to support anticipated future growth and public company reporting and compliance obligations. As a result of these factors, we expect to continue to incur operating losses on an annual basis through at least the end of fiscal 2012.
Here we are beginning FY 2012 and the company's guidance for 2013 is:
Revenue is expected to be in the range of $410 million to $420 million. Non-GAAP net loss per share is expected to be between ($0.11) and ($0.16). Non-GAAP net loss per share excludes stock-based compensation expense, assumes minimal tax expense given our net operating loss position, and 166 million weighted average shares outstanding for fiscal 2013.
The company admitting that this is a major problem along with the fact that 2013 guidance is a loss makes for a company that is not worth $2.3 billion. Netflix (NASDAQ:NFLX) has been met with the same type of crisis and when investors realized that content costs (along with other issues) could lead to losses, investors sold the stock (see chart below.) The cost of content is enough to make P unprofitable in the coming years and makes investors ask: Will P ever be able to rise form this cycle of increased listening being met with increased content-cost?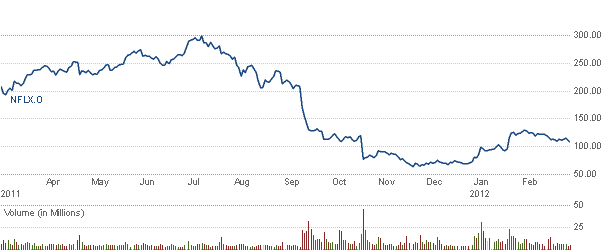 Click to enlarge
(NASDAQ:CNBC)
Competition
There is no question that the market P has tapped into is a "hot" market and many companies are attempting to break into this sector. Spotify, SIRI, CBS, traditional radio and others are entering this new sector of Internet listening. As competition increases, this presents a landscape for P where the company may no longer be able to grow revenue by 99%. If P turf is eroded by rising competition, the cycle of rising content costs and decreased viewership may prove P to be unsustainable.
Inability to extend exclusive content and new mediums of listeners
For P to be truly successful it will need to drive viewership through methods of being in more car companies, mobile devices, etc. Though Ford (NYSE:F) and General Motors (NYSE:GM) have picked up P, the company needs more exposure to drive listeners. But the problem lies in the fact that even if these attempts are successful and P is able to deliver another year of strong revenue, the company may not be able to sort out the cost of content. If P is unable to sort out content costs, no efforts to drive listeners will be worthwhile or result in profitably.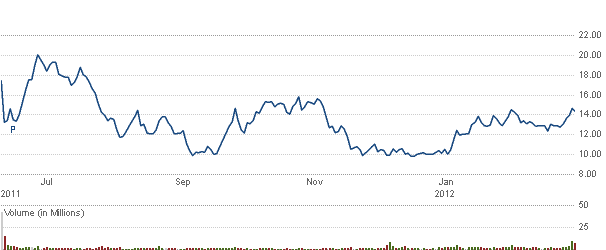 Click to enlarge
Conclusion: Though the company's CEO and Chairman Joe Kennedy states, "The fourth quarter was a strong finish to fiscal 2012, which was highlighted by record revenue, radio market share, listening hours and active users," until positive earnings per share are delivered, the company is on a path to extended losses and an unsustainable business model. Do not allow the revenue and listener increases to push you into thinking that profits will follow. If P cannot obtain cheaper content, all other efforts will be meaningless. This may be the time when the market realizes that profitability is not eminent and a chart similar to NFLX may ensue.
(All financial metrics above are obtained from the P Earnings Report and Yahoo Finance.)
Disclosure: I have no positions in any stocks mentioned, and no plans to initiate any positions within the next 72 hours.