Qualcomm (NASDAQ:QCOM) announced that its dividend is going up from 21.5 cents per quarter to 25 cents. - a 16% raise. So now shareholders will be getting $1 per year per share.
That's double where it was about seven years ago, and 47% higher than it was just three years ago as you can see on this chart: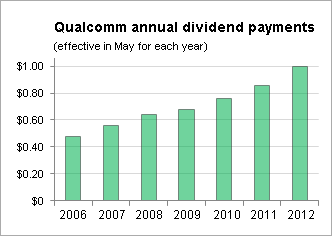 Right now with an 86 cent dividend, the stock "appears" to yield about 1.4%. But if you assume a $1 payment, the yield is more like 1.6%.
I should point out that if you'd purchased 280 shares of QCOM stock back in January 2009 (about $10,000 worth) and reinvested the dividends, you'd have nearly 300 shares today. At $1 per share, your yield to cost basis would be nearly 3% by now.
$66.60 becomes the "new" $57.30
When companies raise dividends, it's interesting to see how the price chart corresponds to yield based on previous dividends. Here's a chart of QCOM showing those yields.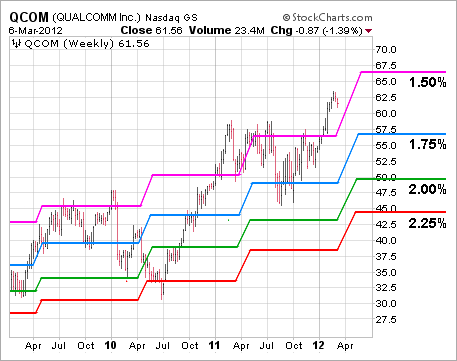 As you can see, back in 2010, you could have purchased the stock for less than $40 for a 2% yield. In the future, that 2% will correspond to $50.
You can also see that the stock generally hasn't traded much higher than a 1.5% yield to current market price. Today that corresponds to about $57.30, but with the dividend raise, that level will be more than $66.60 per share.
Something to keep in mind if you decide to buy or add to current holdings.
Disclosure: I am long QCOM.