I've been pretty hard on Pandora (NYSE:P) in a series of articles lately. First, in a long 3 part comparison to SiriusXM (NASDAQ:SIRI) which you may find here, I go rather in depth in both factual comparison and my own opinion.
Second, on Monday, before earnings, I included Pandora in an article about recent IPOs which should be sold. You may find it here.
We now have earnings for Pandora which have been released as of close on March 6th. Disappointment? Yes.
Quarter EPS of : -$0.03, a miss of -$0.01
Revenue of : $81.4M, a miss of -$1.8M
Guidance for moving forward was lower than expected as well.
Wall Street punishes far more for missing expectations that it rewards for meeting them. Pandora, as of this writing, is down nearly 22% after hours. This comes on the heels of already losing 2.66% throughout the day. This has effectively wiped out nearly all the gains Pandora has made this year, and brings the share price dangerously close to the $10 support level. If the stock manages a meaningful break and close below $10, watch out below.
This is the stuff investor nightmares are made of. Consider today's chart :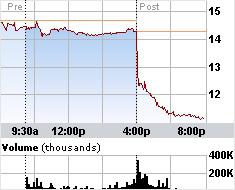 After hours would make anyone cringe.
Now for the real danger. Consider the following Point and Figure analysis.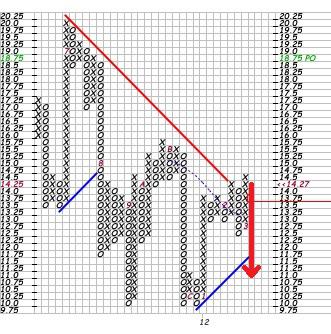 The tip of the red arrow is where the stock is now at. This is roughly $1 away from a quadruple bottom break to the downside at $10.
While Pandora may be the "radio of the future" to some people, I think that for now it's a horrible investment and should be avoided at all costs. I suggested shorting the stock or selling puts previously. Had you sold $14 puts today, you would have gained 300% overnight. Had you shorted the stock, you would have gained 22%.
The mobile data infrastructure is not in place for Pandora to be competitive in the automobile yet. You need a button, press it, and radio is there. Until that happens, Pandora will struggle to sell advertising. Don't be lured in by individuals claiming Pandora just needs to do one thing or another to earn a buck here and there and suddenly become profitable. If it were so easy, they would be doing it now.
The fact is, they can't, and they have a long road ahead of them before they become a viable company. By the time this happens, competition could easily erode their market share. Consider the massive space occupied by both terrestrial radio and SiriusXM (SIRI) in the dashboards of most vehicles out there today. These are the two players who may simply incorporate their own "Pandora like" service at any time as mobile data becomes more viable. I believe the dominant player here in this space will actually be SiriusXM, as their subscription model is far more conducive to making money through streaming.
I still think Pandora is an excellent short candidate, or primed for purchase of put options against it at the $11 level. I wouldn't touch this stock with a ten dollar pole at this point, except to push it even further away from me. It's a bit funny, though. Soon, a ten dollar pole will be long enough to push it all the way down to $0.
Disclosure: I am long SIRI.
Additional disclosure: I may initiate a short position in P through purchase of put options at any time.