The following bio-pharmas have some important near-term catalysts that should have a substantial effect on the stock prices of the companies listed. Trading bio-pharmas on important catalysts can be very rewarding if done so with careful consideration of the risk and reward potential each of them has to offer.
Antares Pharma (AIS) 3/6/12 pps: $2.66
Catalysts: Possible upside earnings surprise, Chart technicals indicate possible break-out.
Antares will release its fourth quarter and full year 2011 financial results before the market opens on Monday, March 12, 2012, a few minutes prior to 8:00 a.m. Eastern time. This could be the company's first profitable quarter ever with the consensus opinion of $0.00 a share on revenues approaching the $5 million mark. I believe Antares will beat and report $0.02 a share on $5.5 million in revenues.
Look for any possible hints this morning on the results of these earnings as the company will be speaking at the Cowen and Company 32nd Annual Health Care Conference at 9:20 a.m. Eastern Time.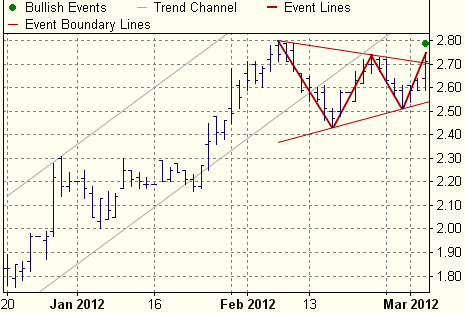 The above chart shows Antares is forming a Symmetrical Continuation Triangle, which is yet another bull signal for Antares. In a recent article of mine, I remarked that I detected a cup and handle formation occurring.
My opinion on Antares: Buy.
MAP Pharma (MAPP) 3/6/12 pps: $16.66
Catalyst: PDUFA FDA decision on the drug Levadex.
Map Faces a PDUFA FDA decision on March 26, 2012 for its drug Levadex (inhaled dihydroergotamine), a treatment for Migraine headaches.
Levadex approval could trigger a $50 million milestone payment from Allergan (AGN) which is contingent upon the first sale of the drug and potentially more milestones adding another $25 million. Approval of Levadex certainly is not a given, and in fact, some people believe the drug will not be approved. I believe it will be approved in part, because of the FDA'S decision in 2010 not to require a second pivotal efficacy study, and because there is a great need for this type of drug.
Any real effective treatment for people with migraines is a huge plus. I have never had a migraine myself, but I have witnessed first hand the pain and suffering it causes people.
The data I have seen indicates to me that Levadex has a very acceptable risk to benefit ratio, and should be approved by the FDA.
My recommendation for Map: Cautious buy.
VIVUS (VVUS) 3/6/12 pps: $21.52
Catalyst: FDA decision on the drug Qnexa.
On February 27th, the FDA advisory committee by a vote of 20-2, recommended the approval of Qnexa for the treatment of obesity, including weight loss and weight maintenance for obese patients.
The final decision from the FDA to approve the drug or not is April 17th, 2012.
What I am about to say is sure to draw a lot of angst; I am one that believes the drug will not be approved this time around. It is not too often the FDA rejects a recommendation from its own advisory panel, but I think this is a rare time that it not only should, but will.
First off, there has been no safety data I have seen on the drug's effect on children, so we can safely assume the drug will not be approved for pre-pubescents. In 2010, the advisory committee rejected Qnexa over concerns of increased heart rate and birth defects. That panel concluded that the drug's weight-loss benefits did not outweigh its potential risks.
In clinical trials, Qnexa led to 10% weight loss over a year, but it was also linked with increased heart rate and birth defects when taken during pregnancy. Is a 10% weight loss worth the risk of increased heart rates and birth defects? I believe the FDA is on a slippery slope with Qnexa. This is not an important orphan drug designed to literally save lives, where the adverse risks would be acceptable. Furthermore, if Qnexa showed a weight loss over 15%, then we could weigh the benefit verses risk with more weight.
Arena's (ARNA) Lorcaserin might actually be a safer weight loss drug. The Advisory Committee will convene on May 10th to decide whether or not to recommend Locaserin for approval or not. In my opinion, Qnexa is more effective than Lorcaserin overall, even though Lorcaserin is the safer drug. Safety should always come first with drugs as these, and Qnexa just has too many potential hazards for it to be approved at this time.
The FDA advisory committee gave the thumbs for Qnexa without even requiring Vivus to conduct further studies on the drug's potential heart risks before approval. I find this fact very disturbing to say the least here. If this drug is approved, it is a good bet there are going to be deaths linked to it in the future. Having said all of this, and knowing I will take a lot of flack;
My opinion on VVUS: Short sell it.
Disclosure: I am long AIS.
Additional disclosure: This article is intended for informational and entertainment use only and should not be construed as professional investment advice. Always do you own complete due diligence before buying and selling any stock.