Last fall, several high cap tech stocks were very undervalued, with forward P/E ratios less than ten and strong, credible growth expectations ahead of them. SanDisk Corporation (SNDK) appeared to be one of those recovering value stocks, but has recently faced some flat activity. In the past six months as of the close of March 6th trading, share price increased by a whopping 36.49 percent, but in the past month, shares are down 3.6 percent after bad earnings while the Nasdaq is up 9.83 percent.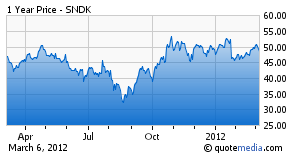 In this article, I analyze if SanDisk shares will rebound in the near future like Microsoft (NASDAQ:MSFT) shares or taper off into a downward trend like Hewlett Packard (NYSE:HPQ) shares. SanDisk produces a wide range of memory storage devices. The company is an industry leader and from my analysis, has two very important strengths that should lead it to sustained success: its distribution channels and its low cost leadership.
There are three very notable attributes about SanDisk's distribution channels. First, it has a strong global reach with 57 percent of its sales being international and has at least a 28 percent market share in all parts of the world including a 34 percent market share in the United States and a 32 percent market share in Europe. Second, the company has a lot of relationships with consumer hardware companies including Apple (NASDAQ:AAPL), Samsung, HP, Dell (NASDAQ:DELL), Nokia (NYSE:NOK), Motorola, and HTC.
When these companies' products are bought, they come equipped with a SanDisk storage device, so consumers become familiar with the SanDisk brand and are more likely to use the SanDisk memory devices. Third, the company's products have a very strong retail presence. SanDisk reports that its products are available at over 250,000 stores worldwide and are available at 19 of the top 20 consumer electronics retailers in the United States.
SanDisk's strong distribution channels and leadership in market share allow it to achieve its second major stregnth, low cost leadership. Memory storage devices are slowly becomming more of a commodity in that many companies produce a similar product. SanDisk, however, is able to use its high cash flow and position at the front of the market to fund research to cut costs and stay ahead of its competitors. This way, it can outprice them, maintain and expand on its market share, and increase revenues and profits.
SanDisk stock looks undervalued based on what analysts expect the company to do in the coming years. In 2012, it is expected to report earnings per share of $4.69 and in 2013, it is expected to have an EPS of $5.47. SanDisk is expected to grow by 16.44 percent per year over the next five years while the S&P 500 is only expected to grow by 10.68 percent per year. However, SanDisk currently trades at a P/E ratio far below the S&P average of 14.5.
The stock is undervalued because of potential concerns in the industry. The amount of new memory storage space needed every year is decreasing. This has stemmed from computer hardware technology beginning to mature as opposed to its exponential rate of growth over the past 30 years. In addition, the cost of a gigabyte of storage gets exponentially cheaper over time. A flattening demand for storage space means an exponentially decreasing stream of revenue.
However, there is hope for SanDisk going forward. With mobile internet technology still developing, and new ways of using mobile internet continuing to emerge, there is still plenty of growth potential for the amount of data that is transmitted and SanDisk expects to grow mostly through its storage devices that will enable mobile computing. The company's 2015 revenue projection predicts no growth in revenue from consumers, but does expect 19.8 percent annual revenue growth in mobile memory storage and SSD storage sales.
I believe that despite its earnings estimates posing high expectations, SanDisk is currently an undervalued stock. I believe that it is a good stock for anyone's portfolio and I personally value shares around $58, while it is currently trading at $48.50. Although the company sells a product that many seem to be "just" a commodity, its strong distribution channels and low cost leadership will most likely make SanDisk a market leader for years to come.
Disclosure: I have no positions in any stocks mentioned, and no plans to initiate any positions within the next 72 hours.