On March 2, I wrote about a looming Caterpillar (CAT) correction based upon a sell-signal that occurred on February 29. On that day, not long after hitting a 52-week high on February 24, the stock had a sharp reversal taking out the previous day's high intraday, but closing below the previous day's low. Since then, the stock has consecutively logged lower highs and lower lows. With yesterday marking the stock's worst daily performance since mid-December, the question becomes how long will the bearish trend continue.
Yesterday, CAT sustained a more than 3% gap-down, its worst since September 22, 2011 (when it opened 76.29 from a previous close of 79.36). In doing so, the stock erased all of its gains since its earnings report gap up on January 26. In addition, as the spreadsheet below illustrates, the stock continued its downward trend of making lower highs and lower lows since the outside reversal day on February 29.

Making matters worse, the sell-off occurred with extremely high volume. With more than 12.6 million shares exchanging hands on Tuesday, CAT traded 80% higher than its average daily volume - its most since the January 26 earnings report. After Tuesday's big sell-off, many will wonder when will the bleeding stop. Part of the answer to this question may come from whether or not a double top occurred on February 24. As you can see in the chart below, Cat immediately sold off once it broke last year's intraday high. It has since declined more than 9%. The stock has closed below its 10-day, 20-day, and 50-day simple moving averages in a span of just 5 trading days. After rising at a torrid pace for two months, this swift reversal is definitely one to take notice.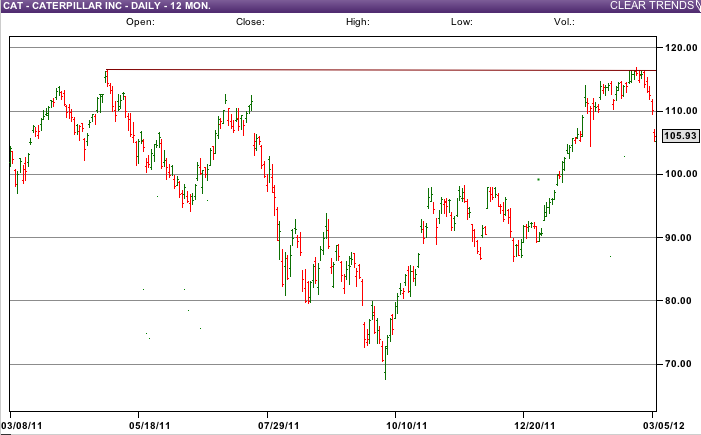 Despite this rapid descent, it may still be premature to declare a double top. When CAT sold off after hitting it's highs last year, it declined 18% in 33 trading days (from 116.55 on May 2 to 95.46 on June 16). A retracement of that magnitude from current levels would mean CAT would have to move much further downward to just below its 200 day moving average of 96.19. The next few trading days will be critical in determining CAT's fate in the interim. If it continues the reversal trend of lower highs and lows on Wednesday after its horrid performance Tuesday, then the 200 day moving average and the makings of a double top are likely.
Investors should also be weary of key technical levels within the SPDR Dow Jones ETF (DIA) and SPDR S&P 500 ETF (SPY) as both are now trading well below their 10 and 20 day moving averages respectively. It is important to note that the ishares Russell 2000 index ETF (IWM) has been a leading indicator as to where the DIA and SPY were headed. The small caps tend to decline in advance of the large caps and that same trend repeated this go around. Ultimately, those eager to buy the dip in CAT should wait for confirmed support above the 50 day moving average in the SPY (circa 132.40). If that level is held, many will look back at this period as a great opportunity to add more shares ahead of CAT's anticipated rise heading towards next month's earnings report.
For daily updates on key technicals in stocks I analyze, follow me on twitter @Mazenabdallah07.
Disclosure: I have no positions in any stocks mentioned, and no plans to initiate any positions within the next 72 hours.