Zynga (ZNGA) has grown since its public offering in mid December. But signs of a correction loom big for the stock. Here is a way using options that one may take advantage of a pullback.
Zynga focuses on developing social games for the internet and has spent the majority of its time in relationship with Facebook (FB). This is the platform it has used for most of its games. Revenue is generated, not through buying the game, but through advertising and selling virtual goods in its games. 2010 was the first year it actually made money and then had a public offering on December 15, 2011 where it raised $1 billion dollars. It opened up at $10.00 per share which was on the high side of analyst estimates.
Concerned about the dependency upon Facebook, ZNGA is exploring a new venue. It is launching its own platform called "Zynga Direct" whereby gamers may play on its own platform. This will allow non-Facebook members play with their counterparts. Facebook will also have a hand in part of the revenue so they still prosper and open up more doors to those who are not yet on Facebook.
One of the short term problems that we may be able to capitalize upon is that many believe that the stock is presently over-valued. Both Robert W Baird and Barclay downgraded the stock to a neutral or hold position. Even JP Morgan (JPM) stated: "We are downgrading Zynga from Overweight to Neutral as we believe the risk/reward in the shares is now more balanced at current levels."
From a short term perspective, this is the opportunity we want to capture. There is a good chance that ZNGA will correct and we want to capture some profits in that correction.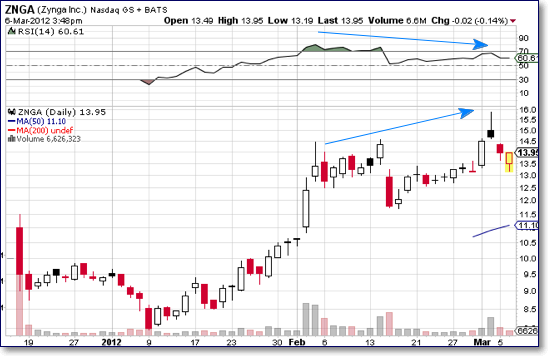 The Options Play
The RSI has been showing us a negative divergence taking place in the stock. This shows a weakening in the up trend. With a correction coming we want to capture a profit using options. A Bear Put Spread here would be perfect.
Buy a June '13' 2012 call option (priced at $1.95)
Sell a June '12' 2012 call option (priced at $1.35)
Net Debit to Start: $0.60
Maximum Profit: $0.40
Reasoning behind the Trade
With three analysts lowering their expectations of the stock, saying it is over-valued and don't buy, we believe the stock will correct. With the RSI showing continued signs of weakening in the present bullish trend, this confirmed our short term suspicions. With a low analyst projection of '7' we believe our trade suggestion is well within the safe zone for the trade to be fulfilled.