My article will be divided into 4 Ps. These sections will take you from the big picture of the global economy, to a company that will profit from that environment, to an investment strategy that profits from all these factors with minimum risk.
"The Picture" - Builds a long-term macroeconomic picture of what is going on in the world.
"The Pick" - A company that will gain economic benefit from this global economic environment. Also, reasons why I selected that company.
"The Play" - The investment strategy which maximizes the potential gains of "The Pick" while protecting from heavy losses.
"The Point" - A short summary of the strategy which I am proposing in the article.
The Picture
The world is consuming more oil than the world is finding. Energy companies are moving to more expensive and more dangerous drilling sites. Since supply is so tight, any shock to the oil supply system results in a drastic price spike. Just look at the Libyan oil crisis in 2011. The Economist states,
"Libya's turmoil has reduced global oil output by a mere 1%." But yet, "the price of Brent crude jumped 15% as Libya's violence flared up, reaching $120 a barrel on February 24th."
Here is the Energy Information Agency's projections for oil prices up until 2035: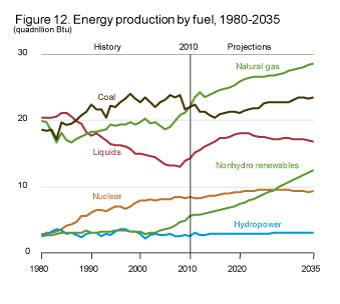 Rising oil prices and potential supply shocks have caused fracking shale to become an economically viable option for energy companies. As you can see, Shale gas is projected to dominate the natural gas industry for years to come. The combination of rising oil prices and the boom of shale gas has led me to a long term investment opportunity. Halliburton (NYSE:HAL) is that opportunity. I believe they are extremely well positioned globally to take advantage of these two long term trends in the energy sector.
Here is the EIA's projection for energy production until 2035. As you can see natural gas is on the rise.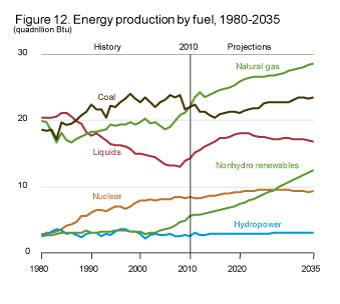 The Pick
HAL
Google Finance Description:
Halliburton Company is an oilfield services company. The Company is provider of services and products to the energy industry related to the exploration, development, and production of oil and natural gas. It serves national, and independent oil and natural gas companies worldwide and operates in two segments: Completion and Production segment and Drilling and Evaluation segment. The Company conducts business worldwide in approximately 80 countries. The business operations of its divisions are organized around four primary geographic regions: North America, Latin America, Europe/Africa/CIS, and Middle East/Asia. During the year ended December 31, 2011, based on the location of services provided and products sold, 55% of its consolidated revenue was from the United States. In October 2011, the Company completed the acquisition of Multi-Chem Group, LLC.
Why I picked Halliburton:
Halliburton is a company that is well positioned to grow over the next 5 years. The company is breaking their own personal records. In their 4th qt. earnings call transcript, David J. Lasar, Halliburton's CEO states:
First, I'm very proud to say that this was a record year for our company, with revenues of $24.8 billion, operating income of $4.7 billion and with growth, margins and returns that led our peer group. To put this in perspective, our business has nearly doubled in size over the last 5 years, primarily from organic growth.
From a division perspective, we achieved record revenues in both our Completion and Production and Drilling and Evaluation divisions..
Halliburton is well positioned to profit from the growth of the Natural Gas sector. Demand for Liquid natural gas stations, pipelines, and fracking stations is going to increase as demand for natural gas increases. Other analysts agree:
Analysts' Recommendation

Strong Buy

Analysts' Target

$58.25
So believe me or believe them, either way, here is a low risk options strategy to profit from the increase in stock price.
The Play
When it swings to over $42 the shorted Call will be exercised, giving you $120 in profits. In my opinion, $30 should be stashed as profit and $90 should be reinvested into another Bull Call Spread. As long as I believe the big picture, I am going to roll my position up on house money ($90) and take the $30 profit.
Next move example:
$42 - $44 Bull Call Spread with about a year until expiration.
Continue roll, roll, rolling up until you don't believe the short run story of HAL and let that $90 continue working for you.
The Point
Long Call @ 40 Short Call @ 42 both Jan13 -
Net Cost / Max Loss - $0.8
Max Gain - $120
Break-Even - $40.80
Disclosure: I am long HAL. Long Call @ 40 Short Call @ 42 both Jan13