Public Service Enterprises Group (PEG) has recently turned bearish after a long bullish trend that lasted well over a year. Should an investor still look at it? For a growth stock no, but we believe there is still good reason to invest in it.
Public Service Enterprise Group is a utility company with a combination of retail sales in New Jersey and wholesale energy sales. It makes twice as much operating income on wholesale versus retail sales.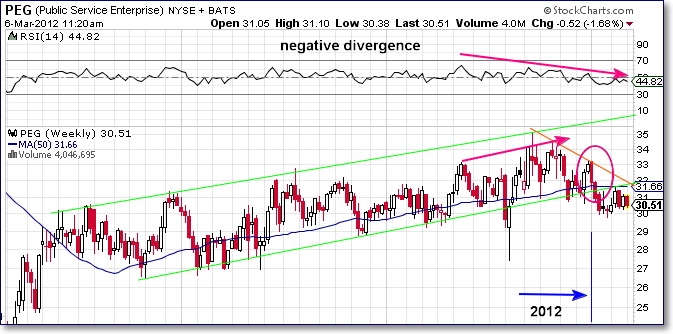 Come the first of the year, it was confirmed. PEG broke through the lower bullish trend line that was being used for long term support since the end of 2010, when it started its upward journey. Looking at the long term chart, we foresaw the reversal when the negative divergence could plainly be seen in the RSI back in November. A weakening of the trend started last year in the early summer and finally manifested this January.
The economic misfortunes of industry have caught up with PEG. There is a regression in demand for energy by the commercial and industrial sectors. Because of this, earnings will also shrink in 2012. While the company expects operating earnings to possibly be as low as $2.25, analysts had an average expectation of $2.43. Lower than-expected-earnings do not sit well with value, growth, or dividend minded investors.
Net income falling like it has for PEG generates signs to remove your money. For the last four quarters, revenue has dropped 11.1% year over year on average. This last quarter saw its greatest drop of 19.5%. One area that PEG has been consistent in is the dividend payout and growth. Recently it announced an increase of 3.6% on its payout for the first quarter of this year. It has had a policy of paying out between (40%-50%) in dividends, but this time around, they are paying out a greater percentage.
It appears that PEG knows that its bread and butter investors are interested in the dividend, and the company is trying to keep those investors. For this reason, here is our suggestion. We do not like PEG right now for a long term growth stock, however, we do believe they are committed to the dividend, which they have always dependably paid. So if you are a dividend investor, this one's for you!