Q4 2011 Results Summary
Revenue
On March 5, 2012, Trinity Biotech (NASDAQ:TRIB) reported financial results for the fourth quarter ending December 31, 2011. Revenue of $20.0 million was about 7% less than our $21.5 million estimate and represented year-over-year growth of 4%. This was the second full quarter where the prior year period did not include any contribution from the clinical lab coagulation business, which was divested during Q2 2010. Clinical lab segment revenue in the current quarter was $16.1 million (versus our $17.0 million estimate), up 2% year-over-year while point-of-care revenue came in at $3.9 million (versus our $4.5 million estimate), up 12%.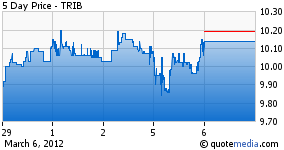 EPADR
EPADR on a diluted basis came in at $0.184, compared with our $0.209 estimate. EPADR increased from $0.166 in Q4 2010. The difference between our estimate and actual EPADR was mostly a result of the lower revenue figure, partially offset by gross margin continuing to come in slightly ahead of our estimates (51.5% A vs. 51.2% in the current quarter) and lower than modeled income tax expense (14.0% A vs. 15.2% E).
Cash
Trinity exited 2011 with $71.1 million in cash and equivalents, flat from Q3 2011 quarter-end. Cash generated from operations continues to be very robust and was $4.1 million in Q4. CapEx was $2.3 million and Trinity bought back $2.0 million worth of stock in the quarter. The cash balance will further benefit from the final $11.25 million payment from Stago, due in April 2012.
Guidance
Trinity had not previously issued any financial guidance but did so for the first time on the Q4 call - we note that the 10% revenue growth guidance for 2012 is dead-on with what our growth estimates (which we are leaving intact) were prior to the Q4 results announcement. Management's guidance for 2012 is revenue and EPADR (basic) of $86 million and $0.80, compared with $78 million and $0.73 in 2011. Our $86 million revenue estimate includes $67.3 million (+9.7%) from clinical lab and $18.6 million (+12.5%) from POC. As we have explained in the past, our estimated growth in clinical lab revenue is mostly driven by sales of Premier. Our 2012 EPADR estimate (diluted) has moved from $0.82 prior to Q4 results to $0.759 currently (note that we use diluted EPADR while management's guidance is based on basic EPADR).
Fiomi Acquisition
On March 1, Trinity announced it is acquiring Fiomi Diagnostics AB for $13.1 million. Fiomi is developing POC cardiac assays, which use micro-pillar technology and run on a fluorescence-based analyzer. The initial focus is on an assay for Troponin I, the most common marker used to determine the occurrence of a heart attack and standard protocol for patients entering emergency rooms with chest pain. Trinity notes that the Fiomi technology has shown superior sensitivity and speed compared with widely commercialized platforms. Trinity hopes to have CE Marking and FDA approval in 2013 and 2014, respectively. It expects the cost to complete development, achieve CE Marking and FDA approval, and scale up production will be roughly $11 million (which will be capitalized). Trinity expects to achieve cardiac revenue in excess of $50 million by 2016.
The agreement calls for Trinity to pay $5.6 million in up front cash, 408k in Trinity ADRs ($4.1MM), and $3.4 million following the attainment of CE Marking and FDA approval.
Our model does not currently incorporate a contribution for the acquisition but will be updated in the future to account for this.
Our Take On The POC Cardiac Marker Space
This POC cardiac marker space is dominated by a handful of large players including Abbott (NYSE:ABT), Roche (OTCQX:RHHBF), Siemens (SI) and Alere/Biosite, which we estimate hold about 75% share in the U.S. Taking share against these well established products may be difficult due (although by no means impossible) to a variety of factors. The most simple of which is that these proven technologies and products have the benefit of a performance and reliability history (i.e. customers know what to expect from them). Many of the competing analyzers are also well-known brands sold by large corporations with deep pockets sold through vast distribution networks. A majority of these machines also run immunoassays for a variety of applications including cardiac marker, coagulation and critical care (metabolites, blood gases, electrolytes) - which potentially affords all the benefits of one-stop shopping (e.g. - cartridge volume purchase discounts, training confined to one machine, fewer vendors, etc.) along with the ability to run a variety of tests in sequence. Larger testing menus have been cited as a major reason for the expansion of POC testing as a whole over the past decade and clearly it has also been a catalyst in growing market share and minimizing customer churn by the various market participants.
The degree of relative sensitivity and speed of the various analyzers can be a major differentiating characteristic, although to our knowledge no large head-to-head trials of POC analyzers have ever been conducted so a claim of better performance may be somewhat difficult to substantiate - although Roche does claim (based on clinical trial data) that its POC Cardiac Reader produces quantitative test results that are comparable to current lab analyzers. If Fiomi's technology is indeed more sensitive and faster than these competing products, we think that could bode well for its success - however, adoption of a new technology such as this may be slow until it's proven in the field and has a historical record of providing more utility (sensitivity and speed) than competing analyzers. Time will tell.
RECOMMENDATION / VALUATION
Comps in the diagnostic testing space are trading at a long-term average PEG of 1.48, based on estimated 2012 EPS. We look for TRIB to grow EPADR at a CAGR of 10.2% through 2014 and model 2012 EPADR of $0.759, which values the company at approximately $11.50 / share. As a result, we are maintaining both our $11.50/share price target and Neutral rec.
Disclosure: I have no positions in any stocks mentioned, and no plans to initiate any positions within the next 72 hours.
Disclosure: I/we have no positions in any stocks mentioned, and no plans to initiate any positions within the next 72 hours.
Business relationship disclosure: I work as a Consultant Analyst for Zacks Investment Research. The article is written by me and is 100% my opinion. I receive compensation from Zacks for writing equity research reports and providing valuation analysis on this company's stock and expect to do so in the future. Zacks receives compensation from the company. Please see the Zacks Disclaimer for further information: http://scr.zacks.com/Disclaimer/default.aspx