For a small biotech, LPath (LPTN.OB) has rightfully been given attention of many positive articles on Seeking Alpha. Like I described in my recent article on Tekmira (TKMR), I like to invest in companies that offer a new class of medications that can potentially leap ahead of the standard of care. Additional factors in my investment decisions is being an IP leader and at least some level of clinical validation. LPath has been one I have waiting to enter into for a while.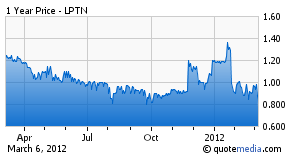 While I find LPath's science very exciting, the intent on this article is not to provide analysis and/or commentary on it. I will provide an article that goes into its detail about its technology in the future, but there are probably enough good resources out there already. I want to focus on why now is the time to buy this company.
Unlike some of my Seeking Alpha peers, I did not think it was the right time to buy after their minor hiccup with their contractor. It was clearly an overreaction but there was an additional near term negative catalyst. Lpath had an impending public share offering in the near term. Based on trading patterns and the risk of dilution to around the $0.80 level, I saw as keeping a lid price below $1.00. In my view, the share offering would need to be completed before meaningful growth in PPS could occur.
With today's announcement of the raising of $9,300,000 they get dilution out of the way, air out any near term negative catalysts and raise needed money for use in their pipeline. For people not yet owning the stock, this is great news. Buying at $0.75 is a fantastic entry point. I would now expect to see gradual building of PPS due to the exciting nature of their science, followed by a near term catalyst when they resume their Phase I trial.
I am happy to say I am now long LPTN.
Disclosure: I am long LPTN.OB.