MercadoLibre (NASDAQ:MELI) - the eBay (NASDAQ:EBAY) of Latin America - hosts online commerce and payments platforms. Its services are designed to provide its users with mechanisms to buy, sell, pay for, and collect on e-commerce transactions. The company principally offers MercadoLibre marketplace, an automated online commerce service, which permits businesses and individuals to list items and conduct their sales and purchases online in a fixed-price or auction-based format. The company also provides MercadoPago, an integrated online payments solution to facilitate transactions on and off the MercadoLibre marketplace by providing a mechanism that allows its users to send and receive payments online.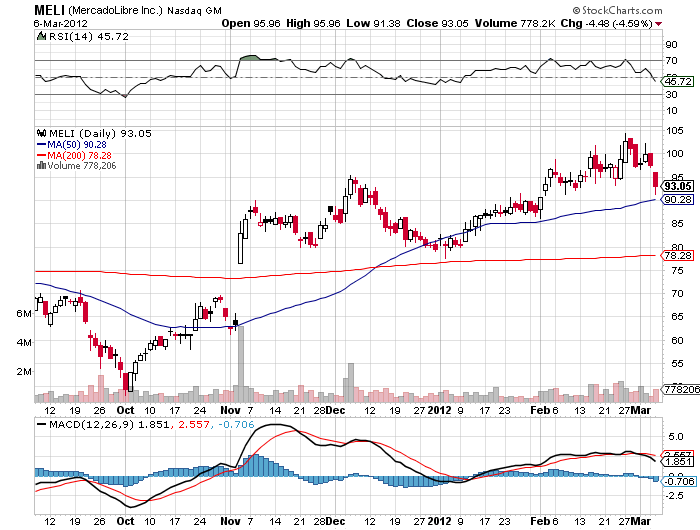 This company performed very well for years and I am bullish for the long term; however, I want to warn investors who have not checked where MELI´s profit is generated. I found this is a critical point that many analysts are not keeping in mind.
Future EPS are estimated in US dollars, but earnings from operations are not generated in countries where the US dollar is the official currency.
In the last annual report you can read "For 2011, our net revenues were $298.9 million. Of the $298.9 million in revenues, approximately 55.5% was attributable to our Brazilian business, 19.0% to our Argentine business, 11.6% to our Venezuelan business, 7.5% to our Mexican business, and 6.4% to other countries."
Both Venezuela and Argentina (NYSEARCA:ARGT) are countries with the highest inflation rates over the globe and both of them have substantial devaluation risk in their currencies.
On the other hand we have Brazil, a solid growth country with a modest inflation rate. I am not afraid about a Brazilian significant devaluation. Real trades now at 1.768 per USD - last five years traded in the 1.534/2.618 range - but I am not sure at all that any investor should avoid putting an eye on that currency.
So, watching where the revenues are generated is a point that you have to consider before investing in MELI.
MELI has a Market Cap of 4.11B and its Dividend yield at current stock price is 0.47%.
MercadoLibre´s P/E ratio is now at 53.5 and Forward P/E is at 40.4 based on my own EPS estimate for the next year of 2.30 (+33% Y/Y); analysts are expecting 2012 EPS between 2.10-3.15.
Here you can see a price and P/E historical chart, and you can appreciate how P/E is lower than years ago. This is logical as MELI´s business matures and broadband penetration in Latin America is notably higher than a few years ago, but P/E is still higher than I expected it to be.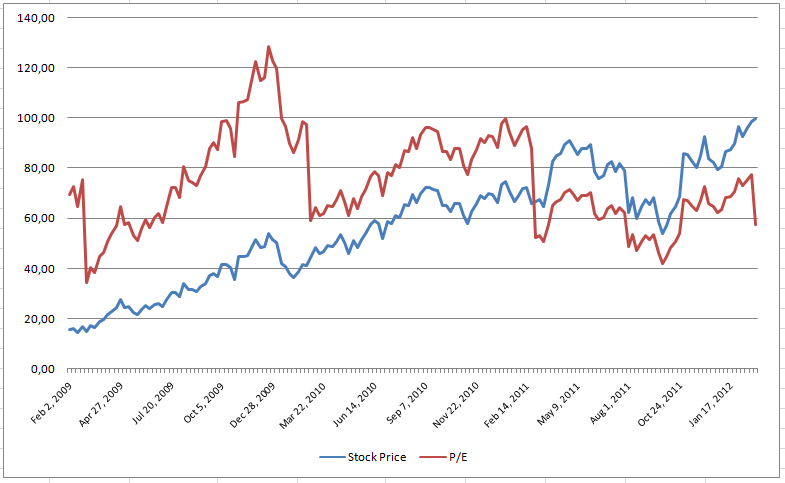 Source: Own with Yahoo Finance data
Keep in mind that MercadoLibre is always beating records, quarter after quarter, year after year. That is very good for an investor that already has MELI in the portfolio, but it could seriously hurt your position if results are not so good after the next earnings call.
With worst than expected results price can quickly go down to adjust a P/E ratio according to a lower-growth company. Are you considering this?
I would like to buy MELI in the $70s range after a pullback or I may sell some OTM calls if it approximates again to the $105s.
Disclosure: I have no positions in any stocks mentioned, and no plans to initiate any positions within the next 72 hours.