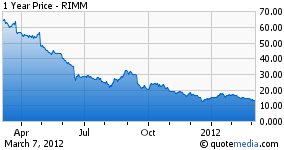 A fantastical hypothesis: If I were offered the job of CEO of Research in Motion (RIMM) what would I do?
First, I will start living in the real world and observe what is happening in the media and in the investment community AND respond to it. I will make sure that these blatant attacks are dealt with in a smart and judicious way. I will make sure that the short-sellers are given a taste of their own medicine. I will not remain silent while RIMM gets slammed day in and day out. Same negative stories, no matter how trivial, are repeated over and over while anything positive is swept under the carpet. Yesterday early in the morning, a news item that Senator Chuck Schumer (D-NY) is starting an inquiry into privacy issues with apps on Apple and Android devices but that news was buried and an analyst who has been consistently wrong on RIMM comes out with a $7 target without any basis and the whole media jumps on that report. They ignore the facts and focus on some fantastical (like the title of this article) opinion by an analyst who is conflicted and lowered his target from $40 to $24 to $7. See how wrong he has been. It was only in May 2011 that Rim was projecting $7.50 a share EPS and now with an EPS of $4.20; this analyst has a price target of $7 while the tangible book value is double of that and book value triple and RIMM very profitable.
Secondly, I will make it very clear to the markets that I am not taking any option off the table. I will immediately, before lunch break, make it known in no uncertain terms that RIMM will consider: a complete or partial sale of the company; splitting up the company; licensing its software; open up its network; strategic partnership with a more resourceful company (for example, maybe something like what Bachar Samawi suggested). It may be possible that the current strategy of going out all alone is the best one but I won't rule out anything. I will explore all the options very diligently with an open mind.
Next, I will immediately seek a meeting with the top officials of the Canadian government. I would say that since the PM and other senior Canadian government officials think RIMM is a Canadian jewel and a very important Canadian company and they want it to grow as such and would not like it to be sold; then why not help out RIMM when RIMM provides hundreds of millions in taxes and thousands of jobs. I would ask for a very low interest loan; say $4 billion at 3% and another $2 billion line of credit at low rate. I would point out that RIMM is under attack by short sellers and other vested interests that have flooded the media and investment community with negative stories. There are people working round the clock trashing RIMM. I will put an end to this negativity for once and for all and the short sellers can go to other greener pastures and mount a campaign there, they have made enough money here. As for other vested interests, if any, they will be dealt with in the market-place. I will also talk to the carriers for supporting our mobile platform. With this $4 billion, I will play out the following scenario:
1. Current Shares O/S approx. = 500 million (assuming some buy-back in Q4).
2. Tender offer for 200 million at $20 a share = $4 billion.
3. Shorts disappear, bashers who are out to destroy RIMM will move to greener pastures when they see RIMM finally striking back. They have to cover in addition I will have a bid at $20 for probably more shares than available at $20. RIMM has created a floor now.
4. Negative coverage is reduced or reversed now. Perception of reality is changed. RIMM starts reversing the damage done in the minds of retail and business customers (current and potential), app developers, employees that I want to hire and talented employees that I want to keep and other partners. Now everyone knows RIMM is here to stay so all that rubbish talk of existential threats is out the window.
5. RIMM can easily post $3 billion in profits in a year or two, EPS $10 (only 300 million shares outstanding)
6. If a PE of 10-12 is accorded to RIMM, stock price of RIMM will be at $100-120.
7. Pay off debt of $4 billion with cash flow or a secondary at $100 or more.
8. Grow RIM and be a significant player in the mobile space. There is enough room for all four of us (Apple, Android, Microsoft and RIMM). This will be a $500 billion market.
Fourth, I will replace our PR firm that has been completely ineffective. It has sat there on the sidelines while my company has taken blows from all corners of the media. I will get some smart, proactive and aggressive PR firm.
Fifth, I will revamp the marketing. I will try to get some senior marketing people from Apple. Also get a new president for U.S. operations.
Next, I will make sure everyone in the organization understands that we need to challenge ourselves every day and all view-points considered. Arrogance and hubris will never be tolerated. No bureaucratic delays will be tolerated.
Co-founder Mike Lazaridis and Jim Balsillie have been maligned way too much in the media. They made severe blunders but they have done some great things as well: business wise and with their charitable foundations. They also live very modestly. I would ask the PR people to highlight all these things so there is a human element to RIMM.
I invite all of you to comment on what you will do if you were to be the CEO of RIMM or advisor to the CEO of RIMM.
Disclosure: I am long RIMM.