American Eagle Outfitters (NYSE:AEO) released fourth quarter earnings results before the bell this morning, and as of this writing, shares are up over 6% at the open. While it wasn't quite a blowout quarter, there was a lot for investors to like in the report. Here are some of the high notes in the press release:
Adjusted earnings per share came in at the high end of guidance, clocking in at $0.35. This is after backing out one time charges related to store impairment write-downs for aerie and executive transition costs due to CEO James O'Donnell's retirement.

Comparable store sales increased 10% year over year, with an overall increase of 14% in total sales. However, gross margins fell from 39.4% to 34.1% due to higher product costs and increased markdowns.

The first quarter of this fiscal year is off to a running start, with positive comps coming in for February.
While all this is nice to see, none of the bullet points were major surprises. Analyst estimates converged on an EPS of $0.35, so American Eagle pretty much matched expectations. Positive comps for the previous month is great, but February sales for clothing retailers went up across the board, with competitors posting similar numbers. Gap (NYSE:GPS) reported +4% in comps, Limited Brands (LTD) doubled that at 8%, and Buckle (NYSE:BKE) posted a staggering 14.8%. February has been a good month for retailers in general, though it's reassuring to see that American Eagle isn't missing out on a piece of the action.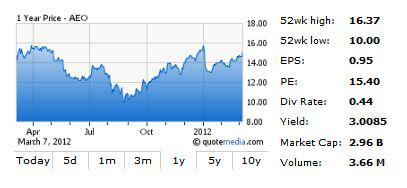 I believe that the primary catalyst for American Eagle's pop is not anything mentioned above, but the fact that its inventory declined from $571 million to $378 million between quarters. One of the biggest concerns on investors' minds last quarter was the huge year over year spike in inventory from $409 million to $571 million. No doubt investors remembered what happened to Aeropostale (NYSE:ARO) one year earlier, when excessive inventory proved to be the first clue that the company's merchandise wasn't resonating with its target market. Aeropostale's earnings proceeded to get crushed in the next few quarters.
The huge drop in inventory is fantastic news, because it means American Eagle isn't headed down the same direction. Despite lower gross margins, the company successfully managed to sell off almost all of its stock, converting it into cash and avoiding the need for write-downs. As a result, American Eagle has ended the fiscal year in an extremely strong capital position, with over $700 million in cash and investments on its balance sheet. Given that CFO Joan Hilson said in a previous conference call that the company needs no more than $300 million net cash for its operations, I fully anticipate American Eagle to return excess cash to shareholders via a large special dividend, as it did last year.
I believe that 2012 will be a turnaround year for American Eagle. With cotton prices having come a long way down from their peak, a domestic economy that is continuing to recover, and the company finally having found a replacement for its retiring CEO, the odds are stacked in American Eagle's favor. Insiders have been aggressively accumulating company stock all of last year. The payoff is coming, and when it arrives, American Eagle will soar again.
Disclosure: I am long AEO.