It's raining money … so rip off the roof and stay in bed, it's raining money! It is no wonder the stock market is rising. There is so much liquidity in the marketplace and with interest rates so low there is no place to go but "risk on" assets.
What this means in simple terms is that central banks are creating another bubble. Just as I first reported in this newsletter back on November 19, 2010, Playing With Bubbles,
"As the Fed gives us the gift of yet another bubble, investors need to know how to capitalize on this short term phenomenon and how to prepare for the inevitable burst ... The Fed has no interest in fixing the root cause, which is lack of demand, just a quick fix to get us past the next election."
Once again, rather than fix the problem so we can get on with a true recovery and adjust to slower growth from a rapidly aging population and a massively over-indebted population, they are making the same mistakes of the past: creating more money through debt just like they did in 1998 stock market bubble and 2003 real estate bubble. These are the very issues, along with what investors need to do, that are discussed in great depth in the book, "Facing Goliath: How to Triumph in the Dangerous Market Ahead." When will these kids learn that the answer to too much debt is not more debt!
Last week I reported that the amount of the growth in liquidity in global systems has become staggering, with the US. Federal Reserve's $2.9 trillion, the ECB's (European Central Bank) $3.6 trillion and the BOE's (Bank of England) $1.1 trillion. This week, I have expanded the research to include the eight largest central bank balance sheets including Japan and other eurozone members. When combined they total a whopping $15 trillion and rising. With the entire world's stock markets currently at a combined $48 trillion, central banks now equal one-third of world equity values. See the chart below.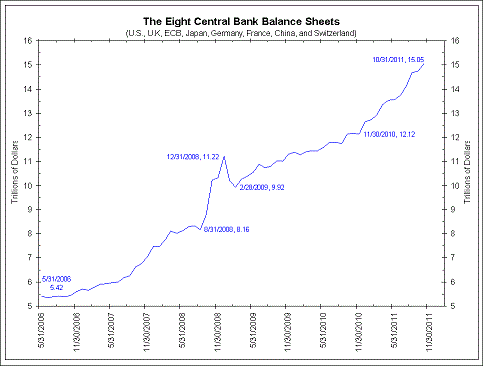 Now, the good thing about bubbles is that it drives asset prices higher. Investors that know how to participate in the current bubble with the least risk possible and know when to get out, will do well. There are definitely good opportunities out there for nimble investors who know what they're doing, so be the expert or hire one.
Investor Strategy: Naturally we cannot just sit with money in the bank earning nothing, nor can we afford to stay dormant with an old fashioned buy-and-hold (buy-and-hope) approach. Both are destined for disaster. If this "raining of money" does nothing else, it will debase the leading currencies and push commodities higher. Use this correction in gold and silver to buy SPDR Gold Shares (NYSEARCA:GLD), Market Vectors Gold Miners ETF (NYSEARCA:GDX), Newmont Mining Corp. (NYSE:NEM), Goldcorp. (NYSE:GG), Freeport-McMoRan Copper & Gold Inc. (NYSE:FCX), PowerShares DB Gold Double Long ETN (NYSEARCA:DGP) for the not so faint of heart, plus Silver Wheaton Corp. (NYSE:SLW) and ProShares Ultra Silver (NYSEARCA:AGQ) and Fortuna Silver Mines (NYSE:FSM).
All this excess liquidity, and the possibility of a QE3 is a positive for stocks, but we are entering correction season. That is the time immediately following earnings releases and about a month before the next earnings period. Although, so many people are waiting for a pullback to get invested, it is certainly very possible that it just won't come until the market is much higher. Of course, we continue to recommend to simply, Invest for Need, Not for Greed, which is the art of getting the very best returns necessary, with the least risk possible.
Investors must continue to avoid buy-and-hold (buy-and-hope) and enter investing in a "Tactical" approach. Once we get through this little corrective period and get into the next earnings releases, we'll probably see new highs. Growth investors can buy SPDR S & P 500 (NYSEARCA:SPY), SPDR Select Sector Fund - Financial (NYSEARCA:XLF), iShares MSCI Emerging Index Fund (NYSEARCA:EEM), Emerging Markets Consumer ETF (NYSEARCA:ECON), PowerShares QQQ Trust, Series 1 (NASDAQ:QQQ), iShares Russell 2000 (NYSEARCA:IWM) and iShares FTSE China 25 Index Fund (NYSEARCA:FXI). More aggressive investors will still want to stick with the big daddy's like Apple (NASDAQ:AAPL), Google (NASDAQ:GOOG), Intel Corporation (NASDAQ:INTC), Microsoft (NASDAQ:MSFT), Cisco Systems (NASDAQ:CSCO), Dell (NASDAQ:DELL), Caterpillar (NYSE:CAT), General Electric (NYSE:GE) and Yahoo (NASDAQ:YHOO). Of course, moderate investors can focus on preferreds on corporate bonds, where yields are the best.
Disclosure: I have no positions in any stocks mentioned, and no plans to initiate any positions within the next 72 hours.