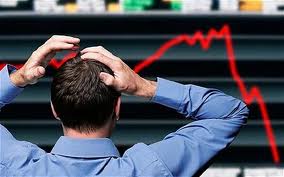 Do you know how sometimes you anticipate an adverse event only to realize that when it occurred it was not as bad as you previously thought? It becomes as if the anticipation was far worse than the actual occurrence. Case in point, as disappointing as it has been to witness the stock market drop the past couple of days, for me, it has also served as a welcomed sign that everything is normal. I felt that all of the euphoria regarding equities was out of control - reminiscent of the tech bubble. I realize that is a bit of a stretch, but nevertheless, hearing investors speak as if the market could not go down, made me feel that it was indeed time to be fearful - as Warren Buffett always says.
So in my "fearing mode" coupled with concerns regarding the cost of rising gas, I then started to outline a few stocks that I felt were either over-valued, had reached overbought levels and were primed for a pullback - one of which being Sirius XM (NASDAQ:SIRI). For all of the criticism some analysts receive for their bearish views and accused of playing contrarian just for the sake of it, much credit has to be given to those who sometimes get certain calls right such as fellow Seeking Alpha contributors Mike Stallings and Regarded Solutions who both nailed calls recently on Apple (NASDAQ:AAPL).
Readers need to understand and appreciate the talent that Seeking Alpha contributors have and be fair in their appraisals of such opinions. The fact of the matter is, Seeking Alpha analysts are right more than they are wrong as evident by the recent declines in the chart above. But enough of the "at-a-boys" and let's get down to the more important business of discussing the next direction of these stocks since it is now clear that "euphoria" will begin to be tempered with cautious realities.
March Madness
For those interested in Sirius XM, it seem fitting that the month of March is filled with such madness since the real "March Madness" in college basketball is about to begin. However for Sirius, leading up to the month, it is an understatement to say that it has been filled with hyperbole. This caused me to question, are we truly Sirius investors or speculators? Anyone who is truly an investor should be offended at what has taken a life of its own over the past couple of weeks. The stock has turned into a movie script of sorts where discussions regarding its operation have taken a back seat to the following themes:
"It's March 7, "do you know where your Sirius XM shares are?"
"March 7 Looms, hide the women and children."
"March 7 represents our day of independence."
"March 7 is upon us, are you ready for $2.50?"
"March 7 - The day of reckoning"
Folks, this is not how we should approach and evaluate our investments. No, this is not Cameron on another soapbox because I've been told that I've stood on quite of few of them. But "the bailout" that Sirius investors continue to wait for just isn't coming. And I used the term bailout purposely because that is what it has sounded like over the past couple of weeks. Readers get upset when I compare Apple to Sirius, whereas I think it should be received as a compliment. I am comparing "the New Standard" in Apple to a company that is trying hard to get there. But as I've said many times before, in that process, investors need to raise their own standards - this is where I have been accused of being bearish Sirius.
What Have You Won?
I continue to be reminded by readers that I sold Sirius too soon at $2.15. To be fair, I think it is still too premature to say whether I was right or wrong because nothing truly remarkable has happened since given that as of Tuesday's close I've only "missed out" on a 3% increase. But it needs to be said in the context on when the sale occurred over one month ago for a (then) 46% gain as well as the gains of the new investments since then. But regardless, investors need to think about the word "bailout" for a moment. If you arrive at its true definition, you should be disappointed at any ounce of excitement generated over a potential Liberty (LMCA) acquisition.
"Bailing out" refers to getting someone out of a dire situation - think jail, think "too big to fail," home foreclosures etc. So instead of waiting for Liberty to act, investors should focus on what Sirius needs to do to accomplish success in its own right in order to justify your investment. Take Liberty out of the equation and ask yourself in the mirror where does Sirius stand as a stock? And then sleep on the response and hopefully you then have a dream about it. Once you wake up, compare it to Apple, who will be announcing an iPad 3, when? You've guessed it, on March 7 and possible other products and developments as well including (perhaps) iTV.
Does this not justify investing in a company that is moving and growing the wealth of its investors? Buying on the assumption of changing and improving fundamentals is much different than buying "hoping to score on a run." Another thing that irks me is that somehow Sirius shareholders think that they have "won something" because Pandora (NYSE:P) reported disappointing numbers on Tuesday? I need for a logical-thinking Sirius investor to tell me, what have you won? Granted, Sirius is not Apple (yet) and whether or not it can become Apple remains to be seen. However it does not preclude its investors from thinking like Apple shareholders. To that end, forget Liberty, forget "March Madness," forget the misguided notions about a victory over Pandora and focus on Sirius and its stock.
Where Is the Stock Heading?
Last week I gave you a couple of scenarios, one of which was portrayed in the graphic below. So far, the action compared to last July seems eerily similar to what is unfolding now. The stock hit $2.33 with an intraday high of $2.35 and then followed a series of declines to where is fell below $2.00.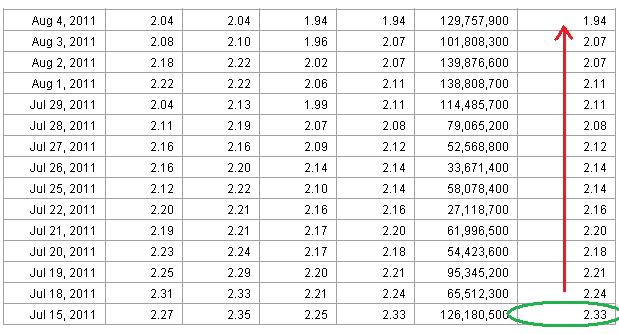 On Monday, Sirius also hit an intraday high of $2.35 and since then has dropped to $2.22. Being that my fair market value for the stock remains at $2.10 to $2.20, I suspect that there is still more room for a retrace even though it might trickle up a couple of pennies during that span. The disappointing part of all of this (for some investors) has to with the fact that there were yet some who bought above $2.30. Though I suspect there won't be many who will admit this since everyone claims they are in at under $1.00 - another interesting concept in the long list of myths regarding this stock.
Summary
"Value" and "logic" continues to be the operative words in these discussions, but I have now realized that investors are sometimes paralyzed by the word "misguided." I guarantee you that once you have embraced each of these three terms and apply true meanings to them, you will never use another misguided term such as "can't see the forest for the trees" - another tired and trite maxim used for the purpose blurring reality.
Ask those who bought recently at $2.35 and those who bought last year $2.44 who are still waiting to break even if they prefer forests or trees. The anticipated event may yet arrive, but with March 7 being here, the best part about inactivity is that we can resume being investors and not speculators.
Disclosure: I have no positions in any stocks mentioned, and no plans to initiate any positions within the next 72 hours.