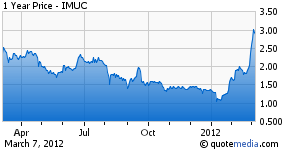 Shares of Immunocellular Therapeutics (NYSEMKT:IMUC) stormed through the two dollar mark last week, and then broke through three with strong volume before closing Tuesday at just under that mark. Both highs are well more than double the January lows and indicate that investors may be jumping on board in anticipation of a possible move one of the larger trading boards, such as the AMEX, which stands as just one of a few short to mid term catalysts that could propel IMUC shares higher.
In addition to speculation about a move to the AMEX, investors are attracted to the fact that Immunocellular is currently carrying no debt, according to a recent company presentation, and has attracted new institutional interest as the result of financing deal announced earlier this year that reassures investors of the ability of the company to maintain operations through the release of Phase II ICT-107 results in treating the devestating form of brain cancer, glioblastoma.
Immunocellular also announced last week that the company has added another tool to its toolbox through a licensing deal with Johns Hopkins University, for the tumor-associated antigen mesothelin. Mesothelin is highly expressed in pancreatic cancer, ovarian cancer and mesothelioma, and Immunocellular was granted a world wide exclusive license for all related intellectual property.
According to last Wednesday's press release, Immunocellular "will employ this intellectual property in the development and commercialization of ICT-140, a multivalent, dendritic cell-based vaccine for the treatment of ovarian cancer, one of multiple tumor types in which mesothelin is over-expressed. ICT-140 is designed to target cancer stem cells as well as daughter cells in ovarian cancer by targeting multiple different antigens including mesothelin, Her-2/neu, IL-13Rα2 and several other undisclosed antigens."
By attacking cancer at the stem-cell level, Immunocellular already boasts a potential next-generation technology and a manufacturing process already superior to other similar treatments on the market, such as Dendreon's (NASDAQ:DNDN) Provenge, which has been slow to gain commercial momentum due to pricing and reimbursement considerations.
Also helping Immunocellular gain notice, Ayer Capital Management took up a seven percent position in IMUC during the last round of financing. Ayer is one of the better known healthcare-related hedge funds and holds - or has held - positions in many of the better-known companies in the sector, such as Teva (NYSE:TEVA), Dendreon , Celgene (NASDAQ:CELG) and Oncothyreon (ONTY).
Given the recent string of encouraging news developments, IMUC could continue to gain momentum during the coming months as the company possibly prepares for a move to the AMEX, or another large trading board. Such a move may also attract the attention of investors who won't touch OTC stocks, in both the retail and institutional circuits, providing another catalyst for a potential move higher.
With many of the larger companies in the biotech and pharmaceutical sectors hunting for developing companies with whom to partner or purchase, look for speculation to evolve in that light as well for IMUC.
Volume and price continue to remain elevated, so this will be a stock to watch for the coming weeks, especially if a move to the AMEX does materialize.
Disclosure: I am long IMUC.