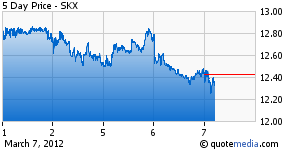 Skechers U.S.A., Inc., (NYSE:SKX) shares have been a very frustrating for many investors for the past year or so. As the stock dropped from the 52-week highs months ago, many investors tried to buy the bottom. For some, this turned into a classic "catching a falling knife" and the stock continued to drop until it recently reached a 52-week low of $11.21 per share. The stock seems to have stabilized near the 52-week low, however, I see little reason to buy the stock now. At best the stock is likely to languish near the lows, and at worst, the stock could see further downside.
The stock looks cheap if you consider it once sold for over $40 per share, but that is not really relevant because so much has changed. It also looks cheap if you consider book value which is stated to be
$17.42 per share. But, when you consider many other metrics, this stock still looks very expensive. The company has been losing money and it is expected to lose 5 cents per share in 2012. Things might get a little better in 2013, if you want to wait that long ... the company might make 60 cents per share, if earnings estimates are accurate. With the stock currently trading for about $13 per share, earnings of 60 cents would put a price to earnings ratio of about 20 on the stock. Not exactly cheap considering that the average stock in the S&P 500 Index trades for about 13 times earnings.
Another reason I think this stock should be avoided is because instead of seeing insiders buying a stock that is trading near the 52-week low, we actually saw more than one insider selling in late 2011. On December 9, 2011, a director named Geyer Kosinski sold about 1,850 shares. On December 6, 2011, a director named Thomas Walsh sold about 1,250 shares. On November 30, 2011, a director named Phillip Paccione sold about 7,300 shares. These transactions occurred when Sketchers traded between $12.40 to $13.81 per share, very close to the 52-week lows. With at least 3 insiders selling over $130,000 worth of stock in the past few months, it hardly seems to be a strong sign that the stock is undervalued.
Even though Skechers has had some company specific issues with (for example) inventory, the shoe space has been a tough sector for investors in general and it could continue to be challenging. A few other major shoe companies recently reported disappointing results due to rising material and labor costs. Skechers shares could see additional downside, and patient investors might get a chance to buy the stock in the single digits as they did in in March 2009, when the stock traded for $5.78 per share. At that level, the stock would be trading for a more reasonable 10 times forward estimates, and we might even finally see some insiders buying.
Key Data Points From Yahoo Finance:
52-Week Range: $11.21 to $21.47
Dividend: none
2012 Earnings Estimate: a loss of 5 cents per share
P/E Ratio: not applicable due to losses
Disclosure: I have no positions in any stocks mentioned, and no plans to initiate any positions within the next 72 hours.
Disclaimer: Data is sourced from Yahoo Finance. No guarantees or representations are made. Please consult a financial advisor before making investments.