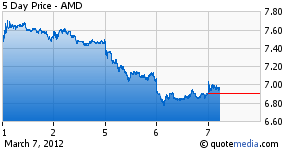 Advanced Micro Devices (NYSE:AMD) announced this Monday that it is selling its remaining 8.8% stake in Global Foundries to Advanced Technology Investment Co. (based in Abu Dhabi). AMD share prices reacted immediately with a 4%-5% decline (there was some recovery later in the day). The consensus rightfully assumes that the direct impact of this decision will be an immediate reduction in AMD's future income from Global Foundries, however it seems the consensus is not properly acknowledging the fact that AMD is now officially a fabless semi-conductor manufacturer.
AMD spun-off Global Foundries in 2008 amidst a major restructuring effort, and this move is essentially the completion of that decision. Nothing has really changed, and it is surprising that shares reacted so violently. Assuming this move was imminent, and it truly was, then surely this should have been accounted for in any past valuations. AMD's core operations remain unchanged, and recently appointed CEO Rory Reed has been excellent at bringing AMD back on course, and preparing the grounds to allow AMD to compete aggressively with its major competitors.
AMD's fabrication business was centered on Desktop and Server processors, and while this strategy was mandated by the licensing agreement with Intel, it made little strategic sense for AMD. Spinning off Global Foundries was imperative to allow AMD to focus on its core business, and was instrumental in allowing AMD to invest heavily in mobile driven platforms. While ARM and RISC based processors are abundant today in mobile and tablet devices, it is becoming clear that such platform will not be able to satisfy either the CPU or GPU needs of future devices. Consumers are demanding more from consumer products, and manufacturers of such products will increasingly demand more from chip manufacturers. In that world, AMD has only one rival - Intel (NASDAQ:INTC). While AMD has not historically been, nor do I expect them to be in the near future, a major threat to Intel, it has nonetheless been able to successfully position itself as a worthy No. 2 to Intel in both the Desktop and Server markets, and will successfully do so in the future.
Being fabless allows AMD to bet less on certain platforms than its rival Intel, and I believe this will give AMD a competitive edge in adopting new platforms faster. AMD has already shown that it can successfully implement some of the know-how it acquired from purchasing ATI by coupling a competitive CPU/GPU combo for mobile devices, and I believe we can expect significant innovation in this space in the future. AMD's success depends on the success of the underlying trends CEO Reed is betting on - Mobile, Tablets, and Cloud data centers. I truly believe all three trends will be strong, but if any of the three succeeds, AMD will do very well.