The Market on Friday (March 2) savaged Western Digital (NYSE:WDC) on news that the Chinese Commerce Dept had imposed many conditions on their proposed takeover of Hitachi's Hard Disk Drive (HDD) Business.
As seen (WDC versus market for 5 days), this shows a steep rise followed by a decline on unusiually high volume (almost twice daily trading volume on Friday March 2 when news released) as the news was digested.
First there was an article illustrating their proposed divestiture of some HDD assets to satisfy Monopoly concerns. Then, a translated copy of an article, published and disseminated during the course of trading by the Chinese government, which discussed their reservations and objections to the merger/takeover (note: this is a computer-generated google translation with grammatical errors).
Admittedly it reads like the overall benefits of a business combination are severely compromised. However, further digging reveals that Seagate (NASDAQ:STX) had virtually the same conditions imposed on their takeover (by the Chinese government) of Samsung's HDD division. This was passed and consummated in Dec 2011.
I read the reservations and conditionality from the China Commerce Department carefully, for both STX and WDC.
They are very similar:
retain the brand of acquired company's product range:
maintain independence of target company after acquisition, especially separate R&D;
not to exchange sensitive information of the acquired company with the parent.
not to restrict competitor behaviour and thus compromise consumers;
appoint a supervising trustee who will report on above back to the Chinese Authorities.
The only difference? STX can request to have above conditions removed after 1 year. The application may or may not be accepted by Chinese Government. For WDC, the application date is after 2 years.
The Market loved the STX news, and most importantly, their subsequent earnings announcement in January 2012 did not reveal any huge operational problems in complying with the above. In fact since the Samsung takeover the share price is up 64% this year-to-date. See 1-year chart below on comparison of the two: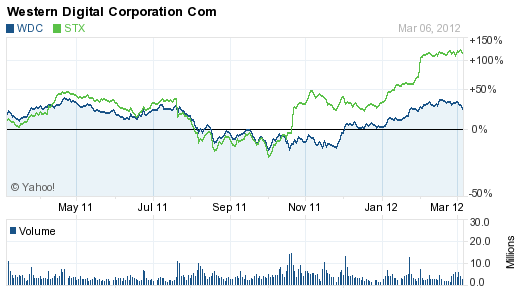 My Conclusion
This will be digested positively by the market for Western Digital, once the dust settles after the knee-jerk negative jolt. It is overwhelmingly positive that the deal is happening, and we are moving to a secular lift in profit margins for the Hard Disk Drive Indusry.
HDD's are the bedrock of the digital highway. Whatever iPhone or photo taken on whatever device, it ends up being stored on a Hard Disk Drive as the preferred, cost-efficient medium of the digital highway. Pure and simple.
60% of world capacity was wiped out in Thai floods. Unfortunate as it was, this had drawn financial minds to the importance of HDDs. A complex substrate, a precision magnetic storage element, a disk spinning at 7200 revs per minute, these are the elements, the skill, the R&D, required to make that storage space that we all take so for granted. After the floods, we have to rebuild capacity. We realize the costs. We see the shortage. We see prices rising by 100%, even 200% at the retail level. So what do we do as HDD suppliers?
We realize that the complexity and importance of our product has been grossly under-appreciated. We realize that if the Average Selling Price (NYSE:ASP) was $45 before the floods; we can now get $75. Why? Because there is no alternative. The rumours swirling of late, that Solid State Drives would render HDDs redundant, are negated. The industry and market have realized that a SSD medium storing 250 Gigabytes costs more, much more, by a factor of 3 and higher as you move up the storage size. The world finally gets it.
So we as HDD manufacturers finally have gained world acknowledgment for what we do, the brains and sweat and machines that go into making that Hard Drive. And we, as the manufacturers, are grateful that it is finally acknowledged. And we make sure the intrinsic price of our HDD drive stays above $65 into perpetuity.
This is a once-in-a-lifetime-opportunity for the industry to earn respectable gross margins. The industry has consolidated from 6 to 3 players in the last two years.The time is now to stake our rightful claim to a decent return on capital, return on sweat, return on brains.
Yes, we've heard of Apple or Intel. And their operating margins stay above 40 even 50%. Now we HDD manufacturers can do it too.
To Western Digital specifically: Western Digital you made 32% operating margins this last December quarter. If you don't ensure it stays above 30% for perpetuity, given the consolidation in the supplier space, given the fundamental supply/demand imbalance in the future -- if you don't, then you deserve to slog and slave for the rest of your days.
Disclosure: I am long WDC.