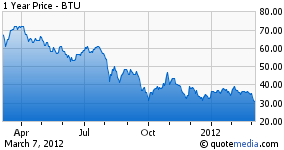 There are few sectors more unloved in the market right now than the coal producers. Low natural gas prices, assertive regulators and a very unfriendly administration have served to trigger a huge reassessment of the sector by investors. Most of the stocks in this sector have had 50% or more knocked off their market value over the last year. Capacity is starting to be shut down among low demand and increasing costs, which might mark the bottom for the sector. Investor sentiment certainly has nowhere to go but up. I took advantage of yesterday's sell-off to establish a position in Peabody Energy (BTU). I used an option strategy to protect myself on the downside as I attempt to catch this falling knife.
Option Strategy: Sell the September 30 puts and buy the September 26 puts through a bull market put spread for a net credit of $1.60.
Scenario 1: Peabody holds at least the $30 level when the option spread expires in September. In this scenario, I make my $1.60 a share spread while only tying up $2.40 of collateral in my brokerage account.
Scenario 2: Coal stocks like Peabody continue to be hammered by the market. If this comes to pass, I get BTU for a price-adjusted $28.40 a share while limiting my maximum loss during the time of the option spread to $2.40 a share. I can then determine what I want to do with the position in September.
Four reasons why BTU is a solid long term value at under $31 a share:
1. The stock is cheap at under 7 times forward earnings and just five times operating cash flow.
2. Despite all the negative news on coal, analysts still expect Peabody to increased revenues in the low teens in both FY2012 and FY2013.
3. The stock is selling at the bottom of its five year valuation range based on P/E, P/B, P/CF and P/S.
4. The stock is selling at way below analysts price targets. The mean analysts' price target for the 23 analysts that cover the stock is just north of $49.50. Credit Suisse has an "outperform" rating and a $48 price target on BTU.