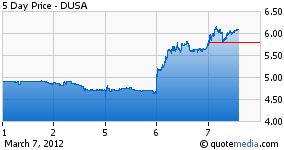 DUSA Pharmaceuticals (NASDAQ:DUSA) reported fourth quarter and full-year 2011 results Tuesday. In the broad market 1.5% pullback, DUSA gained nearly 25%. Though a volatile stock, DUSA is a strong company with fast earnings and revenue growth. DUSA still has its best growth ahead of it.
DUSA is an integrated dermatological biotechnology company whose main products treat the common skin condition actinic keratoses (AK), precancerous lesions caused by sun exposure. I first wrote about DUSA about a year ago, shortly after DUSA first became profitable. In that article, I generated two tables predicting earnings by year based on annual growth rates from 2010. Much to my pleasure, if you use the 80% gross margin table and 25% annual growth rates, the predicted earnings per share of $0.36 matches DUSA's non-GAAP figure exactly.
Pretty much all of DUSA's financial metrics were positive. Revenues increased 24% year over year for the quarter and 28.5% for the year. Gross margins were 84.7% for the year, an increase from 2011's 82.4% and 2010's 80%. Research and development costs rose 7.0%, marketing and sales costs rose 16.2%, and general and administrative costs rose 9.3%. In other words, revenues increased much faster than expenses, which means profits increased much faster than revenues. Indeed, non-GAAP earnings rose 112% year over year and GAAP earnings rose 154% year over year.
I've generated two new tables for predicting earnings going forward. The first table assumes continued gross margins of 85%, while the second table gives earnings based on a fall to 75% gross margins. Both tables show earnings as a function of different revenue growth rates. As you can see, in all cases earnings grow much faster than revenues. Even in the most conservative case, with 10% revenue growth at 75% gross margins, the five-year growth in earnings is 30% annualized. In the most aggressive case, with 30% revenue growth and 85% gross margins, the annualized earnings growth rate would be an absurd-seeming 72%. But consider: in the last year revenue grew 24% and margins were 85%. And the annualized revenue growth over the last 3 years has been 24%.
Earnings with 85% Gross Margins

Year

10%

15%

20%

25%

30%

2012

$0.42

$0.50

$0.57

$0.64

$0.72

2013

$0.58

$0.75

$0.92

$1.10

$1.29

2014

$0.76

$1.04

$1.34

$1.67

$2.03

2015

$0.96

$1.37

$1.85

$2.38

$2.99

2016

$1.17

$1.76

$2.45

$3.28

$4.24
A more reasonable projection would use the 20% and 25% revenue growth rates as guideposts. This would give a range of 2012 earnings of $0.57 to $0.64 per share, $0.92 to $1.10 per share for 2013, and so on. With this range, DUSA could easily reach $3.00 per share in earnings in 2016. Applying a P/E of 15 to these earnings would give a share price of $45.
Earnings with 75% Gross Margin

Year

10%

15%

20%

25%

30%

2012

$0.41

$0.47

$0.54

$0.60

$0.66

2013

$0.55

$0.69

$0.84

$1.00

$1.17

2014

$0.70

$0.95

$1.22

$1.51

$1.82

2015

$0.88

$1.24

$1.66

$2.14

$2.67

2016

$1.06

$1.58

$2.20

$2.92

$3.78
Obviously, I'm very bullish on DUSA. And I was very bullish on DUSA last year. It's fairly astonishing to me that DUSA is trading roughly where it was a year ago. In that year, however, DUSA has traded in a range of $3.25 to $6.83. So just as obviously, DUSA is a rather volatile stock. Investors may wish to consider waiting for a pullback before investing. However, DUSA is currently trading at roughly 10 times my estimate of next year's earnings, whereas a year ago it traded at 20 times forward earnings. Wait to invest at the risk of giving up large gains as DUSA earnings propel the stock.
Disclosure: I am long DUSA.