When it comes to iconic American brands, Nike (NYSE:NKE) stands side-by-side with Coca-Cola (NYSE:KO), McDonald's (NYSE:MCD) and Apple (NASDAQ:AAPL). Like other iconic American brands, Nike has rebounded strongly from its 2009 lows, with shares up over 11% this year alone. Though we think shares are fairly valued, we still like Nike much more than Under Armour (NYSE:UA) on a fundamental basis.
Surprisingly, Nike is taking share in apparel
Under Armour might pride itself on its innovation and first-mover advantage in the compression and weather-appropriate layer materials. However, we think Nike is taking share thanks to a more fashionable and affordable lineup. Our channel checks at Dick's Sporting Goods (NYSE:DKS), which just reported a spectacular quarter, suggest that not only are Nike racks emptier than their Under Armour counterparts, but also that Dick's has been raising prices on selective Nike items. We think this signals that demand is excellent, especially compared with discounted apparel this time last year.
On the other hand, Under Armour has been expanding its product lines, with innovative products like Storm and Charged Cotton. Though SKU's are increasing, we think Under Armour might be struggling with some core products in light of the warm winter weather. A few locations have products that sport last year's prices, for example. That's not to say that Under Armour won't continue to post double-digit revenue gains, but we're not sure the company can continue to generate the 30%+ top-line gains investors have grown accustomed to. The recent inventory build at Under Armour indicates that products will likely be heavily discounted at some point, eventually hurting gross margins.
Nike's shoe releases couldn't be more popular
Camp outs, police frenzies, and resale prices five times above retail sound like your typical Apple release. Yet, this also represents a typical Nike limited shoe release. This hysteria is nothing new; people camped out for Air Jordan's in the mid-1990s and Nike dunks in the mid 2000s. The media are just coming around to see the mayhem in the aftermath of the recent Jordan XI and Galaxy Foamposite. We think Nike shoes are among the hottest retail products on earth (and not faddish).
Admittedly, this is not the case for every Nike product, but it speaks to top quality supply-chain management. Not long ago Nike had to heavily discount excess supply, but we see consistently higher average selling prices, which will translate into better gross margins. Going forward, we see another strong slate of releases through the current quarter and heading into the middle of the year.
The same cannot be said for Under Armour's footwear. Adidas (OTCQX:ADDYY), thanks to the strong performance of the Derrick Rose line and lightweight running, has been doing quite well in footwear during the past year. However, Under Armour is still treading water in this segment. Without a marquee endorser, Under Armour's footwear sales have not and will not take a significant share of the market, in our opinion.
Betting the farm on endorsers is a risky strategy, but we think the success of the Derrick Rose line is a perfect example of how much a player can affect sales. According to SportsOneSource, Adidas had less than 5% of the market just two years ago. With the popularity of Rose, its share of a growing market now exceeds 7%.
In running, an area where Nike's Free and Lunar technology are dominating, Under Armour looks to be making some strides at the lower end of the market. The shoes seem to be resonating with middle-aged men and the diehard Under Armour fans, but they aren't really making a dent with younger consumers and women. We don't think Under Armour will be as successful in footwear as some investors think.
The Olympics will be a nice tailwind
Nike traditionally does extremely well in Olympic years, and we don't expect that trend to change. Nike and Adidas make most of the apparel for the dominant Olympic nations. We're optimistic that the games (hosted in London in 2012) will offset some of the general weakness from the EU. Though we're excited by the potential the Olympics offer to Nike, we caution investors that Adidas ended up with a glut of inventory in the 2008 Beijing games that took years to sort out.
Under Armour won't have the same tailwind as Nike, since it has virtually no presence in the Olympics or in Europe. Like the past several years, Under Armour will have to rely on its bread-and-butter business to grow revenues and earnings. However, with a large inventory overhang, intense competition from Nike, and little presence in footwear, we maintain that shares of Under Armour are significantly overvalued. Under Armour now trades in excess of 40 times earnings. In the past, we've made some money on Under Armour with puts in the market-beating portfolio of our Best Ideas Newsletter. However, we're much more constructive on Nike's fundamentals as it relates to the long side. In spirit of transparency, we disclose the performance of our portfolio below: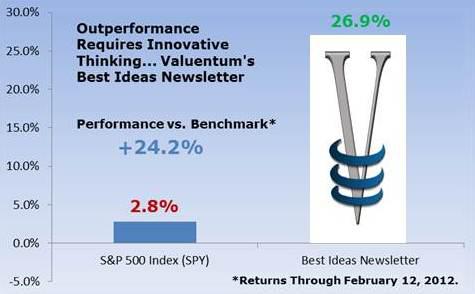 Disclosure: I have no positions in any stocks mentioned, and no plans to initiate any positions within the next 72 hours.