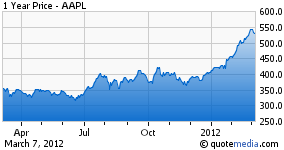 This afternoon Apple (NASDAQ:AAPL) released its new iPad. Not the iPad 3, not the iPad HD, but "the new iPad." This is an interesting move from Apple. Not having a distinctive name makes marketing and online selling much more difficult, since stores still have to distinguish it from the "old" iPad 2. However perhaps it signifies Apple returning to its older, cleaner, less Microsoft naming strategies of just the product name. The name is important, but probably not a deal breaker. So what did they actually announce?
The retina display. As expected the display of the new iPad was hugely improved, and is now 2048x1536. This is one of Apple's biggest selling points for the new tablet, and indeed is a vast improvement in terms of resolution. There are no viable competitors to boast a better screen, so Apple is the leader in this category.
The 4G LTE support. Perhaps significant to data providers, 4G LTE support will see iPads working much faster online than before. This is a selling point, but arguably not hugely significant.
The A5X processor. The rumored A6 processor didn't come to fruition for this iPad, but an A5X is instead being used. Its quad core, however, will see significant performance increases for the iPad, allowing it to handle much more complex software. This kind of advancement could prove important in opening the market to more professional users and those who require high performance processors for activities such as video editing.
The updated (5MP) camera. Again this is perhaps not an enormous selling point, but the camera was updated on the new iPad (although not as far as the 8MP previously suggested). I don't think this will prove a huge positive or negative factor, but is interesting nonetheless.
Thicker casing. The new iPad stands at a depth of 9.4mm while the iPad 2 was only 8.8mm. This is a small increase, not barely worth noting, but pernickety users might feel the difference.
And a few that didn't:
Haptic feedback technology. Much to my, and I'm sure others' disappointment, haptic feedback technology hasn't been included in this update. Never fear though, the technology exists already so it is only a matter of time.
7 inch iPad. Contrary to some rumors, a smaller version of the iPad wasn't released. Steve Jobs was always against such a product, so the introduction would be unexpected, but could still occur at some point in the future.
Inclusion of Siri. Unfortunately we will not be seeing the inclusion of Siri in the new iPad. Again this is perhaps being saved for a future announcement, but is disappointing nonetheless.
In addition to these updates, Apple will continue selling the iPad 2 at reduced prices of $399 (WiFi only) and $529 (WiFi and 3G).
The iPad launch today probably left many feeling fairly indifferent. The "resolutionary" new iPad has nothing revolutionary, but just look at how the supposedly "disappointing" iPhone 4S performed. There's nothing to stop the new iPad being a replay of that incredible sales performance.
Given that nothing new and fantastic has been released, I would anticipate the stock remaining fairly flat for a while, and possibly falling slightly over the next few weeks. The two main events (the shareholder meeting and the iPad release) have now passed, and these were potentially the source of most of the "buy the rumor, sell the news" price inflation. In the short term I cannot see any major catalysts that would propel Apple higher, and worries over eurozone debt can only have a negative effect. The pullback that has been much talked about could potentially have already occurred, but as a day trader I wouldn't be looking to make big gains for the time being.
Long term however, Apple still has incredibly good fundamentals, and is conventionally undervalued. From an investor perspective today's announcement shouldn't be massively significant. It is clear that Apple still has products in the pipeline, and so while today didn't see huge advances in technology, the future most likely will.
For these reasons I remain bullish on the Apple stock, but perhaps slightly less sure for the short term, given the huge recent rise and now lack of anything exciting and new to support it. Investors should not be put off, but day traders should tread carefully.
Disclosure: I have no positions in any stocks mentioned, but may initiate a long position in AAPL over the next 72 hours.