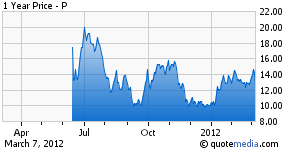 One of the more hyped initial public offerings recently, Pandora (NYSE:P), reported its fiscal fourth quarter 2012 results after the close Tuesday that disappointed investors on many fronts. The Internet radio pioneer's outlook was even more of a let-down, and we remain on the sidelines with respect to the firm's shares, which are off more than 20% today. The performance of Pandora is yet another reminder for the retail investor to be cautious of new issues shortly after their initial open. Groupon (NASDAQ:GRPN) and Yelp (NYSE:YELP) are other good examples.
Fiscal fourth quarter revenue grew more than 70% from the same period a year ago, but the pace was less than its full-year growth rate, suggesting that expansion slowed during the period. Advertising revenue advanced 74%, while subscription and other revenue jumped a little more than 50% in the quarter. Total listener hour growth and market share gains were impressive, yet the company's business model which in our opinion lacks operating leverage due to the rising programming costs of radio content as its subscriber base grows is unremarkable. Further, the firm noted that consumer advertising sales in the quarter were the lowest of the year. In its fiscal fourth quarter of 2012, Pandora reported a GAAP net loss per share of $0.05. Even on a non-GAAP basis, the company was unprofitable in the period.
Looking ahead, Pandora expects revenue to be in the range of $72 to $75 million for its fiscal first quarter of 2013 (consensus estimates were over $86 million), with GAAP net loss per share coming in between $0.18 and $0.21 (consensus estimates were at a $0.02 loss). On a fiscal year 2013 basis, Pandora guided revenue between $410 to $420 million, and non-GAAP net loss per share to be in the range of $0.11 and $0.16. We were less than impressed with the company's outlook, and we're quite surprised that the company disappointed so early out of the IPO gates. Typically, analysts sandbag their forecasts on new issues, such that investors can gain confidence after the firm beats in subsequent quarters. In other words, Pandora's outlook was doubly bad. We're steering clear of the company's shares in the portfolio of our market-beating newsletter, the performance of which we disclose below: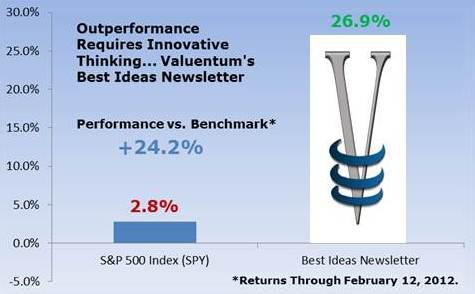 Disclosure: I have no positions in any stocks mentioned, and no plans to initiate any positions within the next 72 hours.