When Energy Conversion Devices (ENERQ.PK) filed for bankruptcy in mid-February, I wrote "The Solar Fun Is Done For Now." I should have also said that the "horror show has just begun" because a horror show has unfolded since then. With the major indices still flirting with fresh 52-week highs, most solar stocks have now given up over 50% of their 2012 gains. Several stocks are suddenly sitting on losses for the year, like First Solar (NASDAQ:FSLR).
During the latest wave of selling, a brief respite came on the heels of the latest earnings report from SunPower (NASDAQ:SPWR). However, strong fades in SPWR and FSLR the day after delivered the tell-tale signs of more selling to come in solar stocks (see "Chart Review: SunPower Breaks Out and First Solar Retakes Uptrend, But…" and "Chart Review: First Solar and SunPower Confirm Bearish Patterns"). First Solar's earnings last week were greeted with true horror. The stock lost 13% by the following close and has slid almost straight down ever since. FSLR is now about 10% away from all-time lows.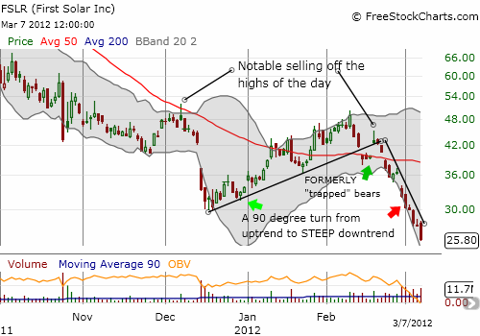 FSLR's abrupt change in fortunes have sent it reeling yet again...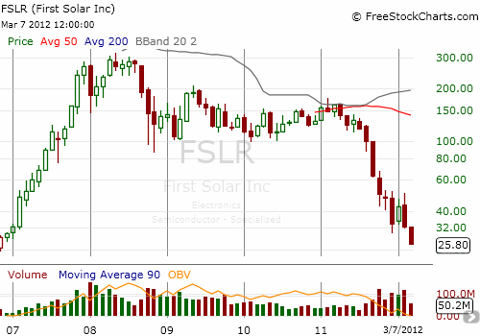 This weekly chart shows FSLR's blistering rise, relatively sleepy rest, and the rapid demise. It is now right around the corner from setting all-time lows.
Source: FreeStockCharts.com
The real liquidity risk FSLR now faces got my full attention. Here is some of what respected solar analyst Aaron Chew from Maxim Capital had to say about First Solar's earnings:
"Even as FSLR reported downside to 4Q results (x-1x items) and cut its revenue outlook, it maintained its 2012 EPS guidance. However, our EPS estimate falls below guidance on underutilization costs, and with liquidity risks also now growing, the stock could test the low end of its $30-50 range…

…Though we maintain our Hold rating, our bias has shifted to the downside. FSLR's future, in our view, lies in utility-scale development not module sales; new EPC contracts could pave the way for a higher stock. Near-term, however, a dearth of new projects, margin pressure from underutilization, and earnings/cash flow risk could weigh on the stock. While we expect the stock to hold, we now see the lower end of its $30-50 trading range at risk."
First Solar used to throw off bucketloads of cash and its balance sheet was the envy of the industry. Now, First Solar has only $110M in net cash (cash plus securities net of long-term debt) as it has invested heavily in technology and production at utility scale in an effort to transition away from a dependence on subsidies. This liquidity risk now leaves the stock extremely vulnerable to any news about operational or sales issues. The company already announced that it will ramp downward operations in Germany and Malaysia, delay a second facility in Mesa, Arizona, and cancel plans for a site in Vietnam. Discussion of operational issues likely took FSLR down to fresh 52-week lows today. From the Toledo Blade in "Cuts called possible at local First Solar plant" (March 7, 2012):
First Solar Inc. says workers at its Perrysburg facility are not included in company plans to reduce global production throughout 2012, but an industry analyst said they might have reason to worry…

…'Their facility in Perrysburg, Ohio, is at risk of downsizing later this year,' [Gordon Johnson, managing director and head of equity research at Axiom Capital Management Inc.,] said, adding that delayed or canceled projects could mean layoffs for some of the almost 1,200 workers there…

…Mr. Johnson said problems with solar cells in 2008 and 2009 that deteriorated more rapidly than the projected 25-year lifespan also placed pressure on the firm, raising fundamental questions about the viability of the company's product in the long run.
Note the title of that article is a bit misleading since it omits who is talking about the cuts, thus implying it is the company itself. That notwithstanding, Johnson has been laser accurate on First Solar (and solar) for a long time now, and I have little reason to doubt him here.
It seems at this point First Solar will need a savior to survive. For example, the company could use a partnership with some industrial or energy company with deep pockets in a similar way that Total (NYSE:TOT) essentially saved SunPower. Hopefully, the savior is simply a revival in solar's business model. Whatever it is, until then, I am interested in making one last bet on First Solar's future. Note well that such speculation on survival ended up very poorly with now bankrupt Evergreen Solar (OTC:ESLRQ) (click here for related archives). So, I am painfully aware that this play is very speculative. The upshot is that it will pay off very well if FSLR manages to survive through the next two years.
Going forward, I think it is best to play First Solar with options and not shares. I am transitioning my portfolio accordingly. A trade or investment must be constructed to reduce overall capital risk while using risk premiums to maintain upside potential. With fear rapidly rising around First Solar, put options are selling at very dear prices. At the close, the January $25 put expiring in 2014 sold for $8.80/8.90. I chose 2014 because it is far enough out to allow a lot of dust to settle. Moreover, companies like First Solar should be approaching grid parity by then.
Selling those Jan 2014 puts is MUCH better than buying 100 shares given the risk/reward involved. Total capital at risk is about $16/share as opposed to the $25.80 at the close. The total potential upside is 54% over two years. Not bad. If FSLR rallies strongly at any time in the next two years, you could opt to lock in whatever profits accrue. For example, when FSLR was trading at $50 just last month, these puts dropped as low as $4.00. At least one trader was thinking like me because 104 of these put options sold against open interest of 396 today.
Now, if you are a raging bull on solar (not many of you left these days), you will of course object to capping your upside even if you are facing down the risk of a complete loss in case of insolvency. You can then choose to use some your premium to purchase calls. I would strongly recommend out-of-the-money since "regret" should only kick in once FSLR is well beyond $35/share ($25.80/share now + $8.80 in put premium). A June $35 call goes for $1.12/1.16. I stretched all the way out to a January 2013 call with a strike price of $45 with the potential plans to add to the call depending on the news flow in solar.
Bottom line, if you want to continue to speculate on a revival in solar, options appear to best balance risk/reward. You can even consider pairs trades betting one solar company bullishly versus another bearishly. I continue to recommend at a bare minimum that solar investors actively protect their portfolios (I have been buying and then selling puts on FSLR). The brutal news for the industry is far from over in 2012, but the survivors should have very good business prospects in front of them. (For example, see "Using Debt-to-Equity Ratios to Identify Potential Survivors of the Solar Downturn").
Disclosure: I am long FSLR.
Additional disclosure: I am also long FSLR puts and calls and short puts all of different strikes and expirations.