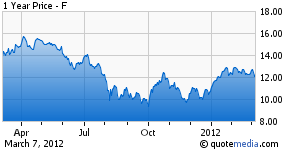 If you just take a glance at Ford (NYSE:F) you may do a double take. A PE of 2.4? After-tax earnings of over $13 billion on revenue of $34.5 billion? What in the name of Google is going on?
Well much of that fourth quarter was a tax benefit, cashing in on past losses. It is an aberration. Ford's regular profit may be one-tenth of what came out in January.
Jacob Steinberg says that, at about $12.50 per share, Ford is fairly priced because its free cash flow fell by half last year. Its success in China is seen as dangerous by none other than Paulo Santos, who sees that market as cooling rapidly.
It's natural that bearishness would persist, given the near-death experience of the industry as a whole and the extraordinary (and at Seeking Alpha, unpopular) steps taken to prop it up.
But even with analysts expecting minimal growth this year, to sales of $131 billion, and reasonable earnings of just $1.46/share, you're still looking at a forward PE under 9 and a dividend that looks solid and yields 1.64%.
And what if these modest expectations are wrong? What if U.S. growth continues while China slows, while Europe avoids the abyss? In that case, Joseph Poma thinks it's fundamentally cheap.
I think he's right. I got into Ford near the bottom when it was just $4/share, so I'm good. The question is what of the future? Well, its Fusion electric is roomier than the Chevy Volt, costs "just" $40,000 and gets better "mileage," they're bringing out a hybrid truck for the local commercial market, and the next CEO, Mark Fields, looks like a guy for the accelerator, not the brake.
Yeah, Europe could tank. But Ford is selling efficiency into economies that want it and, in the case of North America and China, are increasingly willing to pay. Its hybrids, plug-ins and natural gas vehicles should do well with $5/gallon gas.
The market has not priced in an upside surprise, so your downside looks protected. This company is doing better than its American rivals in terms of products, succession and the balance sheet. This story can get better, and even a PE of 10, with present earnings estimates, yields a price that's well above where the stock is selling now.
Disclosure: I am long F.