Market Recap: A day after the big market correction and fear of the world ending, the market rallied back on a solid jobs number, less fear about Greece, and a report that the Fed is considering some new plan to keep interest rates lower. The news about the ADP Employment Change report got the market fired up to start the day as we added 216K jobs, according to ADP. While the number missed the 218K estimates, the large amount of jobs bodes well for the jobless number on Friday. Additionally, the market was propelling higher on the Fed's news that they may look to keep interest rates low by doing a new bond buying program ... QE3?
The news out today was a great complement to Tuesday's weakness, but the week and future weeks come down to the situation in Greece being resolved via the debt swap and jobs number on Friday. Both reports are very important to the success of the market and/or failure moving forward. Here are two stocks we like for a move in either direction:

Apollo Group (NASDAQ:APOL) and Ralph Lauren (NYSE:RL). We shorted APOL today and went long on RL as we are looking to get very neutral over the next two days and try to buy solid stocks and sell weak stocks. Apollo has looked quite weak since its late February earnings report that showed that all is not OK in the for-profit-college space. The company is seeing limited growth in enrollment, and they are under a microscope from the government. Analysts, additionally, are leaving APOL in the dust. Multiple downgrades and price target decreases have occurred already this year. APOL has every other major MA above it, and it looks like they will create strong resistance. We sold the Apr20 48/50 bear call spread.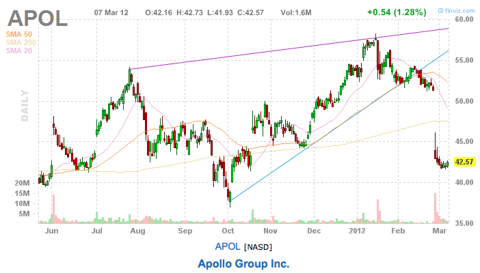 Click to enlarge
We like Ralph Lauren for a long position. The company, unlike APOL, had amazing earnings that popped the stock, and it has held above that gap since earnings. The company has gotten solid analyst action including a solid upgrade from Goldman Sachs (NYSE:GS). We believe $200 is the next stop for RL after the latest flatness, and we like the 155/150 bull call spread for Apr20 as it sits below the 20-day and 50-day MA. The position is worth 15% right now.
Tomorrow's Outlook
The market's pullback was strong, but its recovery was 50%. Now, it is up to Greece's debt swap for the next move. A solid swap should help us recover more of those losses and get rid of some of the fear investing going on right now. At the same time, a sign of weakness will be detrimental to the market. A failure in Greece would mean almost definite failure in Italy and Spain. Overall, tomorrow is a very crucial day to the future of the world economy.
Analyst Action
We did some interesting analyst action from today that may create some opportunities. Lululemon (NASDAQ:LULU) was upgraded by Credit Suisse to Outperform and PT was upped to $74. We believe that LULU offers one of the best growth stories in apparel manufacturing, but we do continue to have a Neutral rating on them as valuations do seem unsustainable over the long run. Pandora (NYSE:P) was downgraded by Citigroup and Raymond James on the back of a very weak earnings report. We have continued to not be a fan of these new Internet sensations that have low income models and have not proven they can turn profits. We consider others like this to be Youku (NYSE:YOKU), LinkedIn (NYSE:LNKD) and Yelp (NYSE:YELP).
Commodity Talk
We continue to like shorting oil and United States Oil Fund (NYSEARCA:USO) as we discussed yesterday. We remain short on gold right now, but we would look for it to move higher if the debt swap actually does go poorly. Long SPDR Gold Shares (NYSEARCA:GLD) is a nice hedge to own into Thursday's bond swap.
Oxen Group Moves
We had a solid day as we were able to exit two positions for a profit. We got half out of a Starbucks (NASDAQ:SBUX) long position at 49.48 for a 1.25% gain. As well, we sold our long position in Ulta (NASDAQ:ULTA) for a solid 2% gain. We added a reverse iron condor on ULTA with Apr20 90/95 bull call spread and 85/80 bear put spread spread that has a solid 40% profit potential. Further, we added the RL and APOL positions above.
We have the following positions. In our Short-Term Equity Portfolio we are long Panera (NASDAQ:PNRA) and SBUX and short WMT. In our Options Portfolio, we are long Ralph Lauren, McDonald's (NYSE:MCD), Apple (NASDAQ:AAPL), Panera Bread, Bed, Bath and Beyond (NASDAQ:BBBY) and Discover Financial (NYSE:DFS). We are short Amazon.com (NASDAQ:AMZN), APOL, and USO. In our Earnings Portfolio, we are long Ulta, FedEx (NYSE:FDX), Activision Blizzard (NASDAQ:ATVI), Monster Beverage (NASDAQ:MNST) and Joy Global (NYSE:JOY). We are short ULTA.
Chart courtesy of finviz.com.
Disclosure: I am long SBUX.