McDonald's Corporation (NYSE:MCD) is the largest restaurant chain in the world currently. I have been a fan of the company all my life. I remember as a child begging my parents for a happy meal and now I stop by for breakfast and coffee. The following is my bull case for McDonald's.
Product Innovation and Store Atmosphere
The main virtue I attribute McDonald's success to is product innovation and quality. McDonald's had done a tremendous job of catering to the health conscious consumer with a myriad of healthy food and drink offerings. Moreover, McDonald's has renovated its stores to create an upscale atmosphere for patrons who choose to eat at the locations. I had no idea. I am strictly a drive through guy, but when the line was too long one day I decided to stop in and order. I was impressed with the flat screen TVs and the fancy metal high top chairs and tables. It was comparable to a sports bar. I have confidence management has their finger on the pulse of their patrons. Additionally, management has been coached on how to treat people with mistakes on their orders. If I get home and don't have the food items I ordered, a simple call to the store and everything is taken care of.
Competitive Advantage
Wendy's (NASDAQ:WEN) and Jack In The Box Inc. (NASDAQ:JACK) are the two companies I consider McDonald's direct competition amongst the fast food restaurants. Being a single guy and a fast food burger joint aficionado, I can tell you that neither Wendy's or Jack's burgers can hold a candle to McDonald's Angus Deluxe burger, just my opinion. Wendy's is simply out as far as I'm concerned. I don't like the burgers and I have received bad service from the employees previously. It seems as though both Wendy's and Jack In The Box are currently attempting to reinvent their burgers to catch McDonald's. I have gone by and tried both of them and I believe the issue is a matter of execution. The burgers did not live up to the hype in the commercials.
Another issue is that I don't see Wendy's and Jack in the Box as having the same diversified health conscious menu as McDonald's. On that note and with the current state of affairs regarding gas prices, McDonald's may start taking market share from the more expensive upper tier fast food alternatives such as Chipotle Mexican Grill, Inc. (NYSE:CMG) and Panera Bread Co. (NASDAQ:PNRA) which herald their health conscious menus. Consumers pay a pretty penny for the healthy food options provided by these restaurants. If things don't turn around soon regarding gasoline prices, you may see some of their patrons turning to McDonald's to sooth their healthy food hunger pangs. Panera and Chipotle are have found a niche market providing high dollar semi-fast food to average consumers. This is the exact market segment that may be impacted the most by high gas prices.
Technical Analysis
McDonald's is in a well-defined uptrend. Trending stocks make for profitable trades. "The Trend is Your Friend" is an often heard investing mantra. Welles Wilder's concept of Directional Movement to identify stocks that are entering a new trend or are already in an established trending pattern is the basis for this investing thesis. Directional Movement attempts to infer the "true" movement of a stock based on its price changes from one day to the next. Visually, it is fairly simple to determine the DM value for a stock. It is based on comparing the day's high and low with yesterday's high and low. Please review McDonald's chart below. Additionally, McDonald's is currently resting at the bottom of the current trend channel and the 50 sma which is bullish.
Chart (Click to enlarge)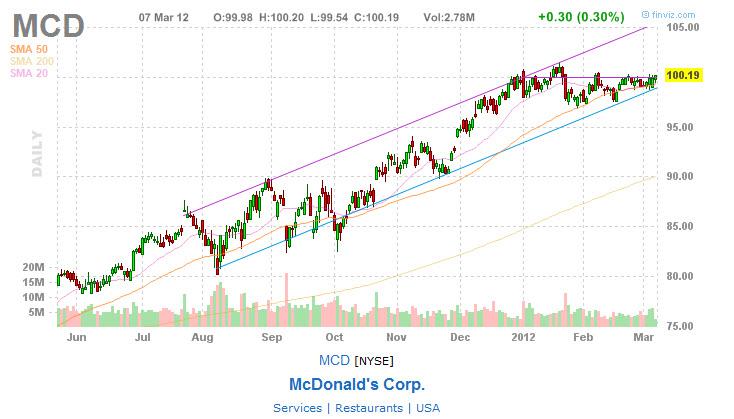 Click to enlarge
Chart provided by Finviz.com
Nevertheless, savvy investors know this is only one piece of the investing puzzle. You must couple this information with a fundamental analysis of the company to determine if the company is fairly valued at current levels. McDonald's meets the requirements for being in a defined uptrend per the directional movement formula. Next we will perform a review of the company's fundamentals to determine if McDonald's is fairly valued.
Fundamental Analysis
McDonald's has a PEG ratio of 1.82, a forward Price to Earnings ratio of 15.81, Price to Book ratio of 7.09 and a projected EPS growth rate of 10.3% for next year. McDonald's is 1% below its 52 week high. These fundamentals indicate McDonald's is priced for growth. This is not a value play. It's up 34% for the year and trading 11.9% above its 200 day sma. What's more, McDonald's has a 2.8% dividend yield which is icing on the cake. I believe McDonald's will continue its climb, nevertheless, if you are contemplating starting a position today, I would layer in a quarter at a time over a month long period. The fundamentals are indicating McDonald's is close to being priced for perfection and could experience a pullback of 5% based on current market macro conditions.
Conclusion
McDonald's has adapted its menu to adjust with the times and accommodate the healthier appetites of its customers. They have remodeled their stores to compete with upscale fast food restaurants such as Chipotle and Panera. I believe McDonald's management has done a tremendous job over the years creating a deliciously well-diversified menu with healthy options and an inviting ambiance to enjoy. McDonald's international store expansion coupled with the creative menu expansion will provide plenty of avenues for growth in the future. McDonald's pays a 2.8% dividend yield so you get paid to wait for capital appreciation.
Technically, McDonald's is strong, although, fundamentally it is priced for near perfection. McDonald's is poised to move higher, nevertheless, a 5% pullback may occur based on macro economic concerns so I suggest layering in to any position a quarter at a time over a month long period and place a trailing stop loss order. Use this information as a starting point for your own due diligence and research methods.
Disclosure: I have no positions in any stocks mentioned, but may initiate a long position in MCD over the next 72 hours.