Chicago-based Citadel, founded in 1990 by legendary billionaire investor Kenneth C. Griffin, is reportedly the eleventh largest hedge fund manager in the world, with a reported $11 billion in assets under management. The firm started traces its roots to Harvard College, when Mr. Griffin traded bonds from his dorm room, and today it deploys its capital through multiple investment strategies across the world's major market via its offices located in New York, Boston, San Francisco, London and Hong Kong.
The fund returned an astounding 20% in 2011, at a time when the average hedge fund lost nearly five percent in the year. About 45% of its $44.3 billion in 13-F assets at the end of Q4 are allocated to large-caps, another 40% are in mid-caps, and the remaining 15% are in small-cap equities.
We analyzed Citadel's equity holdings in its Q4 13-F to determine its highest conviction bets (see Table), selecting the largest buys and sells in size, where the buy/sell is also a significant proportion of its prior quarter position in that company. Based on that analysis, the following are its high conviction bullish bets in Q4 (see Table):
Michael Kors Holdings Ltd. (NYSE:KORS): KORS is a luxury lifestyle brand that markets accessories, footwear and apparel in 74 countries via a global distribution network that includes company-operated retail stores, leading department stores, specialty stores and select licensing partners. With $223 million or 2.5% of outstanding shares, this is the largest new position in Citadel's portfolio for Q4. Besides Citadel, other major institutional investors with significant positions in KORS at the end of Q4 include Fidelity Investments ($383 million), T Rowe Price ($360 million), and Lone Pine Capital ($99 million).
KORS went public in December at an offer price of $20, opening at around $25 for trading, and at Wednesday's closing price of $46.10, Citadel has doubled its money on the stock, adding nearly 100-120 basis points to its overall return so far this year. KORS just reported a stellar Q4 on February 14th, beating analyst earnings estimates (28c v/s 11c) and guiding March quarter forward EPS in-line and revenues higher; its shares have responded well, up about 40% since the report.
They currently trade at 48-49 forward P/E and 23.8 P/B compared to averages of 14.7 and 3.5 for its peers in the apparel group, while earnings are projected to grow strongly at a 58.1% annual rate from 38c in 2011 to 95c in 2013. Of the nine analysts that cover the stock, all rate it at buy/strong buy; however, the stock is already trading at par with their price target of $48.
LSI Corp. (NASDAQ:LSI-OLD): LSI is a designer of complex high-performance ICs and storage systems. Its silicon-to-systems solutions are at the heart of products that create, store, consume and transport digital information. Its ICs are used in hard disk and solid state drives, high-speed communications and storage systems, computer servers and PCs. Citadel added $176 million in Q4 to its $2 million prior quarter position. Besides Citadel, other major institutional investors that significantly added to their LSI position in Q4 include Invesco Ltd., that added 8.3 million shares to its 6.3 million share prior quarter position, and Carlson Capital, that added a new 2.3 million share position in Q4.
LSI shares have recently rallied to near five-year highs, driven higher after the company recently reported a strong Q4 report in late-January, beating earnings and guiding forward revenue and earnings above analyst consensus estimates. Its shares currently trade at 11-12 forward P/E and 4.5 P/B compared to averages of 17.4 and 1.9 for its peers in the electronic components semiconductor group.
SunTrust Banks Inc. (NYSE:STI): STI is a holding company for SunTrust Bank, which provides traditional deposit and credit services, as well as trust and investment services via 1,668 offices in Alabama, Arkansas, Florida, Georgia, Maryland, Mississippi, North Carolina, South Carolina, Tennessee, Virginia, West Virginia and Washington, D.C. Citadel added $136 million in Q4 to its $17 million prior quarter position. Other major institutional investors that also significantly added to their STI position in Q4 include JP Morgan Chase & Co., that added 3.9 million shares to its 10.3 million share prior quarter position, and Pioneer Investment Management, that added 1.5 million shares to its 2.3 million share prior quarter position. STI trades at 8-9 forward P/E and 0.6 P/B compared to averages of 9.2 and 0.9 for its peers in the major regional banks group.
Other high conviction buys by Citadel in Q4 include (see Table):
The following are Citadel's high conviction bearish picks based on their Q4 selling activity (see Table):
Table
click to enlarge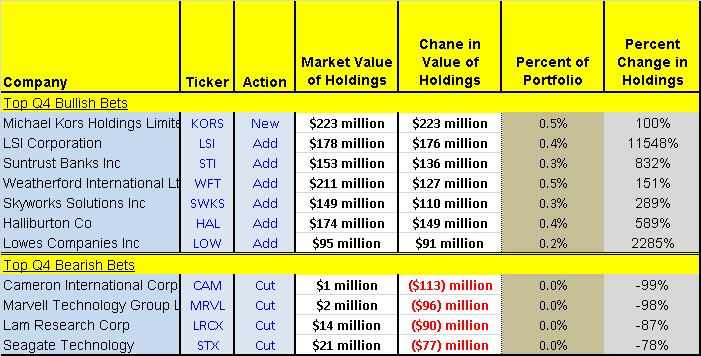 Credit: Historical fundamentals including operating metrics and stock ownership information were derived using SEC filings data, Zacks Investment Research, Thomson Reuters and Briefing.com. The information and data is believed to be accurate, but no guarantees or representations are made.
Disclosure: I have no positions in any stocks mentioned, and no plans to initiate any positions within the next 72 hours.
Disclaimer: Material presented here is for informational purposes only. Nothing in this article should be taken as a solicitation to purchase or sell securities. Before buying or selling any stock you should do your own research and reach your own conclusion. Further, these are our 'opinions' and we may be wrong. We may have positions in securities mentioned in this article. You should take this into consideration before acting on any advice given in this article. If this makes you uncomfortable, then do not listen to our thoughts and opinions. The contents of this article do not take into consideration your individual investment objectives so consult with your own financial adviser before making an investment decision. Investing includes certain risks including loss of principal.