Any time a company that is early in its growth cycle posts poor results and the stock plunges, investors and pundits find themselves in fits and starts. They proclaim that this is the end, that the company cannot ever make money. This phenomenon is not a new trend. Companies like Amazon (NASDAQ:AMZN) all went through this. Amazon, in fact, fell almost 94% from its 1999 high before bottoming in September 2001 as doubts grew over its ability to grow and monetize itself.
But investors who maintained their belief in the company, or even better, bought the stock in 2001, went on to see returns of well over 10,000% by 2012. Growth companies like these should not be invested for the short-term. There will be months, even years, where these investments lose money, but it is important to keep in mind that in the long-term, as long as the underlying forces propelling their growth continue, they make for great investments. Amazon is a perfect example. And today, Pandora (NYSE:P) is also a great example.
Pandora is a stock that is undoubtedly controversial. It has both fierce supporters and fierce critics. We find ourselves in the supporter camp. On February 14, we first wrote about Pandora, arguing that in the long-run, it is a great investment. We still think that it is. The important thing to keep in mind is that this is an investment to measure in years, not months. Investing in a short-term time frame is perfectly acceptable, but it simply cannot be compatible with all stocks. Pandora is one of them.
With companies like Pandora, you either trade in or out constantly, or you hold it for years, adding to a position when it is prudent to do so. That is why we are buying on Wednesday's plunge. We think that the plunge is overdone, and that for those who take the time to read the conference call and see what the executives at Pandora are saying, the quarter and guidance are not as terrible as they seem.
Before we continue, we must note that it is perfectly understandable to be bearish on Pandora in the short-term. But we are not looking at this stock in the short-term. This thesis will take years to play out. Not everyone is able to commit capital to a stock that will take years to generate returns. We however, think that the long-term potential is worth it.
The Results, Guidance, and Financials
So what was in Pandora's results to cause such a plunge of over 20% in the stock? Below, we break down Pandora's financial results, as taken from its website.
| | | | | |
| --- | --- | --- | --- | --- |
| | Q4 2012 | Q4 2011 | Fiscal 2012 | Fiscal 2011 |
| Ad Revenue | $72.053 Million | $41.481 Million | $239.957 Million | $119.333 Million |
| Ad Revenue Growth (%) | 73.7% | N/A | 101.08% | N/A |
| Subscription Revenue | $9.273 Million | $6.160 Million | $34.383 Million | $18.431 Million |
| Subscription Revenue Growth (%) | 50.54% | N/A | 86.55% | N/A |
| Total Revenue | $81.326 Million | $47.641 Million | $274.340 Million | $137.764 Million |
| Total Revenue Growth (%) | 70.71% | N/A | 99.32% | N/A |
| GAAP EPS | -$0.05 | -$0.31 | -$0.19 | -$1.03 |
| Non-GAAP EPS | -$0.03 | -$0.01 | -$0.02 | $0.00 |
| Listener Hours | 2.7 Billion | 1.3 Billion | 8.2 Billion | 3.8 Billion |
| Operating Cash Flow | $2.396 Million | $1 million | $5.878 Million | $3.222 Million |
Pandora delivered robust growth this quarter, with total revenues growing over 99% to reach almost $300 million in fiscal 2012. Subscription revenue grew steadily as well, rising over 50% this quarter. So where were the problems in the quarter?
Analysts had been modeling $83 million in revenue for the fourth quarter, and a loss of 2 cents a share, which means the company missed earnings estimates. Pandora issued guidance as well, estimated first quarter (2013) revenues to be in the range of $72-$75 million, and a loss of 18 to 21 cents per share. That compares to expectations of $86.5 million in revenue, and a loss of 2 cents per share. For all of fiscal 2013, Pandora is calling for revenue of $410 to $420 million, and a loss of somewhere between 11 and 16 cents per share For fiscal 2013 as a whole, analysts had been expecting a profit of 4 cents per share on revenues of $424 million.
Clearly, Pandora missed expectations, both in its results, as well as its guidance. But it is not enough to simply say that Pandora missed expectations. It is crucial to go into the conference call and see just what happened to cause Pandora to miss expectations. There are several moving parts in the Pandora "story" that cause results to vary.
Historically, as CEO Joe Kennedy explained, January is a very strong month for Pandora usage (something that is most likely driven by holiday sales of smartphones), but is the weakest month in terms of consumer advertising spending. As such, Pandora sells the least amount of premium, direct advertising that month, forcing it to rely on third party networks. Given the volatility and lack of clarity into these ECPM networks, they are material in January, but not other months. It is very possible that these third party networks are the cause of Pandora's miss this quarter.
Turning now to guidance. On the call, CFO Steve Cakebread spoke of the company's guidance, and said that Pandora will be investing aggressively in its sales force to expand its advertising capabilities. Furthermore, as mobile usage continues to grow, content costs are becoming unhitched from ad revenue growth, which we see as a primary reason the company missed expectations on guidance. We believe there is an explanation for the miss on guidance. Pandora became a victim of its own success, and must now spend money that should have been spent previously on its sales force. As total listener hours grew to 2.7 billion in the fourth quarter, Pandora's ad inventory roughly doubled.
There were simply too few people to sell those ads, and many national sales teams reached their budget limits. Now, Pandora must reverse that trend and that is causing a jump in expenses. As Pandora was unable to sell the ads in its inventory, revenues did not reach their full potential as Pandora did not invest aggressively enough. CFO Cakebreak explained that although the company invested in all areas this quarter, there was a particular emphasis on sales and marketing. Pandora's expenses on sales and marketing jumped by over $6 million this quarter, representing an increase of over 45% from the fourth quarter of fiscal 2011. Pandora will continue to invest aggressively in sales and marketing in fiscal 2013, and that is partially responsible for the guidance miss.
Previous estimates have called for Pandora to be profitable in fiscal 2014. Essentially, argues JPMorgan, that profitability goal has now been pushed back to 2014. While that may be disheartening to some, it does little to change the long-term potential of the Pandora model. There were several issues this quarter that may have caused Pandora to miss estimates for reasons other than a failure of the underlying model.
Through all this, it is crucial to remember that Pandora despite its GAAP and non-GAAP losses, Pandora is not a company that is bleeding cash. Operating cash flow rose 139.6% in the most recent quarter from a year ago, and for all of fiscal 2012, operating cash flow rose 82.43%. Pandora is not in any immediate financial danger. The company has a strong balance sheet, and ended fiscal 2012 with over $90 million in cash & investments, compared to just under $7.6 million of debt.
click to enlarge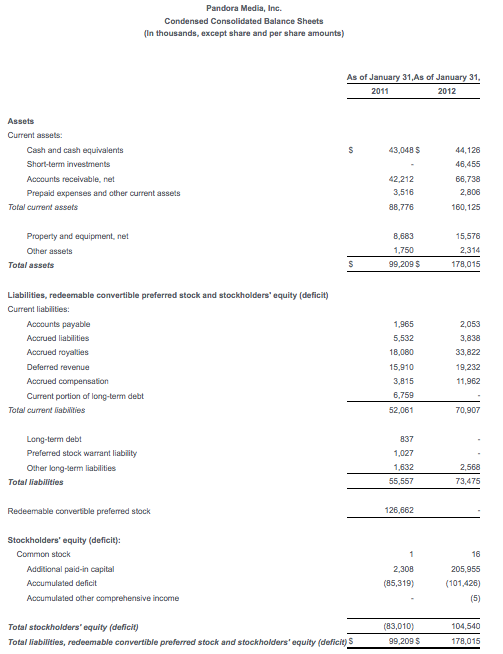 Click to enlarge
Pandora is steadily generating more cash from its business, and while things can always change, for the moment, we are confident in Pandora's ability to finance itself and invest in the business.
Operational Results, Content, and Advertising
We would like to turn now to Pandora's operations. Pandora's total listener hours reached 8.2 billion in fiscal 2012, compared to 3.8 billion in fiscal 2011. In the fourth quarter alone, they grew 99% to reach 2.7 billion. This growth has allowed Pandora to capture 5.5% of all radio listening in the United States, more than double last year's 2.71% share. And in the internet radio segment, despite all of the competition Pandora faces, from companies such as Slacker and Spotify, Pandora's share increased to 69.8% at the end of fiscal 2012, up from 58.3% at the end of fiscal 2011.
We will not dispute that Pandora is in a competitive industry. But the market share statistics show that Pandora is not only keeping its competitors at bay, it is expanding its lead over them. We see no major competitive issues, but remind investors that competition in this industry is real, and that it is essential to monitor what is going on.
On the conference call, CEO Joe Kennedy stated that Pandora ended the quarter with 47 million active users, up from 29 million at the end of fiscal 2011, for growth of 62%. And on the morning of March 7, 2012, Pandora announced its operational metrics for February. In February, Pandora captured 5.74% of the U.S. radio market, a new record. Active users grew to 49 million, and listening hours totaled 975 million in February, an increase of 57.5% from last February. While this is all well and good, and shows that Pandora has no trouble holding its competitors at bay, these metrics mean little in the long run if Pandora cannot monetize these users effectively. The primary reason is that without monetization, content costs will become a much bigger issue. We explore content and monetization below.
Without a doubt, content costs are Pandora's biggest expense. And in the fourth quarter, they rose to $48.169 million, a jump of 101.25% increase from the prior year period, where Pandora spent $23.935 million on content acquisition. Content costs grew over 100%, but revenue advanced just over 70%. In a nutshell, this is Pandora's biggest challenge. Its content costs rise in tandem with its usage, yet revenue can fail to keep the pace. This is what happened in this quarter, partially due to the advertising inventory and salesforce issues we alluded to earlier. These expenses, on their own, mean little. If a company can grow revenue faster than expenses, profitability increases.
For Pandora, however, the opposite has been occurring. We spoke of this issue in our prior article on Pandora. It is important to remember that Pandora has had profitable quarters in the past. The third quarter of fiscal 2012 saw Pandora reporting net income of $638,000. And in the third quarter of fiscal 2011, Pandora posted net income of $1.044 million (the decrease in net income is due to costs increasing across all lines, not simply content acquisition, but sales and development as well). While that is not a large amount, it shows that the Pandora model can be sustainable. Pandora has now become one the largest radio stations by listening hours in many of the top markets in the United States. The challenge for Pandora, however, is to transition the sustainability of the desktop model to the mobile world.
Monetization of mobile users is the most critical element of the Pandora story. The challenge for Pandora is that mobile usage is soaring faster than monetization. On the conference call, CEO Kennedy said that mobile usage now accounts for over 70% of Pandora's overall listening hours, and that is scheduled to grow in fiscal 2013. Pandora IS increasing its advertising revenue from its mobile service. Mobile revenue quadrupled in fiscal 2012 to $100 million, which placed Pandora as the 2nd largest company in terms of mobile advertising revenue, behind only Google (NASDAQ:GOOG).
In the fourth quarter alone, mobile revenue grew to $33 million, up from $25 million in the prior year quarter, for growth of 32%. Pandora's mobile RPM grew from $13 in fiscal 2011 to $20 in fiscal 2012. On the call, CEO Kennedy reminded investors that as recently as 2009, desktop RPM was at $20. When usage growth finally slowed on the desktop side and as Pandora developed its desktop advertising systems, desktop RPM's more than tripled to the $60-$70 range they are in today.
In the long run, there is no material difference in the monetization potential from the mobile side of Pandora's business. The huge growth rates in mobile usage, both on an absolute basis and relative to desktop streaming, is placing pressures on the company's ability to monetize that side of the business as effectively as it might otherwise be able to. Once the huge growth rates begin to subside, Pandora can more effectively monetize that segment. Mobile advertising is expected to grow by leaps and bounds over the next several years, with various estimates placing the total size of the market up to $10 billion in the US alone.
Pandora is working to expand its traditional advertising business as well. It has hired salespeople in the top 10 American markets, and is working to channel its growing market share into more and more advertising sales. Pandora is working to make its metrics easier for radio advertising executives to discern Pandora's performance. These 3 factors, according to CEO Joe Kennedy, will truly come together over the next 18-24 months.
It is true that mobile usage is growing so rapidly that Pandora cannot monetize that business as quickly as investors would like. But in the long run, as usage growth begins to abate, the growth in content costs will begin to fall as well, and the ability to monetize those listeners will increase. This is exactly the trend that played out in the desktop side of the business, and we see no reason that Pandora cannot eventually monetize the mobile business at far higher levels than what it sees today.
Analyst Opinions
Whatever your opinion of the role analysts play in the stock market, it is undeniable that they do have the potential to move stocks. The analysts that have given commentary on Pandora's results are split in their opinions of the company. Below, we offer an overview of analyst opinions on Pandora.
Barrington Research: The firm maintained its Outperform rating and $18 price target. Analyst Jeffrey Houston argued that Pandora is investing in salespeople to "capitalize on its growing share of the U.S. radio market." He also noted that, "Pandora will continue to gain share and post significant growth in its active user base, listener hours, and advertising/subscription revenue through its differentiated, disruptive technology, which delivers compelling content and first-mover advantage." Barrington sees no issues relating to competition here, and believes that as Pandora is able to grow its market share, it will be better equipped to grow revenues (and eventually profits) based on its increasing desirability to advertisers. The firm recommends buying on weakness, and that is something we have done and think other long-term investors should do as well.
Dougherty & Co.: The firm maintained its Sell rating and $8 price target on Pandora stock, arguing that it is too expensive based on its adjusted EBITDA estimate of $20.9 million in fiscal 2013. Furthermore, the firm believes that "monetizing the rapidly growing mobile inventory is likely to remain a significant challenge until the company can further build out its sales force and offer better integration into the purchasing and monitoring systems employed by radio advertisers today." While we do agree with Dougherty that monetization of the mobile side of the business is the key issue for Pandora going forward, we think that the initiatives the company is undertaking are exactly what is needed to increase mobile RPM. On the call, executives made it clear that hiring more salespeople is a top priority for the company and to offer advertisers better information systems relative to what traditional radio stations can offer.
Citigroup: The firm downgraded the shares to Neutral from Buy, and cut its price target to $17, down from $25 previously. Analyst Mark Mahaney argues that, "with no profitability track record and no near-term profitable outlook - P always carried very little margin for error. And now there's error." Mahaney also cut EPS estimates for fiscal 2013. He now estimates a 16 cent loss, down from 13 cents before, and adjusted his 2014 forecast as well. Mahaney thinks Pandora will post a loss of 20 cents in 2014, versus his prior estimate of 9 cents. Mahaney's downgrade is sharp, yet Pandora has had profitable quarters. Furthermore, while he may be correct in the short-term, we do not see Pandora as a stock for the short-term. It is interesting to note that despite his bearishness, Mahaney has a $17 price target on the stock. That represents notable upside from current levels of under $11. It should be noted that Citigroup was one of the underwriters of the Pandora IPO. But given that there are firms more bullish on Pandora than Citigroup that did not participate in the IPO, we do not see Citigroup's participation as an issue.
JPMorgan: The firm reiterated its Outperform rating on Pandora, but cut its price target to $17, down from $22. Like Citigroup, JPMorgan participated in the Pandora IPO. Analyst Doug Anmuth takes a more longer-term view of the company, arguing that, "our long-term fundamental view on Pandora is unchanged, with listener hours of 2.7 billion in the quarter almost double the total a year earlier...monetization will follow as Pandora accelerates its sales force build out and third-party audience measurement improves." Anmuth also noted the inventory issues we spoke of earlier, writing that January is a seasonally weak month for remnant mobile inventory. Anmuth, like us, believes that in the long-run, monetization issues will be resolved as the initiatives Pandora has undertaken begin to bear fruit.
Raymond James: The firm cut its Outperform rating to Market Perform and removed its $15 price target. (Several other firms, such as Argus, do not have price targets for stocks not rated a Buy, Outperform, etc...) Analyst Aaron Kessler thinks that the "the shares are likely to be range-bound until we see greater traction with mobile monetization, particularly local radio advertising, and improved operating margins." Raymond James cut its fiscal 2013 estimates to a loss of 28 cents a share, from a prior view of 8 cents. Fiscal 2014 estimates were also cut to a 23 cent loss from prior expectations of a 3 cent loss. While we do understand the concern about mobile monetization, it is clear that Pandora is doing all it can to monetize its mobile business as quickly as possible.
Needham & Company: The firm maintained its Buy rating and $13 price target, and recommended using the post-earnings fall to buy the stock. Analyst Laura Martin cut EPS estimates for fiscal 2013 to an 11 cent loss from 1 cent, but raised revenue estimated to $419.2 million from $415.9 million. She argues that, "Even in the face of rising competition and substantial publicity surrounding Spotifyy and iHeart Radio, P's total listening hours and active users over-delivered estimates in 4Q, growing 108% and 62%, respectively." Martin also argues that Pandora's "mobile pricing power appears to be following a trajectory similar to the desktop's, implying that the pricing gap between $20 today and $60 eventually should close over the next 3 years. Based on this metric's momentum alone, we feel confident about P's [Pandora's] revenue trajectory over the next 3 years." Furthermore, the fact that 16 car models now have Pandora built in could prove to be a catalyst in the quarters to come. Pandora's user metrics prove that at least for now, competition is not an issue for Pandora.
Wells Fargo: The firm maintained its Outperform rating, but lowered its "valuation range" from $21-$23 to $15-$18. Wells Fargo states that "the transition from desktop to mobile is going well, perhaps too well, as monetization is lagging the huge growth in listener hours and CAC. Mobile listening accounts for over 70% of total hours, and unfortunately still has low RPM's relative to the desktop web. While this quarter's results were a bit light, we think there is great progress on the model despite a number of new
competitors and alternative online music options." We fully agree with Wells Fargo. The results this quarter were worse than expected, but Pandora's story is not about one quarter. The company is making great strides in monetizing its mobile business more effectively. Wells Fargo cut its EPS estimates for fiscal 2013 to a loss of 16 cents per share, down from a loss of 1 cent per share previously. Like Needham, Wells Fargo raised revenue estimates for fiscal 2013 to $410 million, up from $405 million previously.
Merrill Lynch: The firm maintained its buy rating on the stock, but cut its price target to $16, down from $19. Merrill Lynch analysts argued that the problem with this quarter was sell-through, as we stated above. With ad inventory doubling, Pandora's salesforce was overwhelmed. The firm expects that monetization will trail user growth for about 18-24 months, but sees it reversing after. Analysts noted that this quarter "swapped" one short thesis for another. The notion that Pandora will be swept away by its competitors is largely done, in their view, for Pandora once again posted impressive usage metrics. However, the short thesis regarding mobile advertising monetization was brought up once again. The firm believes that in the long-term, Pandora should be able to leverage its scale to generate meaningful increases in advertising revenue, both on a local and national scale. Fiscal 2013 estimates were lowered from $449 million and an 8 cent per share profit to $418 million and a 15 cent per share loss. Merrill Lynch continues to believe that over time, mobile RPM will rise from its present level of $20 in a pattern similar to what happened in the desktop segment.
If these analyst targets are averaged together (taking the midpoint of Wells Fargo's valuation range), the average price target on shares of Pandora from analysts who have weighed in on the quarter stands at $15.07, which represents upside of nearly 39% from current levels. The analyst community is split in its opinions on Pandora, but nearly all agree that mobile monetization is the key thing to watch going forward. We agree with that, and think that Pandora's conference call and mobile advertising trajectory offer a pathway to long-term monetization of its mobile streaming segment on a scale comparable to the desktop business.
Sirius XM
We feel it is necessary to address where Sirius XM (NASDAQ:SIRI) fits into all of this. Too many investors assume that if one is bullish on Pandora, that makes you bearish on Sirius XM. Or vice versa. That is not the case here. We see a good deal of potential in Sirius XM, and have profiled Sirius XM before. So long as the economy and auto sales continue to grow at their modest, but steady pace, and Sirius XM continues to strengthen its balance sheet and continue to invest in its business, the company and the stock should do fine.
We see no reason that Pandora and Sirius XM cannot co-exist. The two companies have a different business model and a different way of generating revenue. Sirius XM is preparing to launch its streaming service, but it will be a paid add on to the company's subscription service, designed to drive incremental revenue from its existing subscribers. So far, we have seen little to suggest that these companies are competing directly with each other. To us, shares of both Sirius XM and Pandora are good buys at these levels.
Conclusions
Young companies such as Pandora do not have their "story" made or broken in one quarter. It will take years for this to play out fully, and we are confident that Pandora will be successful down the line. Pandora is making great strides in monetizing its mobile business, and in the quarters to come, we think that those efforts will begin to bear fruit. We understand that Pandora stock is not for everyone. Every investor has different needs and objectives, and not every investor can invest their capital in a company like Pandora and wait for a payout several years down the line. But for investors who are looking for growth and are willing to wait, we think that Pandora, at these levels, is a compelling opportunity.
We added to our position in Pandora as the stock sold off after earnings were released, for we think that the long-term opportunities that lie ahead of Pandora are fully intact. And we think that investors who maintain their belief in Pandora will be rewarded for their faith.
Disclosure: I am long P, GOOG.
Additional disclosure: We are long shares of GOOG via a mutual fund that assigns it a weighting of 2.75%