Transgenomic Inc (NASDAQ:TBIO) reported financial results for the fourth quarter ending December 31, 2011 on March 7th, beating beat both our top-line and EPS estimates. Also noteworthy is that the net income line was in the black this quarter (albeit aided by a $800k non-cash revaluation of embedded derivatives of the preferred stock). Gross margin also came in very strong and well wider than what we predicted.
As we have in the past, we continue to model incremental improvement in gross margin but have not made any material changes to it, nor the remainder of our model following Q4 results.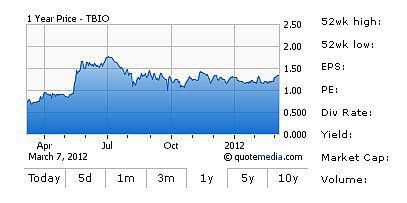 Revenue
Q4 revenue came in at $8.57 million, up 68% y-o-y (Q4 2011 includes FAMILION) and about 5% ($418k) better than our $8.15 million estimate. Almost all of the difference came from the clinical laboratory business ($4.60MM A vs. $4.16 E), which was slightly offset by lower than modeled sales in pharmacogenomics ($650k A vs. $500k E). Management indicated on the call that growth in Transgenomic's neurology segment, driven by significant interest in the company's second-generation mitochondrial assay (nuclear mitome test), was a significant catalyst to its clinical lab revenue - also noting that Transgenomic expects this demand to continue.
Gross Margins
Gross margin came in at 61.7% in Q4, significantly better than our 55.2% estimate. The press release didn't specifically break out the individual margins of each business segment although we note that clinical lab was 59% - which was inline with our 59.5% estimate for that business. This implies the beat on GM came from the instruments or pharmacogenomics business. The theme in the past, which continues, is that the fixed costs of the pharmacogenomics business should benefit overall gross margins as revenue grows in that segment. While it's possible that Transgenomic is already seeing some margin leverage in pharmacogenomics, as this segment turned in only moderate sales in Q4, we're not yet betting that this leverage has taken hold - which we expect to translate into incrementally widening margins as revenue in this business grows over the coming years. We currently model GM of 58.9% in 2012, compared to 57.7% for 2011.
Operating Expenses
No surprises in operating expenses which were $5.45 million in Q4 and just about dead-on with our $5.42 million estimate.
Net Income / EPS
Net Income and EPS came in at $56k and $0.00 compared to our ($1.65 million) and ($0.03) estimates. The majority of the difference was the better revenue and GM as well as a $1 million difference in actual vs. estimated expense on preferred - a noncash item driven by the value of the embedded convertible options in the preferred stock.
Cash
Transgenomic exited Q4 with $4.9 million in cash and equivalents, compared to $1.4 million at the end of Q3. The Q4 cash balance benefitted from the sale of $3 million in promissory notes to Third Security just prior to year-end. Following the $19 million private placement of stock, these notes automatically convert to common. Pro forma for this $22 million in recent financing- Transgenomic's balance sheet is rock solid.
OUR 2012 OUTLOOK
As noted, our model has not changed significantly since prior to the Q4 earnings release. We model 2012 revenue of $36.6 million, implying growth of 14% from 2011. We look for Laboratory Services and Instruments to generate revenue of $23.1 million (+26%) and $13.5 million (-1%), respectively. We think net income and EPS come in at ($3.39 million) and ($0.05) in 2012.
Laboratory Services
Our $23.1 million revenue estimate for Laboratory Services assumes meaningful contribution from recently launched new products in the clinical lab segment, including the Plavix response and atrial fibrillation tests. Transgenomic is clearly excited about the potential opportunity of the Plavix test in particular and noted on the Q4 call that the company will immediately dedicate more sales and marketing resources to promote the product. As we noted in the past, the market for Plavix is huge (the second largest selling drug) and will likely expand with the impending patent expiration, which could also translate into an enormous opportunity for Transgenomic. Depending on the ultimate interest in and success of the test, our clinical lab revenue estimates could end up low (possibly substantially so, especially in 2013 and beyond). And while revenue from the pharmacogenomics business did not ramp as quickly in 2011 as Transgenomic had hoped would be the case (although it had to show strong growth on a percentage basis), management continues to indicate that there is substantial interest in Transgenomic's technology from some prominent names in pharma and they continue to score more and more clinical trials business. Our model assumes pharmacogenomics revenue shows a steeper ramp towards mid-2012.
Instruments
We model the equipment portion of Transgenomic's instrument business to fall 2% in 2012 but revenue from the consumables business to hold up much better and eke out 1% growth due to selling to a larger installed base. Benefitting from the Menarini distribution agreement (which should get more fully geared up in the coming weeks), along with new consumable product launches including several new cancer kits we think the instruments business can stem the slide in revenue in 2013 and return to growth that year.
$22MM FINANCING ($19MM new)
On 1/6/12 Transgenomic filed an 8-K announcing a $3 million commitment by Third Security to purchase convertible promissory notes. Terms of the notes included an annual interest rate of 16%, maturity of 3/31/12 and automatic conversion into common stock upon the future sale of equity of at least $3 million. Conversion price determined by the price per share paid by buyers of the (future) equity issuance.
In a 2/3/12 press release, Transgenomic announced that it entered a definitive agreement with accredited investors to raise an additional $19 million through a private placement of common stock. The deal includes the sale of 19MM shares of stock at $1.00/share) plus five year warrants to purchase up to 9.5MM shares at $1.25/share. Upon sale of the shares, the $3MM of promissory notes sold to Third Security in January will automatically convert to common stock at $1.00 share.
In our 2/6/12 update we had questioned ("seems overkill) the rationale for raising so much cash - although we acknowledged that it does address the prior lingering question of how the company expected to cover principal payments on the outstanding 3-year 10% note held by PGx Health (for which $8.6MM in quarterly principal repayments begin with the quarter ending 6/30/12 and extends until the December 31, 2013 maturity). Management addressed the question about the size of this capital raise on the Q4 call and noted that they now have more financial flexibility to increase sales and marketing support for new product launches (i.e. - Plavix test) and fund continued (and expected increasing) R&D (particularly of ICE-COLD PCR and related kits).
Based on our model, we still believe that $22 million is a bit much, but also note that it's a very definitive positive message that the buyers were (per management), "a number of top-tier institutional life sciences investors". Clearly there's interest in Transgenomic and the stock and it appears interest is coming from a sophisticated investor base. These are all obvious positives.
Plavix Test / AF Test Launches
In mid-November 2011, Transgenomic announced that it launched its Plavix test, which came with the December 2010 of Clinical Data's genetics business, and an atrial fibrillation test.
Plavix: Plavix (generic name, clopidogrel) is an anti-blood clotting drug sold by Bristol-Myers (NYSE:BMY) and Sanofi-Aventis (NYSE:SNY). Prescribed to patients to reduce the risk of heart attack, stroke or cardiovascular death, it is the second biggest selling drug, with worldwide sales over $9 billion in 2010.
The FDA added a warning to the Plavix label in May 2009 but "upgraded" it to black-box in March 2010. Black-box warnings are FDA's most serious warning and are typically only issued when the agency believes the drug could carry potentially serious adverse risks. The warning notes that Plavix may be less effective in certain people (those with reduced functioning of their CYP2C19 liver enzyme) and therefore these "poor metabolizers" may remain at risk of suffering from heart attack, stroke or death. Roughly 2% to 14% of the U.S. population is estimated to fit into this "poor metabolizer" category. The FDA recommended testing to determine which individuals are susceptible to less response to Plavix.
Transgenomic's Plavix response test, named PGxPredict:CLOPIDOGREL is based on the ABCB1 (or MDR1) gene. While the test will compete against several other Plavix response tests already on the market, Transgenomic's test incorporates a different marker and, combined with leveraging their sales and distribution network (which also will be expanded), could spark uptake of the test. Plavix also loses U.S. exclusivity in 2012. Once generic, uptake of the drug will grow even more, which should expand the overall market for Plavix response testing. Another potential catalyst to driving sales of the test is published clinical studies supporting use of the test - the latest was a study by researchers at Vanderbilt University published in Clinical Pharmacology in February. This is the third independent study which showed that testing for both CYP2C19 and ABCB1 is important to determine which patients will benefit from Pavix and which will not.
The atrial fibrillation (AF) test, called Familial Atrial Fibrillation Test, is the most recent addition to the FAMILION line of tests, which also came with the Clinical Data related acquisition. AF is a relatively common heart rhythm disorder that can result in very serious consequences, including stroke. While the onset of AF is typically related to cardiovascular disease, Transgenomic's genetic test will help determine whether someone is genetically predisposed to suffering from AF - allowing for earlier intervention. The test will be offered through the FAMILION business.
RECOMMENDATION / VALUATION
We have adjusted our model to incorporate the additional shares outstanding as a result of the new financing announced in early. Our valuation methodology (P/S using estimated 2012 revenue) remains unchanged. Based on an average P/S comp of 4.7x, Transgenomic is valued at approximately to $2.50/share. The shares currently trade at $1.34, indicating still significant upside. We are maintaining our Outperform rating.
Disclosure: I have no positions in any stocks mentioned, and no plans to initiate any positions within the next 72 hours.
Disclosure: I/we have no positions in any stocks mentioned, and no plans to initiate any positions within the next 72 hours.
Business relationship disclosure: I work as a Consultant Analyst for Zacks Investment Research. The article is written by me and is 100% my opinion. I receive compensation from Zacks for writing equity research reports and providing valuation analysis on this company's stock and expect to do so in the future. Zacks receives compensation from the company. Please see the Zacks Disclaimer for further information: http://scr.zacks.com/Disclaimer/default.aspx