This is the second part of a three part series on Manning & Napier Inc. The three parts are broken down as: 1) Recommendation and Overview 2) Valuation Analysis and 3) Risks and Outlook.
Valuation & Projections
Our $18.20 value is based on applying a 15 times price to earnings multiple to estimated 2015 earnings per share of $1.77 and discounting the terminal value back to 2012 at a cost of capital of 11%. MN's forward P/E ratio is in line with their peer competition in the asset management industry and we believe that undervalues MN due to their superior franchise and strong and growing presence in the asset management area, particularly in life-cycle and international asset management. Also we believe that the multiple used is justified considering that the firm has grown faster than their industry and that top tier investment boutiques traded at a multiple of 20-30 times trailing earnings before the 2007-2009 financial crisis.
We believe that the company will continue to grow their revenues faster than their competition. In our model we estimated that MN would see a 20% annual growth in their fee based revenues from 2012-2015, based on adding new investment management mandates, market appreciation of assets overseen and potential bolt-on acquisitions of smaller firms or acquiring the asset management divisions of weaker financial services firms. The key driver of revenue and profitability for MN is their client assets under management.
We expect compensation to increase in line with revenue growth, which is prudent to ensure that top performing team members remain satisfied and less likely to stray from the firm. We also believe that competition in the asset servicing operations segment will allow MN to ensure a slower growth in shareholder servicing and other operating expenses (15% annually) versus revenue growth, which will allow a greater percentage of revenue to fall to the bottom line to reward shareholders and bolster their balance sheet instead of being utilized to hire new employees or buy new (in)tangible assets. We also assumed that the bank will institute a $.16/share quarterly dividend in Q2 2012 followed by 12.5% annual increases in the following three years.
Other research firms agree with us about Manning & Napier's qualities, Stifel, Sandler O'Neil and Needham Securities all instituted coverage on it with a Buy Rating and Wells Fargo Securities instituted it with an Outperform Rating. As a result of such vesting requirements, we noticed that they will recognize non-cash compensation charges which will be fully realized by the end of 2014. Assuming the satisfaction of all vesting conditions, including any performance-based vesting, related to the interests of the minority shareholders of the Manning & Napier Companies, we reduced our net intrinsic value per share by $1.49 to account for the non-cash, non-recurring share-based compensation expense that will occur during this period.
Recent Quarter
The company was able to generate a 9.4% growth in Q4 2011 revenue versus Q4 2010 revenue, which exceeded many of their competitors. They held their total recurring expenses (excluding non-cash share based non-recurring compensation expense) flat versus the prior year period largely based on lower bonus payments to analysts due to market weakness in Q3 2011, which was offset by higher expenses for investment operations outsourcing and other corporate expenses. They achieved an operating margin of about 49.6% and their adjusted EPS beat consensus analyst expectations by 10% (27 cents versus 24.5).
Cash and cash equivalents were $81.2M as of the end of the year and the company executed their Initial Public Offering. Despite the fact that Client AUM balances grew by 3.7% ($1.4B), MN lost $500M in net client principal withdrawals. Net income primarily grew during the quarter due to $1.9B in market appreciation of client portfolios. As expected, the firm stopped accruing Interest expense on employee LLC shares subject to mandatory redemption in the middle of the fourth quarter.
They are planning to increase their direct sales force by 25% for 2012. Those are people who will serve as regional reps for Manning & Napier and get to know the accountants, the attorneys and other pillars of the local business communities in order to sell to all types of end users. They also seek to add three more intermediary sales and distribution professionals for 2012 as well. They also had a slightly lower than anticipated adjusted tax expense due to their operations in states (FL, NH & OH) with lower corporate tax rates than New York State.
Keys to Investment Thesis
We love their organic asset growth. Since 2008 they have had strong asset growth due to organic net client inflows. They have had organic asset growth rate of 12.1% for 2011 and about 37% for 2009 and 20% for 2010, which significantly exceeds their peer competition in the asset management space.
M&N has a sticky client asset base. According to Cerulli Associates (financial services research firm), the average annual industry redemption/cancellation rate for separate accounts was 23.3% for the 2002-2010 period and 24.9% for the last 5 years. MN's cancellation rates were 3.9% and 3.6% for the comparable periods, though for 2011, industry cancellation declined to 15% and MN's cancellation trended upwards to 4.3%. We believe that this has to do with a combination of MN's strong investment performance and excellent client service. We believe that boutique firms focused on asset management will be able to register stronger client investment performance, which will enable them to compete for assets better than firms that are part of banking and insurance conglomerates.
Manning & Napier mutual funds have earned a number of industry accolades. These include a finalist ranking for Morningstar's international manager of the decade and multiple Lipper awards and two S&P Capital Silver Awards for the year ended August 31, 2011. 71% of Mutual Fund AUM rated 4 or 5 Stars by Morningstar. Their separate account composites & collective investment trusts have a weighted average Morningstar Rating of 3.62, which shows the above average performance that investors can expect from Manning & Napier, whether they are investing through retail mutual funds, private client collective investment trusts, or institutional separate accounts.
Team-Based Investment Approach Has Led to Excellent Investment Track Record through Multiple Market Cycles.
They rely on a team-based investment approach and a robust investment process that has resulted in long-term returns that are well in excess of market benchmarks. Their investment team consists of 41 "bottom-up" equity research analysts with global industry responsibilities and 28 "top-down" economists, statistical analysts and fixed income analysts. Investment decisions are overseen by their Senior Research Group, which is a team of ten senior analysts who manage the portfolios.
We believe that rather than relying on traditional individual portfolio managers, their team approach has provided and will continue to provide consistency to their investment process and results over the long-term. The firm, long focused on delivering strong absolute returns, has an investor-friendly compensation plan in place. Funds must make money for bonuses to be awarded, and if there are losses, funds must recoup those losses before a bonus is paid. The firm also hasn't had major issues retaining talent. The senior management responsible for running the firm's 18 funds has an average of 22 years' experience at the firm.
click to enlarge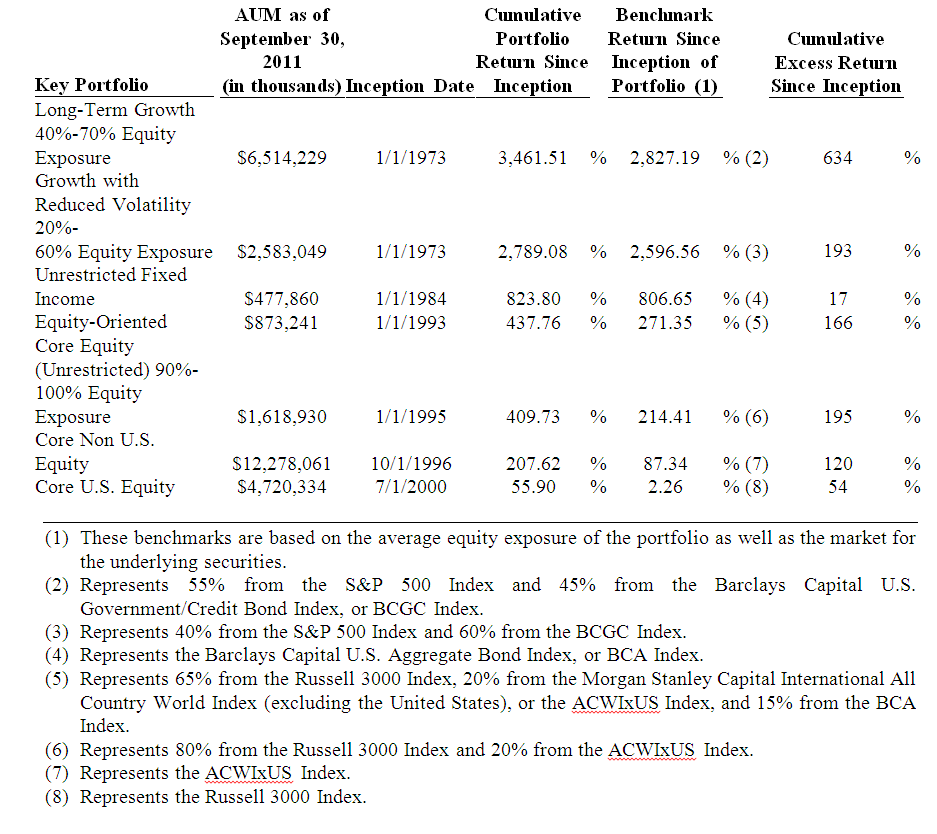 Source:Manning & Napier Inc SEC Prospectus Filing
Manning & Napier Advisors has $40.2B AUM and is continuously growing. M&N has seen tremendous overall AUM growth from $6.9B in 1999 to $40.2B as the end of 2011. They have a nearly even division of assets between Mutual Fund/Collective Investment Trusts (43.64%) and Separate Accounts 56.36%. They have strong diversity between assets under management, 51.77% are in equity strategies, 45.08% are in Blended Asset Allocations and 3.15% in Fixed Income. We can live with 3.15% in Fixed Income because we are bears on this segment and we believe that it will drastically underperform the equity sector over the next 10 years.
The Dodd-Frank Wall Street reform law will not hurt MN since it is not a bank. Manning and Napier is an asset management boutique. Since they manage client moneys and since they are not a hedge fund, Dodd-Frank does not apply to them. We believe that weakness in the banking sector, as well as regulation of insurance companies by Dodd-Frank, may present opportunities for MN to acquire asset management operations that banks and insurers may want to sell in order to focus on their core businesses.
We also like MN's non-investment consulting businesses. Manning & Napier owns Perspective Partners, LLC ("PPI") and Manning & Napier Benefits, LLC (collectively referred to as "MNIS"). PPI, established in March 2000, designs software and provides services to the 401(k) industry. MNIS, established in January 1995, is a web-based company which designs and develops web-delivered software to assist the human resources function of employers in streamlining benefits administration for health and welfare plans including enrollment, employee education, benefits analysis, and benefits management.
We believe that these businesses have helped contribute to the strategy that Manning & Napier is pursuing by providing them information that they can use to competitively position themselves when pursuing client investment mandates in the 401K area, as well as the lifecycle multi-asset allocation blended investment product offerings.
Valuation Analysis 2/20/2012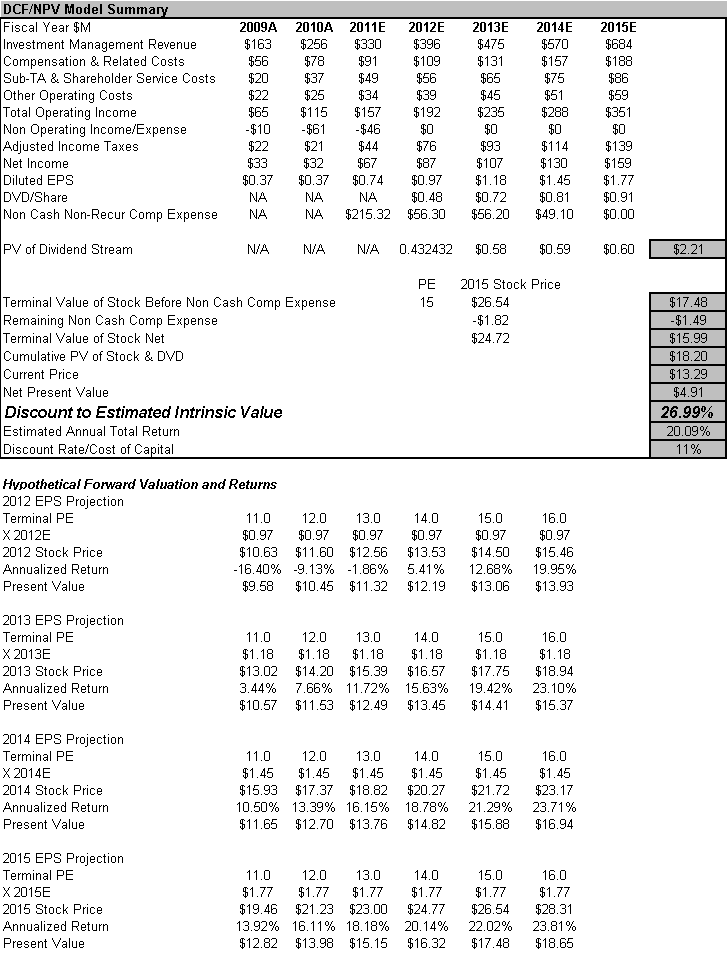 Source: Saibus Research forecasts
The next part of the series, part 3 of 3, we will discuss the key risks involved and the industry outlook for Manning & Napier Inc.
Additional disclosure: Saibus Research has not received compensation directly or indirectly for expressing the recommendation in this MN report.