Despite the rebound of the onetime car manufacturer giant, the current position of General Motors (NYSE:GM) is an illusion as to its overall financial stability.
Riding the heels of its $52 billion bailout funded by the United States taxpayers, General Motors reported $7.6 billion in profit for 2011. This reported profit comes on the heels of $3 billion in profit in 2010.
This record rebound from bankruptcy was in large part due to General Motors trimming labor contracts and its closing of plants that manufactured some of GM's less popular brands, such as the now obsolete Saturn. As a result, General Motors was able to enjoy record profits not seen since 1997 despite its sales numbers failing to reach pre-recession levels.
In spite of these profits, taxpayers remain responsible for nearly $26 billion that General Motors still owes. As a result of this debt, General Motors is under increasing stress to expand its profitability in rapid fashion to allow it to reach the $50 per share threshold that will allow it to pay the United States government back.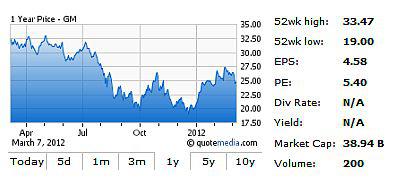 It is now evident that the rebound of General Motors is highly dependent on its ability to rebuild consumer faith by further revolutionizing the automobile industry. This advance in technology must also be balanced with GM's making a concerted effort to repay its consumers for saving it from financial disaster.
The first opportunity that General Motors has failed to capitalize on is its electric car project. Scrapping the Chevy Volt due to the lack of initial consumer demand has caused serious doubt to be cast on General Motors ability to follow through with innovative ideas on the cutting edge of automobile technology. As a result, GM has lost a prime opportunity to compete with other automobile companies such as Nissan (OTCPK:NSANY), who reports that its all-electric Nissan Leaf will nearly double in production in 2012.
Publicity of another scrapped program is the type of publicity that General Motors cannot afford. The significant negative public opinion that is a result of General Motor's poor financial decisions has cast serious doubt on its ability to effectively stay on top of consumer demand. By bailing on a project that has the potential for long-term prosperity, due to GM's reliance on short-term financial projections along with its ignoring a project that is vital to the continued health of the planet, General Motors has now sent a dangerous message to its consumers.
It is more important than ever that General Motors realizes that crude oil, which currently stands at around $105 per barrel, will not be decreasing to affordable levels any time soon. Further, the continued demand for more efficient cars not only appeals to a wider global audience but also signifies a companies' commitment to greener production, a public relations message that is filled with financial benefits. These are messages that General Motors should be sending. However, despite its duty to U.S. consumers, General Motors has once again shown a short sightedness in its manufacturing of cars that do not possess long-term appeal.
Instead, General Motors has invested significant money in its attempt to corner the Natural Gas pickup truck market. This heavily funded project has been undertaken despite the fact that currently there only exists about 750 Natural Gas pumping stations in the United States. The lack of these stations will require most owners to install their own pumping station so they can properly service their vehicles.
Despite General Motors' wayward approach, the company has been able to capitalize on the Chinese market, reporting sales of 250,544 vehicles in February, a 30% increase. These encouraging numbers however will not last as the Chinese automobile industry as a whole has shown a 3% decrease in the delivery of passenger automobiles in 2012.
The downturn in automobile sales is largely due to the financial reports that show that Chinese growth rates are beginning to decline. As a result of the current downturn, the Chinese government has begun to enact legislation that will limit Chinese consumers' ability to purchase foreign vehicles.
Although the uncertainty in the growth of the Chinese market continues to mount, General Motors has recently released its intent to construct a $7 billion-yuan factory in central China that will produce approximately 300,000 vehicles annually.
By making the statement that GM's recent financial prosperity allows it to continue to expand into global markets that will not create jobs in the United States economy, General Motors is increasing its exposure to further backlash from the American consumer.
The current Chinese market and its increasing regulations have not deterred many of General Motor's competitors. These companies continue to look for ways to expand their presence in the second largest motor vehicle market in the world.
Toyota (NYSE:TM) has long struggled in the Chinese market. This struggle was most recently evinced in its selling only 846,000 vehicles in 2010. This downturn was in large part due to Toyota's inability to appeal to the large amount of Chinese consumers who are in the market for smaller and less expensive vehicles.
Ford's (NYSE:F) expansion into China has fallen in line with General Motors as its recent numbers have indicated significant growth. As a result, Ford has continued to advance its presence by announcing plans to introduce 15 new models and to build four new manufacturing plants by 2015.
Of all the motor vehicles companies in China, it appears that Nissan has formulated the most practical plan. Influenced by rising gas prices and a Chinese legislature that is calling for significant cuts to omissions in the coming years, Nissan has announced that it will introduce an emissions-free vehicle into the Chinese market by 2015.
The news of General Motors has been positive. However, the company's vast expansion into relatively unknown and fiercely competitive markets, just two years after being on the verge of collapse, is a strategy that has failed GM before. As a result, it is safe to assume that General Motors will not be making any significant payments on its taxpayer loans in the near future.
Disclosure: I have no positions in any stocks mentioned, and no plans to initiate any positions within the next 72 hours.